Holi 2023 Skincare and Haircare TIPS: Opt For These Inexpensive Ayurvedic Homecare Tricks And Hacks To Remove Holi Colours Without Any Side Effects!
We have a list of a few basic preps and post-Holi hair and skin care practices you should follow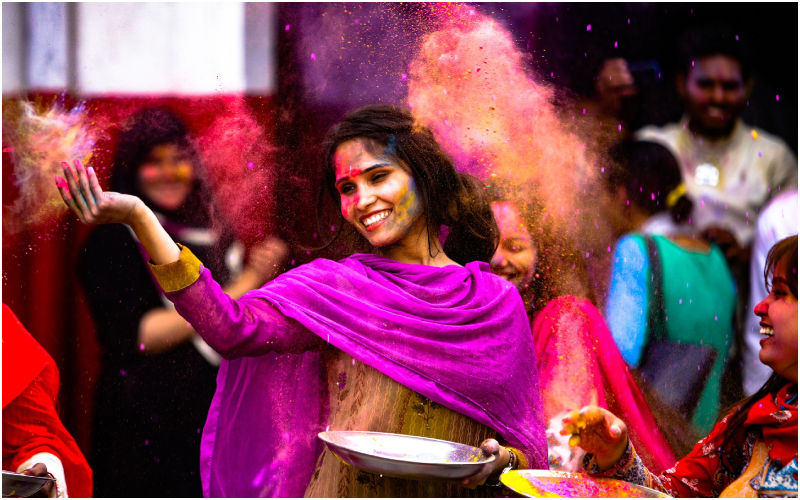 The festival of colours is just around the corner and as it approaches, many are looking forward to playing Holi. However, many have reservations about the festival owing to the reaction colours have on their hair or skin.

People are often concerned as many a time colours lead to long-term damage such as dry and damaged hair and stained and sensitized skin.
Though, we definitely do not want you to miss out on the fun. SpotboyE has a few remedies for your problem and you can resort to using various creams and hacks to prevent the colours from damaging your body.
Ayurveda is full of traditional medicines that are believed to help in balancing the three doshas crucial for healing and some ayurvedic solutions may help treat common skin and hair conditions such as eczema, dryness, redness, hair damage, and acne.
We have a list of a few basic preps and post-Holi hair and skin care practices you should follow.
SKINCARE
Vitamin C is the key ingredient and you should use it to wash your face which would help clean your pores and freshen up your skin.
Using Vitamin C micellar water/toner helps you remove harsh Holi colours from your skin.
Before washing your face, apply coconut oil as it melts the make-up or deposit and aids soap to remove all the dirt.
Use a mixture of wheat flour and some kind of carrier oil to your face and massage it in a few minutes. Then use a mild cleanser to remove it.
Apply the multani mitti treatment, which can aid in drying the colour and ultimately remove it after rinsing mildly.
Feeling an itching sensation? use glycerine and rosewater on the skin to get the best results
Use soaked amchur powder instead of constantly washing your face, which might dry it out.
After washing your face, use Kumkumadi oil, it rejuvenates and renews the skin cells, and also moisturizes the skin, illuminating the skin and bestowing a young and healthy appearance.
HAIRCARE
Before you step out to play Holi, condition the hair with castor, coconut, or olive oils. Your hair will be protected from the colours of the oil.
Coconut milk is an excellent product to prevent colour damage to your hair. After applying coconut milk to the hair, go to play. Use the coconut milk once more after you get home and shower an hour later.
Following your Holi celebrations, do not immediately apply shampoo to your hair. Use an egg yolk or curd mask instead, and then wait 45 minutes before shampooing. This will simplify colour removal and lessen any damage.
Image Source: Pixabay