JLo's Tips To Glow: Want Dewy Skin Like Jennifer Lopez? Follow These Simple Steps Shared By The Actress- Watch
A little glow is what you need sometimes and here's how Jennifer Lopez is going to take you through JLo beauty complexion boosters. If you're a sucker for dewy skin, this is what you need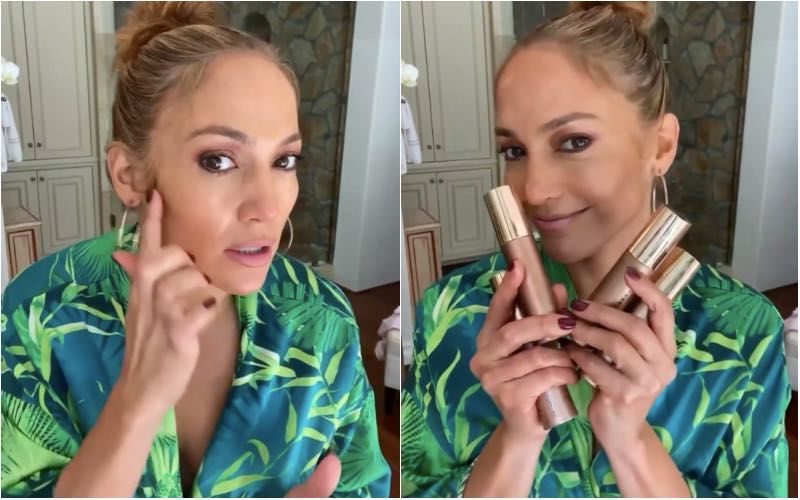 If you're a sucker for dewy and radiant skin, then you have come to the right spot as we will be giving you some tips on getting that glass skin every day which is powered by Jennifer Lopez. That's right! To all the 'glow-getters' out there, time to boost your glow just like JLo! Not so long ago, the singer took to her Instagram account and dropped an IGTV, taking us through 'JLo daily beauty complexion boosters'.
In the video, she is seen showing four types of boosters that she uses on her face which includes, rich bronze, warm bronze, rose gold and pink champagne. They all can be used on all skin types and colours and Jen exhibits how to apply them to her face accordingly.
Jen mentions that these boosters can be used as highlighters or for contouring. Now, talking about the glow boosters in detail, Jennifer takes the richest and the darkest one called the Rich Bronze. She took it a dime size on her fingers and easily applied it on her temple, sides of her cheeks and on the nose. For the unversed, the contouring process is to define your face and give a sculpted look. She used this particular booster for contouring. After the rich bronze, the actor takes a warm bronze complexion booster for smudging all the richness into the skin, giving a little tan-ish look.
Lopez then picks up the rose gold bottle that she uses on her cheeks and eyelids. It doesn't give out like you have applied a dozen of products on the face but it gives a warm, radiant and pink glowy look. Well, it seems perfect for an everyday look. Coming to the fourth complex, she takes a goop of it in her hand and uses it like the highlighter. Since it is the lightest colour, Jennifer applies it on her nose, chin, forehead and under the eyebrows. Basically, highlighting the best features of the face.
Sharing the video on her page, she even mentioned the name of the products as she wrote, "Glow-getters! Here's my daily complexion booster routine so you can perfect your glow @jlobeauty @sephora @sephoracanada."
Well, after looking at this video, maybe all of us can get a little bit closer to looking as good as JLo does! We are so rooting for these now. Have you put these products on your cart already?
Image source: Instagram/ jlo