Lakshmi Pooja 2020: Muhurat, PoojaVidhi, Mantra - All You Need To Know
Here is all the information you need to know about the Laxmi Pooja 2020.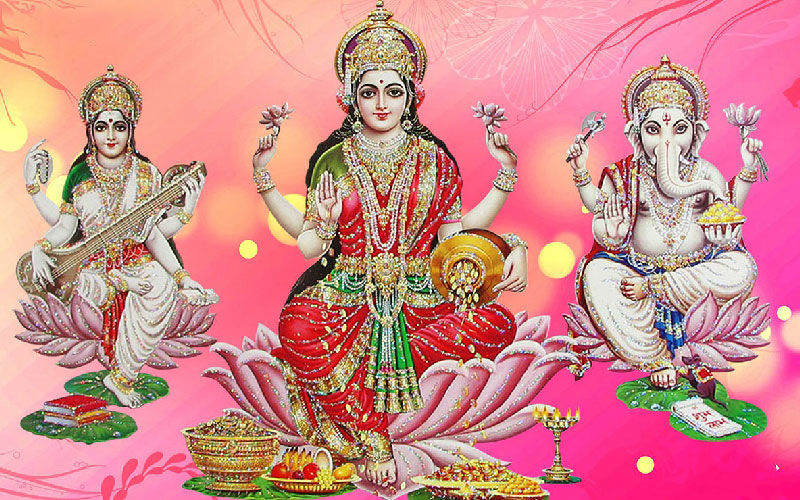 The Laxmi Pooja or Lakshmi Poojan is considered the most important festive day of Diwali. According to the Hindu calendar, the day of Laxmi Pooja falls on the Amavasya (New moon day) of Krishna Paksha, which is the 3rd day of Diwali. As it is believed that, on the day of Laxmi Pooja Goddess Laxmi visits the houses of her devotees. Devotees clean their house before Diwali, decorate it with colorful lights, lanterns, and draw Rangoli in front of their door. There are various legends to this day, in some parts of India, people celebrate this day as the birth of Goddess Laxmi and in other parts, people believe that on this day Goddess Laxmi got married to Lord Vishnu.
Goddess Laxmi is considered the Goddess of wealth and prosperity. Thus, it is believed that she blesses her devotees with wealth, health, and prosperity on her arrival. Thus, devotees worship her by doing pooja, offering sweets and delicacies, as they believe that the happier Goddess gets the more she'll bless them. Thus, here is all the information you need to please Goddess Laxmi on this auspicious day.
Pooja Vidhi:
The Laxmi Poojan is preferably done in the evening at the time of Pradosh Kaal. Devotees place the idol of Goddess Laxmi on a pedestal or Chowki. People also place the photo frame of Maa Saraswati, Lord Ganesha, and Kubera along with Goddess Laxmi. They start worshipping the deities starting with a holy bath given to the idols and images of the deities. After that devotees do Pooja, chant Mantras, and offer sweets and delicacies to the gods.
Mantras:
Devotees worship Maa Laxmi starting with the Laxmi Beej Mantra,
-Om Hreem Shreem Lakshmibhayo Namah.
Then they cant Mahalaxmi Mantra,
-Om Shreem Hreem Shreem Kamale Kamalalaye Praseed Praseed Om Shreem Hreem Shreem Mahalakshmaye Namah.
Then at the end, they chant the Laxmi Gayatri Mantra,
-Om Shree Mahalakshmyai Cha Vidmahe Vishnu Patnyai Cha Dheemahi Tanno Lakshmi Prachodayat Om
Muhurat:
This year Laxmi Puja will be celebrated on Saturday, 14th of November. The Amavasya tithi starts from afternoon 02:17 PM, on 14th November and ends on the morning of the next day at 10:36 AM. The best Muhurat for Laxmi Puja is during the Pradosh Kaal which is between 05:28 PM to 08:07 PM, according to the Drikpanchang.
Image Source:Pinterest