Navratri 2020 Day 1 Color, Significance, Puja Vidhi, Mantra - All You Need To Know
Check out all the information you need to know about this year's Navratri festival.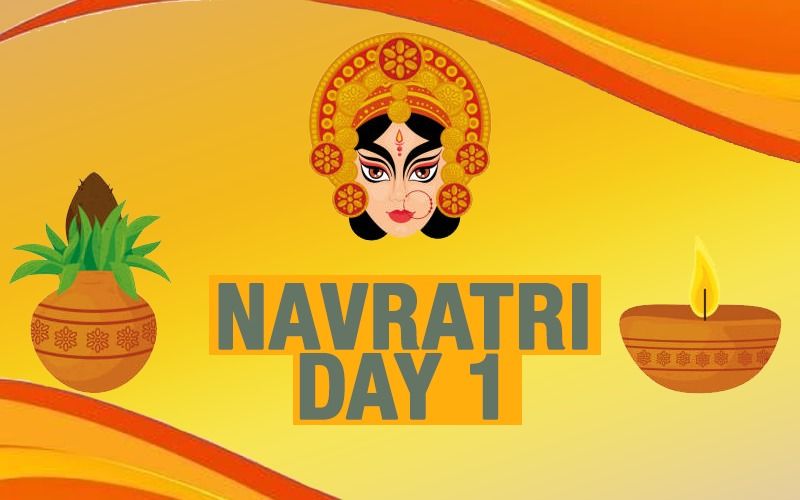 After the holy festival of Ganesh Chaturthi, another most cherished Hindu festival has come. Time flies quickly, seems like just yesterday we bid adieu to our Bappa and already his mother has arrived. The festival which is filled with lots of spirit energy, devotion, and everyone's favorite Garba, the festival of Navratri is here…!
Due to the leap year, the Navratri festival this year got delayed this far. But from tomorrow this festival of joy and happiness will start.
Navratri, the festival of Goddess Durga is celebrated every year in the months of September or October according to the Gregorian calendar. The festival marks the win of Goddess Durga over the demon Mahishasur, who caused havoc and destruction over the world. This win gave her the name Mahishasur Mardini.
Thus, every year to celebrate her win and female power this nine days festival is celebrated. Devotees of Goddess Durga fast for nine days and worshipping the nine forms of Goddess each respective day. Starting from the new moon day, Kalash Sthapana (Ghatasthapana), and Shailputri Puja. The Shailputri Puja starts by invoking Lord Ganesha for hurdle free Navratri. Then everyone Invokes Goddess Shailputri by chanting her Mantras like Om Devi Shailputryai Namah and performing Panchopchara Puja. This year's best muhurat for Kalash Sthapana according to drikpanchang is between 06:23 AM to 10:12 AM or between 11:43 AM to 12:29 PM, if one wants to choose Abhijit Muhurat.
After Shailputri Puja following further days with Goddesses Bhrahmacharini Puja, Chandraghanta Puja, Kushmanda Puja, Skamdamata Puja, Katyayani Puja, Kalaratri Puja, Siddhidatri Puja, and on the 9th day, Durga visarjan. The Colour of the first day is Grey, after that follows Orange, White, Red, Royal Blue, Yellow, Green, Parrot Green, and on the last day Purple.
Also, this Shardiya Navratri is the most important out of the four Navratri celebrated over the year. The nine colors of Navratri bring out a positive spiritual vibe. The most loved event of Navratri, Garba brings everyone together and people joyfully engage in this folk dance.
But due to the COVID-19, the government has given out some guidelines for Navratri. Stay at home and celebrate Navratri in a safe manner. Keep not only yourself but also your family safe from this pandemic!
To celebrate the occasion of Navratri 2020, India's favourite Hindi music channel 9XM and vibrant music label SpotlampE bring you the first original song of the much-awaited 9XM Indiefest with SpotlampE. Jab Jab Navratre Aave song, crooned by the award-winning singer Shreya Ghoshal, will set your festive mood right. Jab Jab Navratre Aave is one of the 5 original songs which will be sung by top Bollywood singers like Babul Supriyo, Amit Mishra, Ankit Tiwari and Bhoomi Trivedi. Check it out!
Image Source: Instagram/Jai_Mata_Rani_001