Olivia Culpo's Fitness Secrets Revealed: Here's How You Can Get 'Rock Hard Abs' Like The 'I Feel Pretty' Actress
Want to get abs as perfect as Olivia Culpo's? Well, then you are at the right spot, as the former Miss Universe herself has spilt the beans behind her perfectly-toned body and abs, read on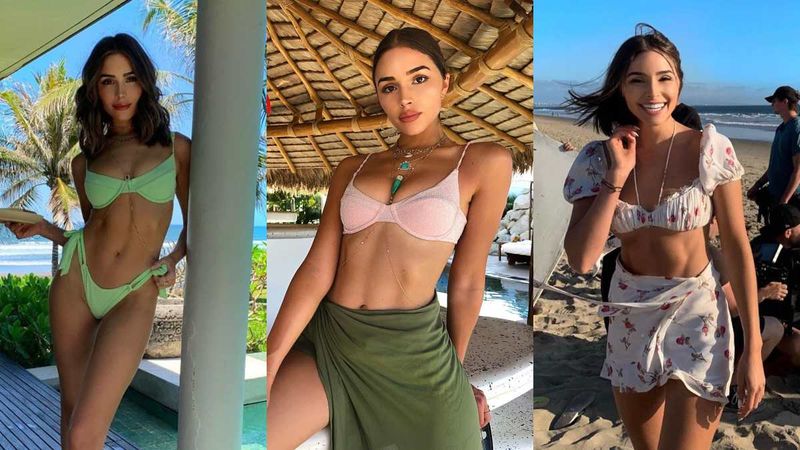 Forget abs, maintaining a good figure in itself is a big task, especially for most of the working people that don't get enough time. But our celebrities have, time and again, proved that you can manage to get a perfectly sculpted body, despite having a hectic work schedule. One such case is that of American actress, reality TV star and former beauty pageant titleholder, Olivia Culpo, who is synonymous with the term 'bikini babe' down West. The 27-year-old is also known to have the best set of abs and, guess what? You guys too can achieve a body as fine as Olivia. How? Well, hear it from the actress herself!
In a conversation with Hollywood Life, the former Miss Universe spilt the beans on her daily lifestyle, workout and eating routine. Olivia tries to maintain a healthy lifestyle so that she doesn't have to undergo a crash diet or feel out of shape. The key to her good figure and glow is healthy eating and regular workouts. The actress was quoted as saying, "When you eat well and workout, you feel amazing, so ultimately that's always my goal. What works for me is a low carb, high protein and fibre diet. For workouts, I love strength training/circuit training, barre, pilates, cycling, and running. It's really important for me to switch up my workouts."
The model revealed that other than abs, her favourite workouts including all that is needed to achieve long, lean legs and arms. And, for the same, she does Barre, P.volve and Pilates. Further, Olivia elaborated on the importance of stretching for everyone into weight training. She said, "When I'm running a lot of strength training with heavier weight, I always make sure to stretch and foam roll a ton. This will keep your muscles from bulking up and becoming super dense. Stretching is SO important!"
Olivia also credited cardio as one of the main reasons behind her bod and that she never misses a chance to inculcate it in all her workouts. "I really like to switch up my workouts and it's important for me to incorporate some form of cardio. I would say an ideal workout combo for me would be Pilates/barre/P.volve and running. Low impact precision exercises are awesome for core, flexibility and long lean muscle, and running is my favourite form of cardio," said Olivia.
Before you think that Olivia doesn't indulge into cheat days, here's a bummer. The model added that she does binges on her favourite food; however, she compensates it well after getting back to her healthy lifestyle eventually.
So, guys, what are you waiting for? Get up and get set go!

image source: instagram/oliviaculpo