Aai Kuthe Kaay Karte, August 11th, 2021, Written Updates Of Full Episode: Kanchan Preparing A Grand Welcome For Arundhati
Aai Kuthe Kaay Karte, August 11th, 2021, Written Updates Of Full Episode: Kanchan Preparing A Grand Welcome For Arundhati - Kanchan gets out of sickness, as Arundhati promises to visit her the next day.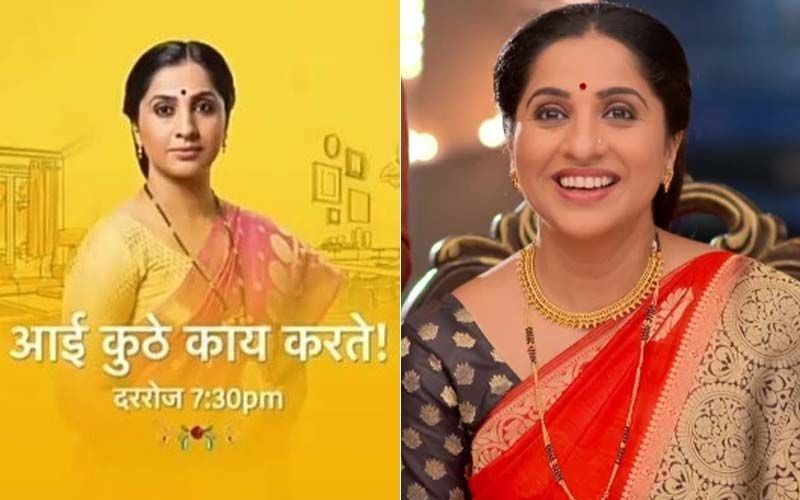 Everyone takes care of her as Kanchan falls sick. Sanjana gets her divorce date confirmed and rushes to Aniruddha to let him know. But while entering the Samrrudhi bungalow, she bumps into Yash, and then she has a quarrel with the Deshmukh. In the evening, as Kanchan gets worried for her, Isha arrives home with Sahil. Isha introduces Sahil to Avinash.
Now, in today's Aai Kuthe Kaay Karte episode, Sahil bumps into Yash while leaving the house. Yash gets upset, seeing Sahil in his house. But he calms down, as Sahil tells him that Arundhati knows everything. Avinash realizes that Yash doesn't have a great opinion regarding Sahil. Kanchan asks Isha not to go out with Sahil so often. As Appa and Kanchan leave their room, Avinash questions Isha about Sahil. As he asks questions about her relation with Sahil, Isha shies out and runs to her room.
Meanwhile, Aniruddha spends quality time with Sanjana, as they hang out after a long time. Sanjana starts talking about their past years when they couldn't live without each other and Aniruddha always used to have time for her. Reminiscing on their sweet past, Sanjana asks Aniruddha why has he changed so much. Aniruddha asks her to leave that aside, as everything is going her way now. But as Sanjana tells him that she wants their old relation back, Aniruddha tells her everything will be as it was but there's no need to get married. As he tries to convince her to forget about marriage, Sanjana tells him that she won't wait for him till the end as he lives a happy life with his family. Then Sanjana asks him to be ready in the morning, as they'll be leaving together for the court.
Back at Samruddhi bungalow, Kanchan puts the lights off as everyone is off to sleep. Avinash comes and asks her not to put stress on herself. He then asks her if she wants a foot massage, as she tells him that her legs are hurting. Further, Kanchan asks Avinash to call Arundhati as she wants to talk with her. As she gets a call from Avinash late at night, Arundhati gets worried. But she calms down, as Avinash tells her that Aai just wants to talk to her. Kanchan Aai asks her how she is and requests her to sing a song, as she is feeling uneasy. Arundhati hymns beautiful songs with her soothing voice that relaxes Kanchan's mind. Kanchan then asks Arundhati to visit her the next day. Arundhati quickly agrees to her request. And just when Kanchan is about to hang up the phone, Aniruddha tells her that he'll be tagging along with Sanjana to the court. Kanchan directly tells him that it would be better if Shekhar doesn't divorce Sanjana, as she won't ever accept Sanjana as her daughter-in-law. As the call is still ongoing, Arundhati hears everything and prays for Shekhar and his son.
The next morning, everyone gets surprised, as Kanchan wakes up early and takes care of all the house chores. Seeing her feel so energetic and asking everyone what they want, Appa worries that he has forgotten something special. But later, Kanchan herself reveals that the reason she's out of sickness and so energetic is that Arundhati is visiting her today. The children get so happy after hearing that and quickly adjust their schedules in order to meet their mother. As everyone is celebrating Arundhati's visit, Sanjana thinks that they are happy about her. Kanchan quickly lets her know that she can't be the reason for their happiness, ever and insults her. Kanchan then asks Sanjana to turn around to show her the reason for their happiness. Sanjana turns around to see Arundhati on the doorstep. Kanchan greets Arundhati but feels a bit sad as she sees Arundhati without a Mangalsutra. As Arundhati enters, Sanjana starts saying that she can't decide on one thing, as she quickly came back even though it hasn't been 48 hours after her divorce. Without listening any further, Arundhati confronts Sanjana telling her that she came for her family and she'll come anytime they want her to come.
Asking Sanjana to mind her own business, Arundhati shows her the truth saying that at least people want her in their life unlike her who wants to be in their life even though they don't want her. Sanjana tells Arundhati that she expected her to be sad after her divorce, but the scene is quite opposite. Replying to her that she also wants to live life happily, Arundhati makes her realize that she doesn't need a man in her life to be happy, unlike Sanjana.
Image source: SpotboyE