Aai Kuthe Kaay Karte, October 14th, 2021, Written Updates Of Full Episode: Sanjana Manipulates Aniruddha With Profits Attached In Redevelopment Of The Property
Aai Kuthe Kaay Karte, October 14th, 2021, Written Updates Of Full Episode: Sanjana Manipulates Aniruddha With Profits Attached In Redevelopment Of The Property - She shows him the profit of redeveloping their property, as Deige uncle said.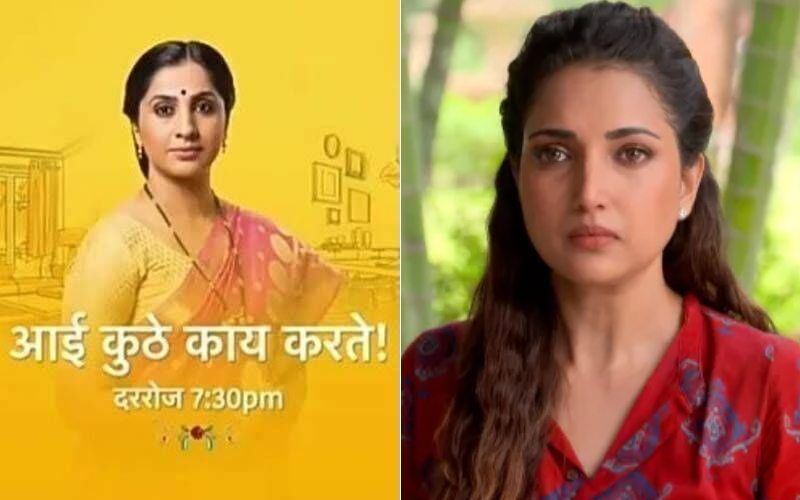 So far, Appa's friend Dige uncle visits the Samriddhi mansion and presents a redevelopment proposal in front of Appa. While the Deshmukhs refuse to hand over their property to the builder, the proposal catches Sanjana's attention. Further, Avinash meets Arundhati and Aai-Appa. Wondering how did Arundhati manage the money, Avinash keeps inquiring about her and asks to lend him some more time to repay her. Arundhati gets worried, as she thinks about the interest that'll be charged upon the money if Avinash fails to return it in time.
Now, in today's Aai Kuthe Kaay Karte, Aniruddha gets ready for the work, when Sanjana stops him. Still thinking about Dige uncle's proposal, Sanjana tries to make Aniruddha agree on redeveloping their property. As Aniruddha rejects directly, Sanjana shows him the profitable aspects that they'll be getting from this deal. She tells him that in return for the property, the builder will give them two flats and will also give them money. Aniruddha still tries to reject, as Aai-Appa won't be able to adjust in small flats. But Sanjana tells him that having two separate flats will solve their problems, as Arundhati will be living with Aai-Appa in the second flat. This will take care of their problems, as they'll be living separately and won't have to worry about them. Furthermore, the money that they get from the builder will be a startup for their own business. Hearing everything, Aniruddha agrees to talk with Appa on this topic. Meanwhile, Arundhati reaches late at the office for the audit and Meghna lashes out at her. Arundhati apologizes to her, assuring her that she won't be late anymore, and gets back to the work.
Back at the Samriddhi mansion, Avinash and Aai-Appa have a nice talk on net banking which leads to the topic of Anagha and Abhishek's wedding. As they talk about that, Sanjana appears in front of them and starts taunting. After hearing for a while, Aai lashes at her. While she tries to humiliate Avinash, he cleverly shuts Sanjana up. As Sanjana leaves, Aai tells Avi that she needs a change of atmosphere, thus she would like to come to his place after Navratri is over. Avi gets troubled but handles the situation by telling Aai that his building is under renovation and that he'll tell her once the work is done. Meanwhile, at the office, Meghna apologizes to Arundhati for her rude behavior. After that, Meghna tells Arundhati about the cultural program that the Ashram holds during the Diwali festival. She tells her about different events like dancing, singing, poetry, etc. that happen at this event and also tells Arundhati that she has already put her name for singing. Further, Krishna also takes part in the conversation, letting Arundhati know more about the program. After having a nice talk, Krishna realizes that Arundhati hasn't had her lunch and tells her about the delicious Vada's made by the old lady from the Ashram. Hearing his praises, Arundhati orders 10 Vadas before leaving the office.
Later, at home, Avinash has a great talk with Aai-Appa while he offers them tea. While they are talking Arundhati returns home with the Vadas and as Appa guesses by the smell, Arundhati puts the Vadas in front of him. Appa and Avinash have Vadas while Aai makes fun of Appa. Further, as Sanjana appears there, she refuses and asks them not to offer the Vadas to Aniruddha, as they try to offer her as well. Aai then makes fun of Aniruddha for having similar acidity problems to Appa. While others laugh at it, Sanjana gets embarrassed.



Image Source: hotstar