Aai Kuthe Kaay Karte, September 07th, 2021, Written Updates Of Full Episode: Sanjana Asks Kanchan To Let Her Sit For The Pooja As A Daughter-In-Law
Aai Kuthe Kaay Karte, September 07th, 2021, Written Updates Of Full Episode: Sanjana Asks Kanchan To Let Her Sit For The Pooja As A Daughter-In-Law. As she wants to sit for the Pooja, Sanjana is asked to do the fast and help in the Pooja preparation.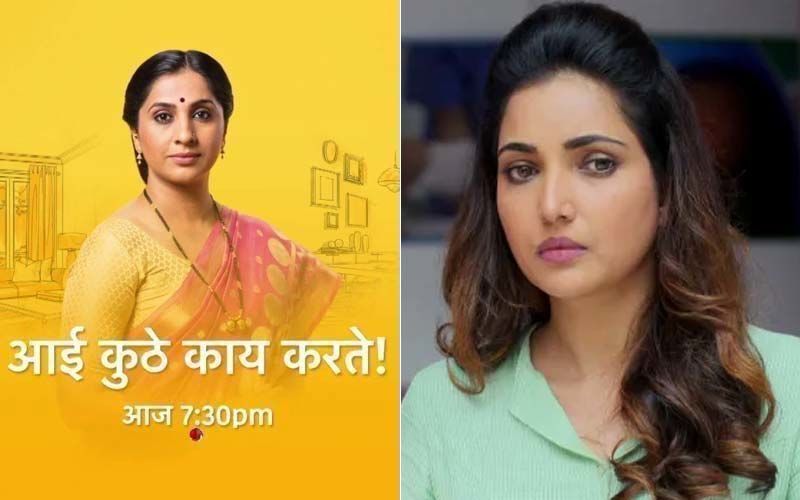 As he wants to meet his mother, Shekhar brings Nikhil to Sanjana. Shocking everyone, Shekhar also tells them that Nikhil wants to stay with his mother for few days. As Arundhati understands the condition of the kid, she allows him to stay. Everyone agrees with her and Sanjana misunderstands it for being Shekhar and Arundhati's plan to ruin her personal life. Further lashing at her, Shekhar explains to her why did he bring Nikhil and that she won't be able to see him again once he leaves.
Now, in today's Aai Kuthe Kaay Karte episode, Shekhar asks Sanjana to decide exactly how many days she wants Nikhil to stay with her. As he leaves, Kanchan asks Arundhati to take her to her room. Aniruddha then asks Sanjana to sleep with Nikhil in their room, while he will be sleeping in the living room. The next morning, little Nikhil brings mischiefs in the house as he starts his day by bumping into Kanchan Ajji. While Isha is helping Kanchan to walk, Nikhil comes to her and starts talking with her. Kanchan gets annoyed by his mischief, as the little Nikhil seems to be playful. Nikhil then asks for a glass of milk. Thus, Kanchan asks Isha to take him inside and give him one.
Further, Arundhati asks Kanchan about her health, while going to worship Tulsi. As Arundhati leaves, Appa comes to Kanchan asking about his lost glasses. While Appa and Kanchan are talking the mischievous kid appears in front of them. Kanchan tells Appa when did Nikhil come, as he asks her. They have a small talk then, Nikhil comes to Arundhati. Nikhil asks Arundhati about what she is doing. Telling him that she's worshipping Tulsi, Arundhati explains the importance of having a Tulsi plant to Nikhil. She also teaches him how to worship, as the kid shows interest in it. While Nikhil and Arundhati are worshipping Tulsi, Sanjana watches them from the balcony.
Watching them, Sanjana's hatred for Arundhati increases even more, as she thinks Arundhati is pitting her son against her. Appearing in front of her, Aniruddha asks Sanjana to do what Arundhati has done over the years to achieve acceptance of his family. But Sanjana thinks that she can't be accepted as long as Arundhati is around her. After worshipping the Tulsi, Arundhati and Nikhil go inside but get stopped by Kanchan. Kanchan then asks Arundhati to do the Krishna Janmashtami Pooja.
While they are talking Sanjana asks Kanchan to let her sit for the Pooja as she's their daughter-in-law, now. Arundhati tells Sanjana that she'll help her in the preparation, as Sanjana doesn't know anything about it.
Further, everyone gets to the preparation of Pooja and the atmosphere around the house seems happy. While everyone is busy, Abhishek tells them that he's leaving for work and that he'll be late. Before Abhi leaves, Yash asks Abhi to help him place the Sofa somewhere else. After doing that, Yash intentionally asks Arundhati if she's invited Anagha for Pooja. Further, Yash and Isha convince Arundhati to invite Anagha for the Pooja and make Abhi convince her too. Even though he doesn't show it outside, Abhi gets happy from inside and tells everyone that he'll be home for the Pooja, while leaving. As he leaves, Arundhati asks Yash and Isha not to tease him anymore. But Yash and Isha convince Arundhati on how Anagha still has a soft corner for Abhi. Arundhati then tells them that even though she may have a soft corner, Arundhati is not going to help Abhi in this matter. Then everyone gets back to preparation.
When everyone is working, Sanjana comes down and asks Vishakha when the Pooja is. Vishakha tells her that the Pooja will be held in the night and that she'll have to fast till that time. Sanjana agrees to do that and gets back to change her clothes, as Vishakha asks her. Returning to her room, Sanjana calls Nikhil who's having fun with the preparation of Pooja. As he leaves, Vishakha sympathizes with the poor kid for not knowing what's happening around him.



Image source: Hotstar