Aai Kuthe Kaay Karte, September 24th, 2021, Written Updates Of Full Episode: Sanjana Gets Jealous Seeing Aniruddha And Arundhati
Aai Kuthe Kaay Karte, September 24th, 2021, Written Updates Of Full Episode: Sanjana Gets Jealous Seeing Aniruddha And Arundhati.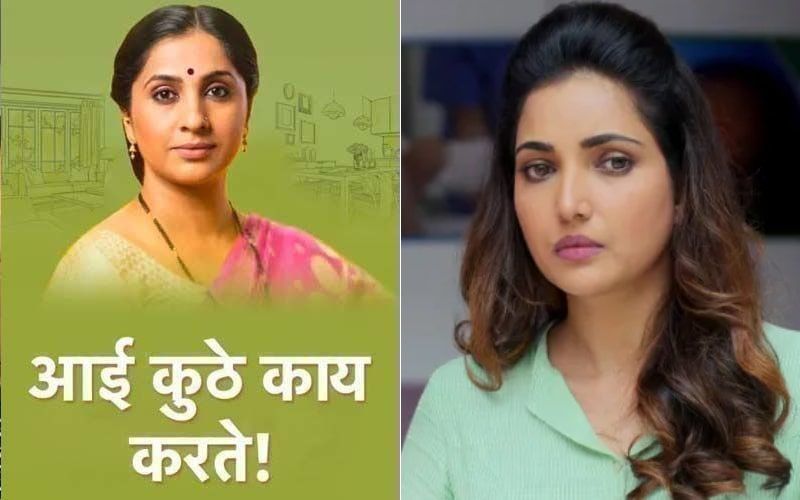 While everything was going nicely, Sanjana argues with Isha and Kanchan as Isha scolds Nikhil for bumping into her. Further, everyone prepares for Bappa's Pooja and Bhajan in the evening. The women from colonies Bhajan Mandal arrive at Samruddhi bungalow and Deshmukhs welcome them. Bringing a positive atmosphere in the house, the women start their Bhajan. While everyone else enjoys it, Sanjana complains about the noise, as she needs to sleep.
Now, in today's Aai Kuthe Kaay Karte episode, Aniruddha tries to calm Sanjana down. But as she doesn't calm down, Aniruddha suggests to Sanjana that she should go to Gauri's place, as she won't be disturbed there. Sanjana asks him to come as well, but wanting to enjoy Bhajan, Aniruddha somehow manages to make her agree to go alone. Further, while everyone is enjoying the Bhajan, Sanjana goes to Gauri's place to sleep. Then, after finishing their Bhajan, the women from Bhajan Mandal ask Arundhati to sing a Bhajan as well. Saying that her soon-to-be daughter-in-law Gauri also has a great voice, Arundhati agrees to sing. Meanwhile, Avi visits Aniruddha's room to invite him for Bhajan. Aniruddha tells him that he was already preparing for it and they have a nice talk before leaving for Bhajan. As Arundhati starts Bhajan, Gauri also starts with her. Avi and Aniruddha also sit for the Bhajan. With their soothing voice, both Arundhati and Gauri enthrall everyone's senses. After a while, Sanjana returns to the bungalow for something and catches Aniruddha sitting and enjoying Arundhati's Bhajan. Seeing him enjoy Arundhati's Bhajan makes her envy Arundhati, as Aniruddha is giving her all the attention instead of Sanjana.
On the next day, Avinash has a talk with the moneylender who lent him the money. He requests him to give him some time, as he is finding it difficult to gather the amount that he's indebted with. Avinash pleads at him and requests him not to send goons to his father's house, as it would scare them. As he is done talking with them, Arundhati asks him not to worry and pray at Bappa. Arundhati also suggests Avinash ask for help from Aniruddha or Kedar, but Avinash refuses to do that. Further, she also suggests Avi seek Appa's help, but he denies that as well. Then Arundhati asks her not to worry, telling him that the money will get arranged somehow. But that doesn't take away Avinash's worries, as he still worries about paying back the debt.
Further, at home, Arundhati trachea Nikhil about the importance of Durva. After a while, Isha comes and Arundhati asks her to go grocery shopping. Sanjana also comes to the leaving room, telling everyone that she's leaving for work. Kanchan asks her why is she going to work if she's suspended. Sanjana tells her that she's meeting her boss to request him for another chance. Further, when Nikhil asks Sanjana about the Visarjan, Sanjana tells him that she'll be back in time for the Visarjan. She also asks him to pray at Bappa for his mother's job. Arundhati wishes luck to Sanjana and Sanjana thanks her while leaving. As soon as she leaves, Arundhati asks Isha to take Nikhil with her for the shopping. After them leaving, Kanchan asks Arundhati not to take Sanjana's side, but Arundhati explains to her that she only wishes good for others. Further, like Appa, Kanchan also asks Arundhati about Avinash's strange behavior. Suspecting that something is wrong with him as he hasn't been going to work lately, Kanchan asks Arundhati if she knows anything. Although she knows everything, Arundhati lies at Kanchan as well, saying that everything is fine. But Kanchan still seems to be suspicious about Avinash.



Image Source: Instagram/hotstar