'Dhurala' Writer Kshitij Patwardhan Was Completing The Script Even While He Was Getting Ready For His Wedding
Kshitij was writing the script of the film during his wedding preparations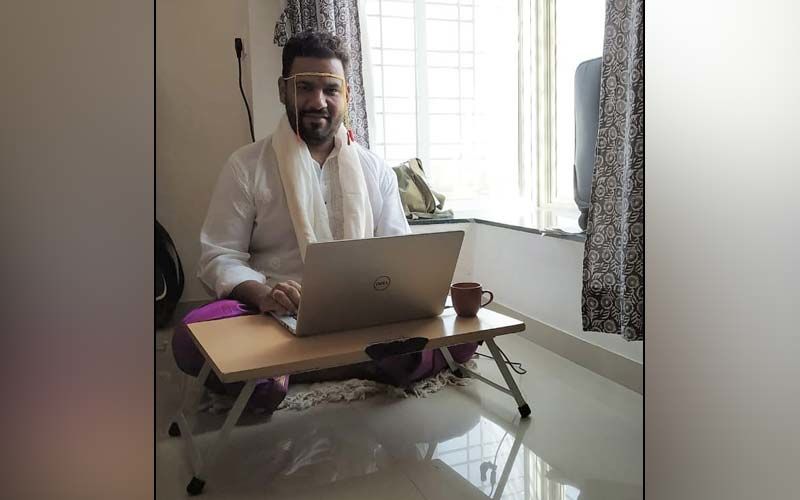 Sameer Vidwans' upcoming film 'Dhurala' is breaking the internet every day with promotional posts. The film stars Sai Tamhankar, Sonalee Kulkarni, Ankush Chaudhari, Siddharth Jadhav in the lead roles. The film is scheduled to release on 3rd January 2020. Sameer Vidwans who made 'Anandi Gopal', 'Time Please' and 'Double Seat' a success is back with a bang with 'Dhurala'.
Kshitij Patwardhan who is the writer of the film has released a picture on Instagram that has sparked curiosity in the fans. Dressed as a groom, Kshitij is working on a laptop.
Apparently, Kshitij was writing the script of the film during his wedding preparations. So much so that even on his wedding day, when he was dressed as a groom, he was sitting with the script. So much dedication and love for the art is rare.
Kshitij says, "एक वर्षापूर्वीचा #धुरळा काम आणि कार्य साईड बाय साईड. एकीकडे स्वतःच्या लग्नाची धडधड. दुसरीकडे प्रोडक्शन ड्राफ्ट ची धडपड. #writersofinstagram #wedding #writerslife #dhurla
#workforit #workfirst Clicked by @anda_half_fry".
The movie is thus very close to the heart of Kshitij and the team. Releasing on 3rd January 2020, we will catch the excitement on the silver screen with 'Dhurala'.


Image Source:- instagram/kshitijpatwardhan