Marathi Actor Siddharth Chandekar's Mother Gets Married For The 2nd Time; Proud Son Pens A Heartfelt Note, 'It's About Time You Care About Yourself '
Siddharth Chandekar penned a heartfelt note for his mother, who tied the knot for the second time, encouraging her to live for herself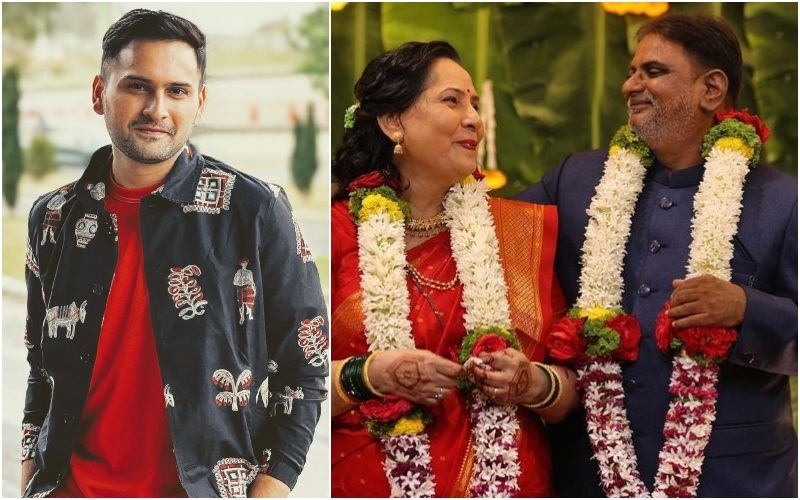 Renowned actor Siddharth Chandekar has garnered a huge fanbase in the Marathi entertainment industry because of his versatile acting performances and chocolate boy looks. Having risen to fame with his debut movie Zenda in 2010, he enjoys a huge following on social media. He recently took to his official handle to share a photo of his mother tying the knot for the second time and penned a heartfelt note which even left his fans emotional.
On Wednesday he took to Instagram to announce his mother, Seema Chandekar's wedding. He wrote a beautiful message for her in Marathi and congratulated her for her second innings. The 32-year-old expressed how he never realised that even his mother would need a partner, that she has a life beyond her family and her kids. He went on to question how long she would have to continue living alone.
Siddharth Chandekar goes on to add, "You cared for everyone until now, and now it's about time that you care about yourself and your new partner. Your kids will always be by your side. You organised my wedding in a grand manner, and now it's my turn to do the same. The most beautiful wedding of my life is that of my mother! I love you Aai! Happy married life."
Netizens were quick to take to the comments section of the post to shower him, his mother and her new partner with love and affection. One wrote, "This is so beautiful....! Best best wishes to you all." Another wrote, "Beautiful. kaku congratulations ani khuup shubhecha.
Big hug @sidchandekar." Other one wrote, "Ahhhh tooo wholesome!! Congratulations to Seema maushi, kiti sundar ani anandi distayet, well done Siddu! Lots of love and bestest wishes to all of you."
On the work front, having made his debut at the age of 19, he went on to star in movies like Jhimma, Classmates, Vazandar, Balgandharva and many others. He has also been a part of television serials like Jeevlaga, co-starring Madhura Deshpande, Swapnil Joshi, Amruta Khanvilkar, and Sang Tu Aahes Ka? He was last seen in City Of Dreams, helmed by Nagesh Kukunoor.
Image Source: Instagram