Phulala Sugandh Maaticha, August 09th, 2021, Written Updates Of Full Episode: Sagar Hides Kirti's letter In Shubham's Envelope To Let Him Know About Kirti's Dream
Phulala Sugandh Maaticha, August 09th, 2021, Written Updates Of Full Episode: Sagar Hides Kirti's letter In Shubham's Envelope To Let Him Know About Kirti's Dream. Not knowing what is inside, Kirti uses that envelope as a firestarter for the stove.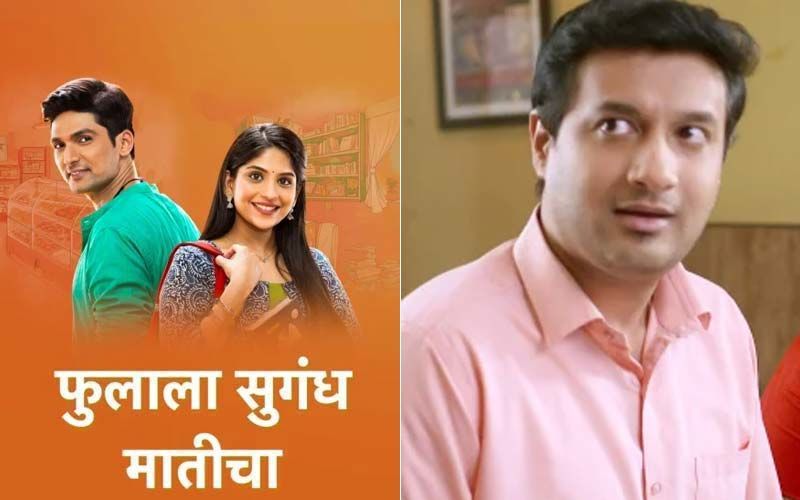 Kirti arranges an amazing naming ceremony for her niece. Everyone along with Kirti's in-laws arrives at the ceremony. The ceremony gets completed with Kirti naming her niece "Arya". Everyone congratulates Sagar and Aarti while giving them gifts. Meanwhile, finding an opportunity, Shubham gives Kirti the pen that her father left behind. Giving her a surprise, Shubham tells Kirti everything about his first and last meeting with her parents. Kirti then uses that pen to write her wishes for little Arya. Writing wishes for her, Kirti bestows her dream of becoming an IPS officer to her niece. Sagar finds out about this letter and sneakingly hides the letter in Shubham's gift envelope.
Now, in today's Phulala Sugandha Maaticha episode, as the naming ceremony is over, Sagar and Aarti hand over the gifts to the Jamkhedkar family. While leaving Kiri assures her brother that she'll be visiting every now and then. And just before stepping out of the house, Shubham tells Sagar and Aarti that the DCP has organized an honor ceremony for Kirti and invites them. After that Kirti leaves for her home with Shubham and the Jamkhedkars.
As the Jamkhedkar return home, Sonali grabs Vikram and asks him to pick one of the two mysterious bowls that she's kept on the table. Vikram picks one and finds Jalebi under it. Sonali gets upset as he picks up the bowl indicating that they'll have a girl as a child. Vikram lashes at her asking her not to discriminate between a boy and a girl, but Sonali doesn't seem to understand that. She asks Vikram if she can take the test to reveal the gender of the baby. Vikram gets angrier at her and asks her to stop thinking irrationally.
Meanwhile, Shubham hangs a portrait of Kirti's parents in their room. Kirti gets emotional and thanks him for doing this. Shubham tells him that her parents are his parents as well. As Kirti thinks that she's unlucky to not have her parents with her, Shubham explains to her that her parents are always with her in her heart. After having a heartfelt talk, the couple starts sorting their room. Shubham opens up his envelope and takes out his money. But while doing that he fails to see the letter that Sagar kept in it. He then leaves the envelope on the bed and goes to the shop as Babu calls him.
After a while, Bhau appears in the hall when Jiji Akka is lighting the stove. As he asks for tea, Bhau gets into a small verbal fight with Jiji Akka. Kirti appears in front of them and asks Jiji Akka what she is doing. As she doesn't answer properly, Bhau tells Kirti that Jiji Akka is lighting the stove because their gas cylinder ran out. Kirti asks Jiji Akka if she can help her, but gets mocked by her instead. Bhau asks Jiji Akka to give her a chance and Kirti starts trying to light the stove. As she fails to do it, Jiji Akka makes fun of her. Hearing that, Bhau comes to her help and gives Kirti a piece of newspaper to use as a firestarter. As Kirti gets nearly successful, Bhau praises her but Jiji Akka criticizes Kirti and Bhau as the newspaper doesn't seem to help much. Bhingri brings all the paper from Kirti and Shubham's room along with Shubham's envelope. While using papers as a fire starter, Kirti accidentally puts Shubham's envelope on fire. As it burns in the stove, it seems like Shubham won't get to know about Kirti's dream after all.
Back at the shop, Shubham has a fun conversation with Babu as they talk about Kirti's courageousness and their childhood achievements. Meanwhile, at Sagar's place, Aarti doesn't seem to find Kirti's letter. Sagar tells her to stop searching for it as he's already hidden it in Shubham's envelope. Aarti gets worried about how Shubham would react. Telling her that he only did it for Kirti's dream, Sagar assures Aarti that Shubham will support Kirti.



Image source: Hotstar