Phulala Sugandh Maaticha, July 09th, 2021, Written Updates Of Full Episode DCP Brings Anjali To Meet Shubham
Phulala Sugandh Maaticha, July 09th, 2021, Written Updates Of Full Episode DCP Brings Anjali To Meet Shubham DCP brings his wife Anjali, as she is also a fan of Shubham's culinary skills and wants to congratulate him.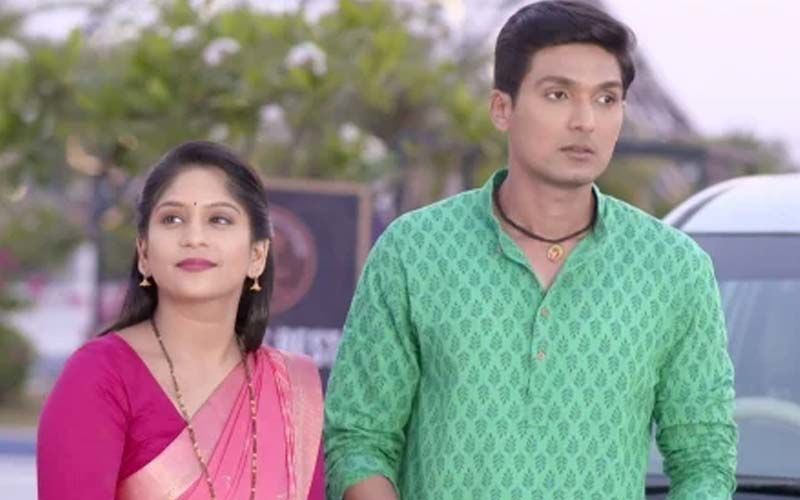 Everyone is congratulating Shubham for his victory. Congratulating him, the DCP visits his house after Shubham returns to Maharashtra.
Now, in today's Phulala Sugandha Maaticha episode, while congratulating him DCP warns everyone to stay safe as there has been a terrorist intrusion in their area. As the IPS in Kirti never left her mind, Kirti catches the eye of DCP as she perfectly knows what to do when the city is on red alert. While they are talking about the terrorist intrusion, the camera keeps flashing on Raju as he makes a suspicious face while hearing them talk.
Further finishing their topic, DCP gets a call from his wife who has also come to congratulate Shubham. Kirti goes to receive her and Janhavi also leaves the room to talk with her friend. And while being on the video call, Janhavi's friend asks her to look back as the wife of DCP is none other than her Principal who knows that Janhvai has failed her graduation exam. Knowing that she's in trouble, Janhvai goes outside. DCP introduces his wife Anjali Wagale to the Jamkhedkar family. Anjali congratulates Shubham while praising his culinary skills. While congratulating him, she looks at Kirti and remembers her for being the 3rd topper of the state in the graduation exam. She praises her as well, as she remembers how amazing Kirti's speech was at the time of her award ceremony. But remembering that no one from the family was there, Anjali asks everyone about where they were at that time. Kirti quickly changes the topic, but knowing what Kirti's dream was, Anjali asks her about how her preparation for IPS is going. Kirti interrupts her in the middle and changes the topic while leaving for the kitchen.
After a while, Anjali visits the kitchen to talk with Kirti. While talking to her Kirti asks her not to mention anything about her dream as she's given up on it. But making her realize that her dream is not worth giving up, Anjali tells her that the nation needs IPS officers such as her. Anjali asks her whether she's really given up her dream to become an IPS officer? Kirti stands speechless in front of her and Anjali gets the answer to her question. Meanwhile, in the garden, Janhvai speaks with her friend. Her friend tries to explain to her that lying about her result will only get her into more trouble. But not caring about it, Janhvai tells her that her studies are not going to help her after marriage.
Further, DCP and his wife leave the Jamkhedkar. While leaving the DCP slips from the stairs and gets saved by Raju. And while saving him, Raju says something suspicious with a suspicious look in his eyes. He tells the DCP that we ignore some important things even though they're right in front of us. After the DCP leaves with his wife, Jiji Akka calls Shubham and gives him a new chain as a gift. Shubham arrives in his room to show his new chain to Kirti. While showing he the chain, Shubham tells her that everyone has gifted him something except her and he's waiting to get a gift from her. But confused on what to give him, Kirti asks him what does he want? Answering her Shubham smiles and gets closer to her.
Image source: SpotboyE