Phulala Sugandh Maaticha, October 13th, 2021, Written Updates Of Full Episode: Jiji Akka Blames Kirti's Dream For Shubham Being Unhappy
Phulala Sugandh Maaticha, October 13th, 2021, Written Updates Of Full Episode: Jiji Akka Blames Kirti's Dream For Shubham Being Unhappy - She thinks he is not leading a happy married life.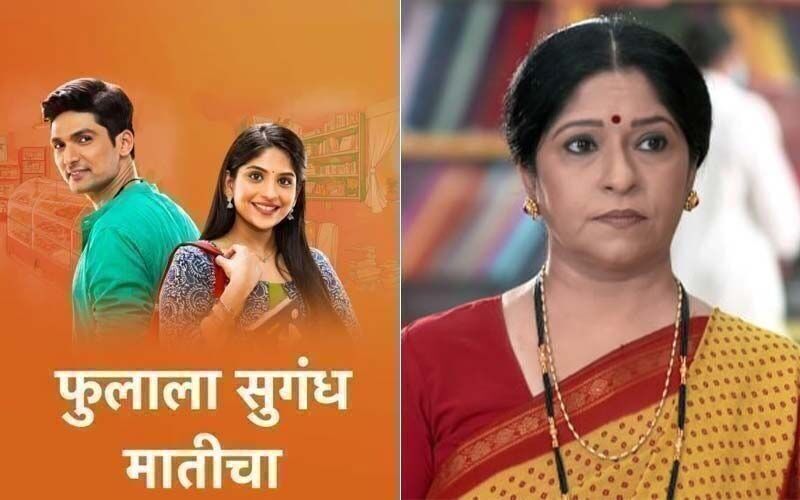 Jiji Akka invites the neighboring women and presents a sarcastic display of her anger on Kirti. Bestowing Kirti with the Police officer uniform, Jiji Akka celebrates her dream in front of everyone, while not being happy about it in reality. Jiji Akka's anger gets noticed by everyone but she still continues to embarrass Kirti, even though Kirti apologizes to her.
Now, in today's Phulala Sugandha Maaticha episode, Jiji Akka drags Kirti to her room and lashes at her. As Kirti keeps apologizing to her, Jiji Akka keeps telling her that she can't undo what has been done. Jiji Akka also blames Kirti's dream to be the reason for Kirti and Shubham not having a normal husband-wife relationship. Blaming Kirti for keeping her son away because of her dream, Jiji Akka calls Kirti selfish and blaming her for all the despair in the family. As Jiji Akka keeps lashing at Kirti, Kamla Mavshi calls her, and Jiji Akka comes out. Continuing to humiliate Kirti more, Jiji Akka starts playing Phugadi with the women, telling them that she's so happy today. Jiji Akka then plays Phugadi with everyone even Kirti, until the point where she feels dizzy and is about to faint. Seeing everything, Kirti feels devastated and returns to her. Crying to her parents' frame, Kirti says that she doesn't want a dream that is separating her family. As Shubham tries to comfort her, Kirti pleads to him and asks him not to force her anymore. As Shubham also gives in, Jiji Akka appears in the room, saying that the decision is not up to them anymore. Kirti tries to tell her that she won't ever mention anything about becoming an IPS officer. But Jiji engulfed by the rage, won't let her quit. Saying that she'll have to become an IPS officer, Jiji Akka makes Kirti swear on her parents. She asks him not to quit her dream if she's truly the daughter of her father and asks her to worry about the challenges she'll have to face. Saying that Jiji Akka again mentions that Kirti only has three chances to do mistakes if she crosses that then her IPS dream is done for.
Later, while Jiji Akka and Kirti are working in the kitchen, Bhingri asks Jiji Akka who's clothing did she ask to get ironed. Replying to her, Jiji Akka says that those are Kirti's clothes and she wants each clothes to be ironed every day, as she'll be becoming an IPS officer now. As Kirti asks her why is she doing that, Jiji Akka continues to give her sarcastic replies. Further, at the dinner, Jiji Akka serves a plate for Kirti, saying that everyone will have to wait till Kirti is done with her dinner. As everyone asks her why? Jiji Akka tells everyone that Kirti will eat first as she has to attend the tuition and she needs time to rest and study before that. Kirti tells her that she's not hungry, but Jiji Akka makes her sit on the chair, while everyone watches the sarcastic show of Jiji Akka's anger. Kirti feels guilty, as Jiji Akka is making her do that, but unable to do anything Shubham and Kirti stay there speechless. While Bhau and others try to stop Jiji Akka, Jiji Akka doesn't listen to them.
Image Source: Hotstar