Phulala Sugandh Maaticha, October 14th, 2021, Written Updates Of Full Episode: Bhau Asks Shubham And Kirti To Give Jiji Akka Some Space
Phulala Sugandh Maaticha, October 14th, 2021, Written Updates Of Full Episode: Bhau Asks Shubham And Kirti To Give Jiji Akka Some Space - As she is recuperating badly from the betrayal.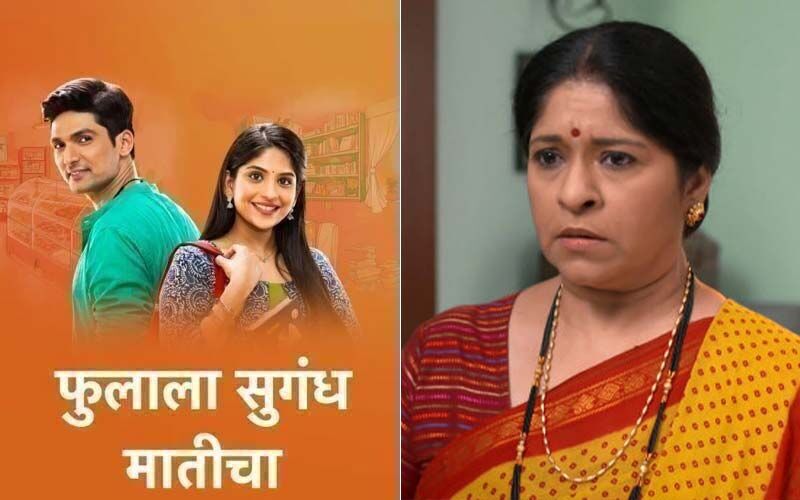 After humiliating Kirti in front of the neighbors, Jiji Akka continues to embarrass her. From getting her sarees ironed to offering dinner to her before others, Jiji Akka doesn't stop the display of her rage. Now, in today's Phulala Sugandha Maaticha episode, Jiji Akka prepares fresh roti for Kirti and makes her eat first. While Shubham tries to stop Jiji Akka, she tells everyone that from now on, Kirti will be eating the food before anyone else. After eating a bit, Kirti refuses to eat any further and goes to her. After that everyone has their dinner. After a while, Jiji Akka packs dry fruits for Kirti.
Bhau tries to stop her from punishing Shubham and Kirti more by telling her that she has done enough. But Jiji Akka ignores him and goes out to give Kirti her dry fruits, as the time for Kirti to leave for her classes comes. While Shubham and Kirti are leaving, Jiji Akka stops them and hands dry fruits over to Kirti. As they still feel guilty because of Jiji Akka's behavior, Shubham and Kirti quietly listen to her. Meanwhile, Jiji Akka assures Kirti that she'll take care of everything from her clothes to food, so she'll just have to worry about her studies.
Giving her the dry fruits, Jiji Akka keeps sarcastically praising Kirti, until Bhau interrupts her. While they are at the door, Bhau comes and asks Shubham to free the lid of the jar. As Shubham is unable to open it, Shubham tells Bhau that he'll oil the lid for two days so that it'll get free. As the jar was just a deception, Bhau tells Shubham that like the lid of the jar, Jiji Akka's anger will also take some time but will surely cool down. Saying that Bhau asks both Shubham and Kirti to give some time to Jiji Akka. He also asks them not to worry and asks Kirti to focus on her studies, before both of them leave.
At the Jamkhedkar house, Sonali, Tushar, and Janhavi talk about Jiji Akka's behavior while playing cards. Talking about Jiji Akka spoiling Kirti, three of them hope about Kirti committing her three mistakes quickly. After a while, Tushar and Janhavi go into their rooms, leaving Sonali alone to clean the mess. Meanwhile, at the Kirti's classes, Parmeshwar Swarup Baba holds a Bhajan program that'll be celebrated all night. Hearing that, Kirti and Shubham worry about their classes. Back at home, Bhau finds Jiji Akka missing from her room. Searching for her, Bhau finds Jiji Akka in the storeroom, sewing clothes for the baby.
As Bhau asks her for whom she's doing that, Jiji Akka tells him that it's for Shubham and Kirti's child, as she is sure about Kirti losing her challenge. Hearing that, Bhau tries to make her realize that it would only bring pain to her and despair in the family. As Jiji Akka refuses to agree, Bhau tells her if she doesn't agree with what her children want, she'll only bring pain to herself.
Back at the classes, Kirti meets her professor who tells her that she's canceled the lecture. As Kirti asks her why she tells her that it isn't possible due to the program. Kirti asks her professor to talk with Parmeshwar Swaroop baba, as it won't be possible to take classes for several days with this chaos. The professor refuses to talk directly to Baba as this topic is very sensitive. And even though Kirti tries to convince her, the Professor leaves, telling Kirti that she'll talk about it later.
Image Source: Hotstar