Phulala Sugandh Maaticha, October 6th, 2021, Written Updates Of Full Episode: Jiji Akka Questions Shubham And Kirti For Lying To The Family
Phulala Sugandh Maaticha, October 6th, 2021, Written Updates Of Full Episode: Jiji Akka Questions Shubham And Kirti For Lying To The Family - Jiji Akka encountered Shubham and Kirti at Guru's Den.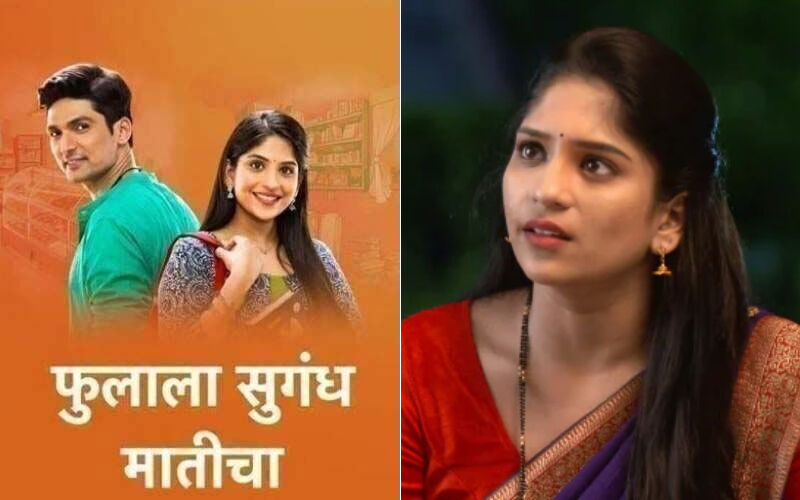 Today's episode starts with Jiji Akka, Bhingari, and Bhau in Avtar Swaroop's venue for darshan. Suddenly Bhau feels that his stomach is upset and needs to see the washroom. Jiji Akka gets angry but eventually accompanies him with Bhingari . Three of them are in search of a washroom, suddenly Jiji Akka sees a Jap Mala (Rosary) and insists to buy it. Meanwhile, Bhau goes to see the washroom, Jiji Akka and Bhingari remain at the stall.
As we see yesterday, despite Tushar's refusal, Emilee visits Avtar Swaroop's venue and she pays obeisance to Tushar's neighbor Kamla in an impression of his mother. Emilee's presence disappoints Tushar. He takes her to a secluded place and tries to explain to Emilee that this is not the perfect time to meet his parents and talk about their marriage. He explains that our family is experiencing much turmoil and we should wait for the perfect time and if still, she insists then he has to think about the breakup. Emilee understands the situation and gets convinced that she will wait till the right time.
Jiji Akka asks Sonali to stay back at the place of Pooja only but out of her curiosity, she goes to the stall for booking the pooja. Meanwhile, Bhau, Jiji Akka, and Bhingari start to the place where Sonali is performing pooja but middle in the way, Jiji Akka finds that a lady has dropped her wallet, she is unaware that the lady is Kirti, so she follows her and asks to pick the wallet, Kirti and Shubham recognize that it is Jiji Akkas voice, they get stunned. Then they decide to turn around and face Jiji Akka and that also stun the Jamkhedkars, as Jiji Akka sponsors a vacation to Mahabaleshwar for them. To their surprise, seeing Kirti and Shubham at Nagar becomes a mystery. Jiji Akka and Bhau try to find the reason for their presence and Kirti and Shubham also want to tell the truth but Bhingari interrupts them, meanwhile, Bhau asks them to bring a water bottle.
Jiji Akka decides to perform Pooja for Kirti and Shubham at Avtar Swaroop's temple for making a benediction for a child. Sonali speculates, for whom Jiji Akka makes benediction, but the mystery unfolds which disappoints Sonali because Jiji Akka's benediction is for Shubham and Kirti's child. That also disappoints Shubham and Kirti because Shubham wants Kirti to become a Police Officer instead of a mother. Kirti also finds herself in a huge dilemma because she wants to be a police officer but being Jiji Akka's daughter-in-law, she does not want to disrespect Jiji Akka's emotions.
Stay tuned for more updates on your favorite TV show Phulala Sugandh Maaticha.



Image Source: hotstar