Phulala Sugandh Maaticha, September 09th, 2021, Written Updates Of Full Episode: Jiji Akka Asks For Proof That Kirti Has Given Up Her Dream
Phulala Sugandh Maaticha, September 09th, 2021, Written Updates Of Full Episode: Jiji Akka Asks For Proof That Kirti Has Given Up Her Dream. Fulfilling Jiji Akka's wish, Kirti does the biggest sacrifice of her life.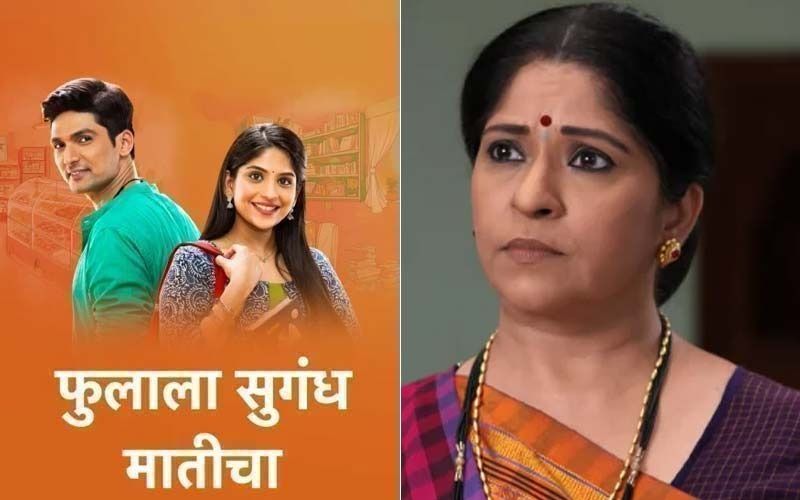 Realizing that it's the last date for Kirti's admission, Shubham rushes to the admission center. Even though Kirti is also present there, they don't realize that. As Kirti returns from the admission center, Jiji Akka inquires her, as she suspects that Kirti might get her admission done as well. Meanwhile, Shubham also returns home to get Kirti's documents for admission. Thinking that Kirti hasn't given up on her dreams yet, Jiji Akka takes an extreme measure to ensure that Kirti gives up.
Now, in today's Phulala Sugandha Maaticha episode, Jiji Akka tells Kirti that she's feeling worried for her family. She tells Kirti that the family that she worked so hard to keep together is falling apart. As Kirti tries to tell her that this would never happen, Jiji Akka gives her examples of Tushar and Sonali's acts. Comforting Jiji Akka, Kirti says that she knows what she has done for the family and everyone respects her. But sometimes someone slips out of their limit. Jiji Akka then tells Kirti what it means to keep a family together by oneself. Then she brings out the topic of Kirti's dream, saying how Shubham is stuck on supporting Kirti's dream. Kirti tries to ensure Jiji Akka that Shubham would never go beyond her will, but Jiji Akka refuses to accept that. As Jiji Akka fears that her son would go against her for Kirti, Kirti assures her that it would never happen and she'll make sure of it. Kirti then asks Jiji Akka what should she do to make her believe that she's given up on her dream. Jiji Akka tells Kirti that she trusts her but what about other people. She then asks Kirti for proof that would make others believe that she's completely given up on her dream.
Kirti then takes a major step as she goes to the storeroom to bring her books and certificates. While leaving the room, Kirti gets flashbacks from her past but controls her emotions and moves forward. Meanwhile, Shubham takes Kirti's documents and leaves. As he comes down he realizes that he forgot his phone in the storeroom and goes back. While he searches for the phone, Kirti comes, takes her bag, and goes back without realizing that someone is there. As he finds his phone, Shubham goes to tell Jiji Akka that he's going to the admission center. But as he goes to his room, he stumbles upon a different picture that shocks him. As he reaches the room, Shubham sees Kirti putting her bag in front of Jiji Akka. While submitting her books and certificate to Jiji Akka, Kirti tells her that those aren't just books, those are the treasure that was passed on to her by her father. In this bag, she also has all the achievements that she work day and night to achieve. And as proof of her giving up on her dream, Kirti tells Jiji Akka that she's submitting her treasure to her. As he hears everything, Shubham realizes that Kirti opposed his decision of supporting her dream because of Jiji Akka.
Further, Jiji Akka tells Kirti that these books and certificates won't be enough to make everyone believe that Kirti has given up on her dream. Saying that Jiji Akka asks Kirti for something that is precious to Kirti more than her life and that would create no doubt in anyone's mind about Kirti giving up on her dream. As she says that, Kirti tells Jiji Akka that she has something that is the last memory of her father and that is the pen that he held in his hand even after his death. Kirti tries to give it to Jiji Akka but doesn't find the will to as it is precious to her than her own life. She pleads to Jiji Akka asking to forgive her, as she can't give that pen to anyone. Jiji Akka then comforts Kirti and tells her that she respect Kirti's parent just like her. And Kirti submitting her pen to Jiji Akka wouldn't change anything. Jiji Akka then vows to Kirti that she'd give this pen to Kirti's children and would make them achieve their grandfather's dream in their mother's place. Kirti agrees to give her the pen. Seeing Kirti do that, Shubham strengthens his will, and doing what a husband should do, he leaves for the admission center.