Phulala Sugandh Maaticha, September 21st, 2021, Written Updates Of Full Episode: Jiji Akka Is Disturbed That Shubham Is Quitting From His Passion For Cooking
Phulala Sugandh Maaticha, September 21st, 2021, Written Updates Of Full Episode: Jiji Akka Is Disturbed That Shubham Is Quitting From His Passion For Cooking - Shubham surprises everyone by telling them the offer that he received from a businessman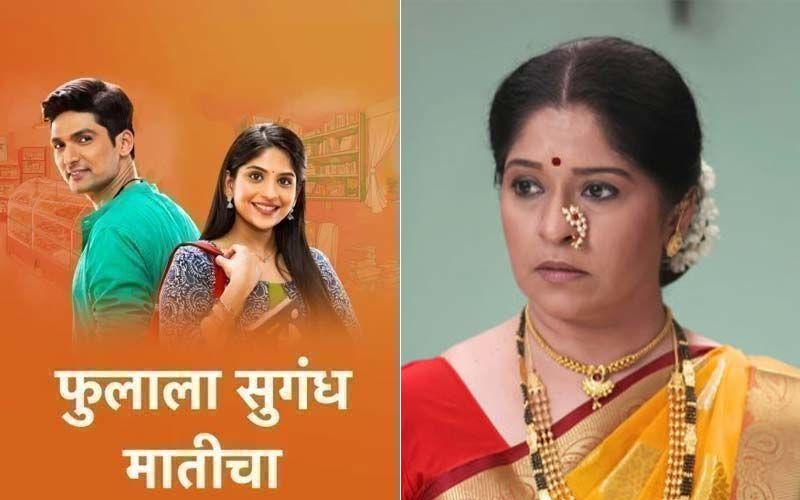 Shubham still tries hard for Kirti's dream, but Jiji Akka is firm on her decision to make Kirti quit her decision. Thus, seeing a book and lamp on the table, Jiji Akka replaces them with a sewing machine. Shubham asks Kirti about the lamp and gets to know that Jiji Akka is behind that. Still being firm on his decision as well, Shubham keeps trying his best. While he is doing that Shubham receives an offer from a businessman and gathers everyone in the house to tell them about the offer.
Now, in today's Phulala Sugandha Maaticha episode, everyone gathers around Shubham as he tells him about his new offer. Shubham tells everyone that a businessman named Ashish Patel has presented an offer to him. According to the offer, Shubham will be giving his recipes to the businessman who'll be preparing the sweets under Shubham's name and will be selling them on an international level. And in exchange Shubham will be receiving a huge amount of money for five years and will have to shut his shop down. Everyone seems to be happy about this offer except Kirti and Jiji Akka, as Shubham will have to quit cooking which is also his identity. As his siblings are happy about it, Shubham decides to quit cooking and shut down his shop. As soon as he tells that he'll be shutting his shop down, Sonali gets ideas about expanding Vikram's business.
Further, while attending his shop, Vikram finds a flyer of Chitravati's business. As he tries to pick it up, Sonali sees him and steps on the flyer. But having seen the photo on the flyer, Vikram recognizes the lady to be the one who fooled him into a huge loss. While Vikram tries to read the flyer, Sonali tears it up and takes it with her. Her actions make Vikram nothing but suspicious about her. After a while, Vikram comes home telling Jiji Akka about the increasing number of thieves in the city. Tushar warns Jiji Akka and Sonali, as they constantly wear gold. Sonali gets upset as she hears the news and Vikram carefully watches her reaction. Meanwhile, Jiji Akka accidentally hurts herself while cutting. Seeing that she made a small mistake like that, Vikram realizes that something is troubling her. Vikram asks her if she didn't like the decision Shubham took. Jiji Akka then tells him that the fact that Shubham would have to quit the one thing that he loves so much is not worth the money. Bhau and Vikram then try to tell her that Shubham is taking this decision for the good of his family, but Jiji Akka refuses to accept it.
Further, Kirti rushes to Shubham and asks him if he's really taken the decision from his heart. As she tries to convince him on changing his decision, Shubham tells Kirti that he's learned this from her only. He then tells her that like her he also wants his family to be happy and for that he can quit his dream. Kirti still tries to change his mind, but Shubham refuses to listen and tells her that it depends on her, whether he'll change his decision or not. Further, he puts his Jhara and Kirti's pen in front of Kirti. Shubham then asks Kirti to pick her pen up and follow her dream, saying that only then he will change his mind. Meanwhile, at home, Vikram still tries to convince Jiji Akka that Shubham's decision will only lead him to success. He also asks her not to worry for Shubham as he won't stay still and will find new things to do. Further, Vikram tells Jiji Akka his plan to utilize Shubham's shop. And while Bhau also tries to support his kids, Jiji Akka still seems to be troubled.
Image Source: Hotstar