Sayali Sanjeev Seeks Blessings From Lalbaugcha Raja For Her Upcoming Film AB Ani CD Starring Amitabh Bachchan
Sayali Sanjeev's upcoming film AB Ani CD coming soon to cinemas, Sayali seeks blessings from Lalbaugcha Raja for the launch of its poster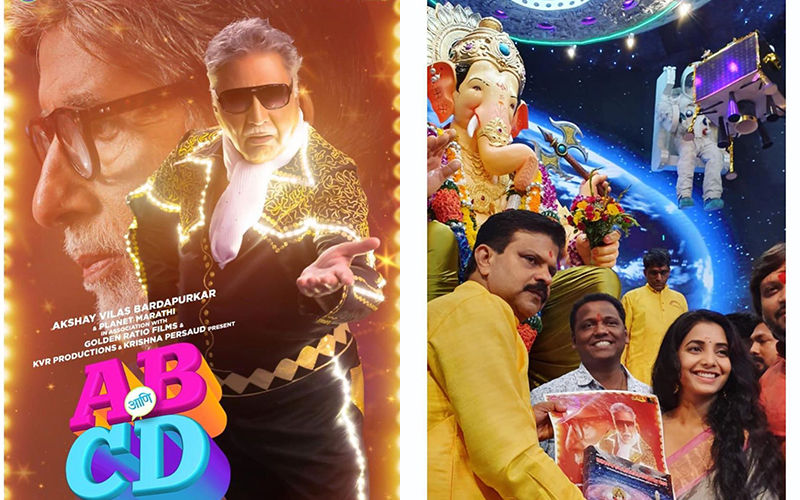 Sayali Sanjeev is starring with the biggies Amitabh Bachchan and Vikram Gokhale in the upcoming Marathi film 'AB Ani CD'. This film is about two old friends and the bond they share as they steer through different circumstances in their life.
Amitabh Bachchan makes an official debut in Marathi films as an actor after his last cameo in the film 'Akka' opposite Jaya Bachchan.
Amitabh will be seen playing himself as AB, whereas Vikram Gokhale will be seen playing the character of Chandu CD. Although the film is a light comedy, director Milind Lele promises an emotional twist in the film.
Sayali seeks blessings from Mumbai's most loved Bappa who brings happiness and fulfillment to the wishes of anyone who prays with their whole heart. She unveils the poster of her film AB Ani CD at the feet of Lalbaugcha Raja.
The recent poster shared by Sayali on her Instagram gives us a sneak-peek into the film.AB Aani CD is featuring Akshay Tanksale, Subodh S Bhave, Lokesh Gupte, Sharvari Lohokare, Seema Deshmukh, Sagar Talashikar and Pushkar Shrotri along with the lead actors Amitabh Bachchan, Vikram Gokhale and Sayali Sanjeev.
This film is set to release towards the end of this year, produced by Akshay Badrapurkar and Planet Marathi in association with Golden Ratio Films, KVR Productions & Krishna Persaud.
Sayali is currently also in the news for her upcoming films 'Satarcha Salman', 'Basta' and her new web series 'U-turn'. Sayali's role in the upcoming film is still under the covers, thus, piquing our curiosity.
Image Source:- instagram/sayali_sanjeev_official