'Tanhaji - The Unsung Warrior': New Trailer Of The Film To Release Today!
A new trailer of 'Tanhaji - The Unsung Warrior', an Ajay Devgn Films production directed by Om Raut starring Ajay Devgn, Kajol, Saif Ali Khan, will release today!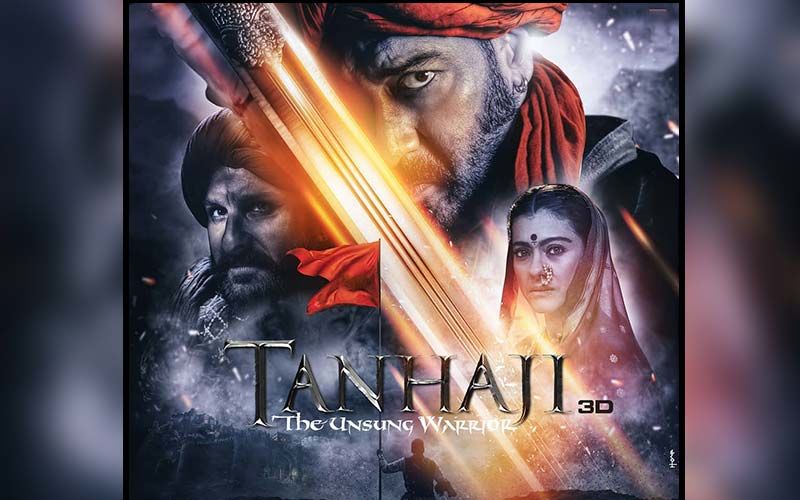 There is a wave in Bollywood and Marathi film industry to make movies that depict important events of our history. It all started with 'Bajirao Mastani', then 'Padmavat', 'Manikarnika', 'Kesari' and 'Panipat'. Marathi films too have taken up the most legendary chapters in our history and spun magnificent stories on screen. 'Balgandharva', 'Rama Madhav', 'Lokmanya' 'Farzand', 'Fatteshikast', 'Hirkani', and upcoming films like 'Pavan Khind' are making history repeat on screen!
Amidst all this, Ajay Devgn in association with Bhushan Kumar is presenting 'Tanhaji - The Unsung Warrior', an Ajay Devgn Ffilms production directed by Om Raut starring himself (Ajay Devgn), Kajol, Saif Ali Khan, and many more seasoned actors. This film will be released in both Hindi and Marathi and is coming to cinemas on 10th January 2020.
Director Om Raut, took it to Instagram to share the announcement of the release of the new 'trailer 2'! Om's announcement was also reposted by Kajol and Ajay Devgn. They wrote, "#TanhajiTrailer2 arrives today at 5.30 pm! #TanhajiTheUnsungWarrior @ajaydevgn #SaifAliKhan @omraut @bhushankumar @sharadkelkar #AjayDevgnFFilms @tseries.official @tseriesfilms @tanhajifilm".
'Tanhaji' is a film about the brave warrior Tanhaji Malusare's valor and courage. As the Mughal Emperor declares Kondhana as the capital of Southern India, and the undefeatable Uday Bhan was appointed to defend the fortress, Shivaji orders his General Tanaji Malusare to capture Kondhana to protect Southern India from Mughal invasion. Tanhaji, left his only son's wedding to help Shivaji Maharaj fulfill his noble dream of 'Swarajya'.
Fans are excited about the film right from the first teaser release of the film because, Kajol who plays the wife of Tanhaji, Savitribai Malusare in this historical film, is reuniting with hubby Ajay after 10 years, on the silver screen and also this is Ajay's 100th film. The film is start studded with actors like Sharad Kelkar, Luke Kenny, Padmavati Rao, Jagapathi Babu, Devdatta Nage, Pankaj Tripathi, Neha Sharma, Ajinkya Deo, and Hardik Sangani.
With the announcement of the release of 'Trailer Two' today, fans are looking forward to knowing more about the film. Talented actors, life-like special effects, powerfull story narration, great dialogues, and captivating music all of this fused together with the pride of Marathi warrior Tanhaji, all of these factors make the movie really special for the fans! Since the movie is less than a month away from release, fans are super excited to catch all possible action about the film!


Image Source:- instagram/omraut