I Never Questioned My Father Kishore Kumar About His 4 Marriages: Amit Kumar
His father was the maverick music genius Kishore Kumar but in a candid conversation Amit Kumar reveals that he was just a simple villager who wanted to be a family man. That desire drove him to four marriages and a mask of eccentricity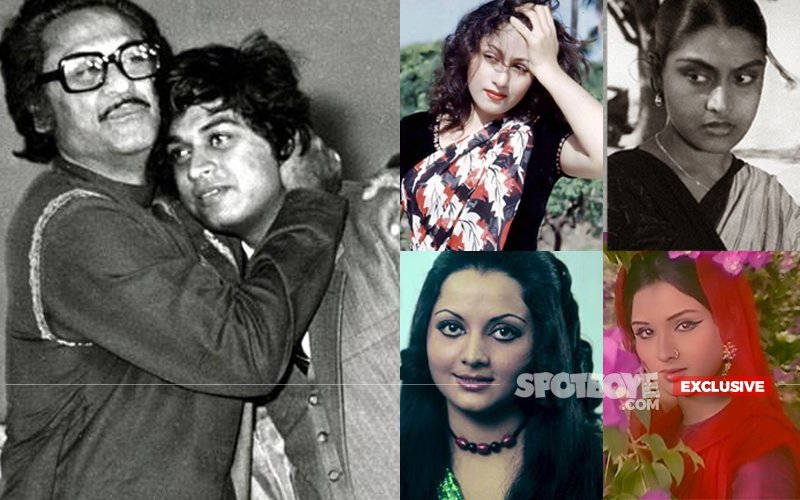 Amit Kumar is back from London after being honoured by the House Of Commons for his 50 years of contribution to music. Moreover, he is the first Indian to receive it.
The time is right to have a chat with him and SpotboyE.com caught up with him at the iconic Kishore Kumar bungalow in Juhu
on Saturday
evening. Excerpts from the conversation that followed:

First things first. Tell us about the accolade received by you at the House of Commons in the UK...
I had gone for a UK tour and performed in Logan Hall (London) and Leicester. It came as a surprise to me. I had no idea that they were planning to honour me. I was told by the organiser once I was there. It's a big honour and I am elated.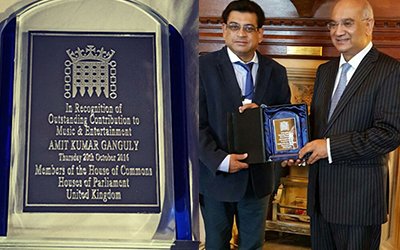 Image Source: statics

Why have you disappeared from Bollywood?
I sang in lots of films from '71 to '94. After my Dad passed away in '87, I was even more flooded with offers, thoda sympathy wave bhi tha. Lekin you know dheere dheere one tends to become aloof, and it happened with me as well. Besides, a lot of young names trickled in around the mid '90s and I felt that now I should take a step back. I was happy doing stage shows and I am doing them even now. My passport looks like a Triple Club Sandwich.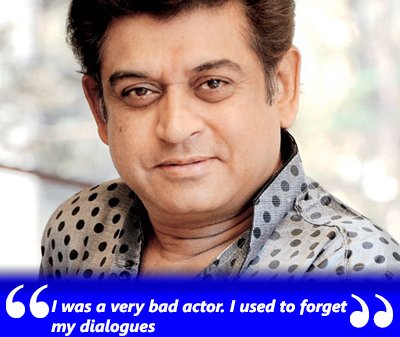 Image Source: mediain

What exactly happened in '94 that made you take that decision?

The old gave way to the new.
You are evading my question. Let me ask you differently. What was the flashpoint?

I'll take that question. I have nothing to fear. Bollywood na mujhe khila raha hai na pila raha hai (pauses). I was not happy with the system. I saw that there was too much groupism and backbiting happening around me. I am not denying that groupism and backbiting did not exist in the music industry before that, but it was definitely not to an extent that would make me uncomfortable. I got disturbed. I don't blame anybody, in fact people blame me for going away from the driver's seat to the back seat.

Its' said that you were disgruntled by Babul Supriyo and Kumar Sanu's entry because you felt that they copied your Dad...

Nahin, waisa nahin tha. There have been parallels drawn to my father even where I have been included. I am not a complex man. There was no pressure on me to continue the legacy. My Dad had told me, 'This line is not easy and you have to manoeuvre your way constantly. If and when you stop enjoying it, hat jaana'.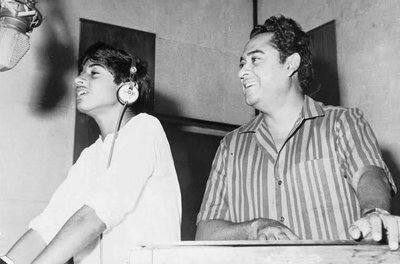 Image Source: learning and creativity
Senior singers like Rafi saab, Lataji and others must have called you to say 'Amit, what are you doing?'

Nobody called me. Nobody calls in this line, it's a very crude line. Yahan koi kisika nahin hota. I could have stayed on if I had become a bit diplomatic, but I didn't want to change. I wanted to remain the whimsical Amit Kumar.
I am a man who wants to sleep in the afternoons, I did it even when I sang with Rafi saab and Lataji--- and I do that even today. My father used to jokingly tell filmmakers to not give me work because I tend to sleep in the afternoons.
Did your Dad see you as an actor? I ask this, because he cast you in two films- Door Ka Rahi and Door Gagan Ki Chaon Mein- before your Mom discovered that you were singing brilliantly in Durga pujas...

Dad wanted me to act; I hadn't decided what I will do in my life. But I was a very bad actor. I used to forget my dialogues. Everybody cannot be Kishore Kumar. I needed 12-15 takes for a scene. So, Dad started telling me, 'You are a bakwaas actor and you don't have any interest in singing either. Karega kya tu? You are just riding on my money'. I didn't know what to do and I would just say 'Main aapka bigda bachcha hoon. Chalo, koi toh khayega aapki kamai'.
All filmmakers who started giving me work in the initial stages- because I had started to sing- never wondered if I would be able to sing well. They were very nice people who would say 'Dada ka beta hai, chalo isko try karte hain'. I was lucky; I never had to struggle.


Trust me, I never got ruffled by the fact that people started comparing me to my Dad. It made me only more resilient. It was a challenge that I loved. I was compared to a banyan tree. I had to play a different game. I was not Sachin Tendulkar, I was Dilip Sardesai. Dad was very happy when I started getting good work in no time.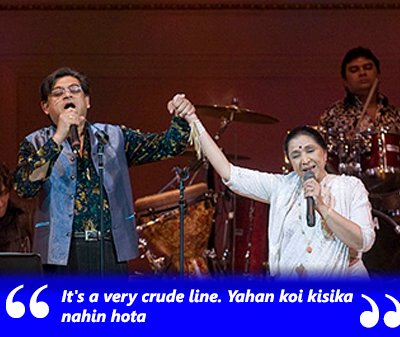 Image Source: jagruk

Would you agree that Love Story in 1981 was the turning point in your life?

Absolutely. Bollywood said: I was happening.
It's said that the death of R D Burman was also one of the reasons why you withdrew from singing...

People say that, but I don't think that's right. It was just that his death and my decision to quit happened to coincide. Of course, his death made a big difference to me. He was the man who made me come out of my father's shadow.
How did he do that?

He told me: Listen, nobody can sing like Kishore Kumar. You are his son. If you copy his style, it will backfire. Whatever is natural in you that resembles Kishore Kumar's voice is fine and let that come out well. But don't force yourself to become his clone.
How did Rajesh Khanna agree that you can sing for him? If I am not wrong, he never allowed anybody except your Dad. Was it Love Story again that changed it

(Smiles) Uske baad woh mujhe bahut pyaar karte the. Unfortunately, half the films in which I sang for him never saw the light of day. I have had my share of my ups and downs. I remember how my jodi with Kumar Gaurav rocked after Love Story, and then suddenly his films started flopping left, right and centre. All said and done, I have had a nice journey.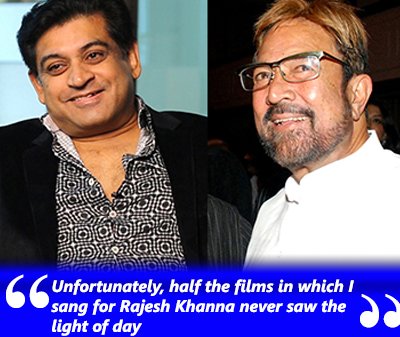 Image Source: imagesstatic

Jumping to current times...

Times have changed. Today's music is like fast food. Besides, it has become easy for the singers, aaram se gao, ek ek line gaake record karo. And above all, it has become easier for the non-singers.
That's a weighty statement...

I am not saying that there is no talent. But look at the end-product that gets churned out. You cannot differentiate between songs, sab ek jaisa lagta hai. Way back when I sang, you could make out if a particular tune had been set by S D Burman/ R D Burman/ Anand Milind/ Rajesh Roshan/ Laxmikant Pyarelal/ Bappi Lahiri.
Can you differentiate between the singers?

Hardly. You hear a song and you have to ask someone sitting next to you that whose voice is it. Let me give you an example: Song 1: Arijit hai? Nahin. Song 2: Arihjit hai? Shayyad. Nahin? Okay. Song 3: Arijit nahin hai kya? Arre, mujhe to laga Arijit hai.
Did you understand? Everybody is sounding like Arijit.
A similar thing happened when Rafi saab and my Dad passed away. A lot of newbies popped up to try and sound like them.
Please continue...
Moreover, there is no simplicity and innocence in the lyrics. And, why has sufism been hyped so much? Where are the romantic numbers you heard back then which are still ringing in our ears? Technology can never dish out numbers which will strike your heart. Despite the modern instruments and facilities, justice is not being done with music. My father and even my mother (Ruma Guha Thakurta) had a great ear for music- and I can judge that kaun kitne paani mein hai. Earlier 90% music was beautiful and 10% was trash, today it is the other way round. S D Burman used to say that, 'My song should reach the paanwala'. Aaj bhi paanwala listens to Phoolon Ke Rang Se (from Prem Pujari) doesn't he? And why? Because it is easy on the ears, it is simple to understand. How many songs make you say 'Wah'? Today you say 'Wah' to a song only if you have to please a producer.

Do you shower those false praises when you meet filmmakers at Bollywood functions?

I don't attend any Bollywood functions. I don't even socialise. Most of my friends and colleagues are no more. Actually everyone knows that I won't come to their party, so nobody calls me. I am an outlaw in Bollywood, but I am content. My dad also never liked parties and shor-sharaba.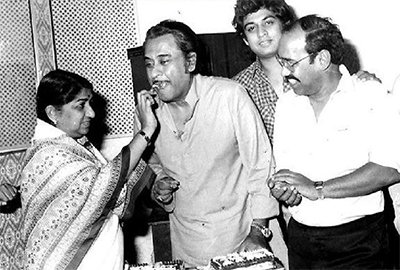 Image Source: lataonline
Are you in touch with Lataji and Ashaji?

They are the pillars of the music industry but it has been long since I met them. Last year, however, I did meet Ashaji when she came to give me the Mohd Rafi Puraskar on stage. We may not meet but there is immense mutual respect for each other.
What do you think of remixes?

I think that they are awful. But let me tell you that RD Burman had a foresight which saw that the music industry will open its doors to remixes. He used to say that when certain music will become old, it might be reproduced or represented in a different way. RD was so much ahead of his times. We used to argue a lot on this but I used to stand my ground. If RD had been alive today, he would have still been happy and we would have got to hear good music.
I hate versions too. I sung my father's songs for a record company called Wings and that is the biggest mistake of my life. I hate it when I listen to those now, nobody can sing like him and why did I attempt it? I can't even be counted when I hear his songs, so how can others be counted?
Image Source: ravepad

As a son, did you ever question your father'd decision to marry four times (Ruma, Madhubala, Yogita Bali, Leena Chandavarkar)? Did your bond with him weaken at any stage due to his multiple marriages?

No, it did not. It was all fine. In fact, he used to always tell me that i should tell him much in advance if I wanted to tie the knot because 'He is the counsellor of marriages'. He used to say, 'I got bowled not once but thrice'. Log bahut bolte hain woh aise the, waise the, but the fact is that he just wanted a simple family life. He was not destined to have a simple, family life until his last few years when he married Leena Chandavarkar. My mother, Leenaji, myself, my wife and my kids, we all stay together. And, everything is fine.
That's quite a thing. Do Leenaji and your mother get along well?

Yes, they get along well. We live and let live.
Anything that your father could not fulfill before he passed away?

He was directing a film Mamta Ki Chaon Mein based on his life story, it was essentially based around the relationship of a mother and son, it was his dream. It starred Rajesh Khanna. Rajeshji, Shakti Samanta and I tried to complete it after his demise but it did not see the light of day. The industry advised us that it won't do well if we release it.Today it's there on YouTube and I think we should have released it.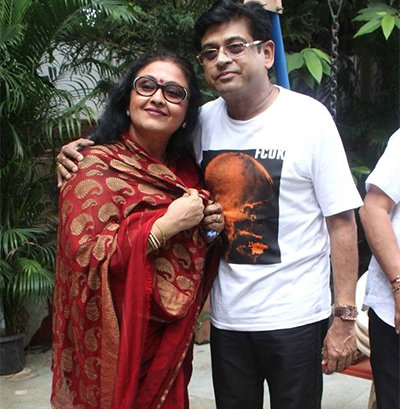 Image Source: media

Do you ever get angry when people tell you that your father was eccentric?

No, I don't get angry, because he was eccentric. Agar woh eccentric nahin hote, toh maza kahan hota? And, he loved to be eccentric. Okay, let me tell you what exactly was happening. He pretended to be eccentric. He wore a mask of eccentricity. Andar se he was a simple villager. Unka ek image ban gaya tha and he played along with it. Duniya kehti mujhko pagal main kehta hoon duniya pagal, that was his signature statement. He was not mad, he made everyone mad. He lived like a King, he died like a King. People loved him for his antics. If I or anybody else would do those, he/she would be kicked out from the industry.
He had been cast in Hrishikesh Mukherjee's Anand...

Oh yes, he and Mehmood had been finalised to play the roles which were eventually done by Rajesh Khanna and Amitabh Bachchan respectively. He was a fantastic actor, and he would have done Anand remarkably well. I don't know what happened that led to a change in casting. Before Hrishida decided to cast my father, Raj Kapoor had been asked to play Rajesh Khanna's role.

The interview will be incomplete without touchging upon Rafi saab, who is believed do have gone into a shell when your Dad became the talk of town with Aradhna (1969)...

I don't understand why Rafi saab and my father are compared so frequently till date. Both had immense respect for each other. Maine unka dostana dekha hai. It was great fun when they recorded songs together. I am amused at the two groups in Facebook, one stands for Rafi saab and the other stands for Kishore. Both hurl abuses at each other. Ma bahen ki gaaliyan dete hain. Does it make sense? People come and spew anything on Facebook. The other day, someone wrote on Facebook, "Ab buddhe Amit Kumar ko nikal jana chahiye." I blocked that person. I can't start complaining: Mujhe buddha bol diya, ab main dekh loonga. Rafi saab and my father had totally different approach and style. Sorry, but I think that 90% people in India today don't understand music,
Tell us about your company Kumar Brothers Music (KBM)...

I decided to compose a bit. Besides, Leenaji writes songs. We both have a fantastic equation with each other. Today, I think that I am a better composer than singer. The composition Baba Mere is out and it has been sung by my daughter. I have played Kishore Kumar in it, it is about a young girl meeting her grandfather.
People have liked it. I don't mind constructive criticism but nothing below the belt please. I have started BK so that the vital requirements of music stay in place- melody, harmony and lyrical value. I shall include other singers in its domain but I don't want to essentially take it to Bollywood because I don't want it to get corrupt. I don't want 10 people sitting on my head and asking me to make changes,

Are you hinting at the interference by producers and music labels?

Absolutely. I don't want that to happen to me.
Anything that can bring Amit Kumar back to Bollywood?

Bollywood will not call me, but you can hear me through KBM (pauses). If a producer likes a certain composition of mine and confirms with me that he won't change it even a bit in his film, I shall hand it over.
Thumbnail Image Source: dawn&nameline&statics