EXCLUSIVE! Shruti Rane Releases Romantic Song 'Aaya Karo'! Talks About Her Tribute To KK, Experience With Papon, Her Opinion On Remakes, And More!
Shruti Rane spoke about her experience sharing the mic with Papon, her tribute to the late singer KK, and her opinion on the remake of songs in recent times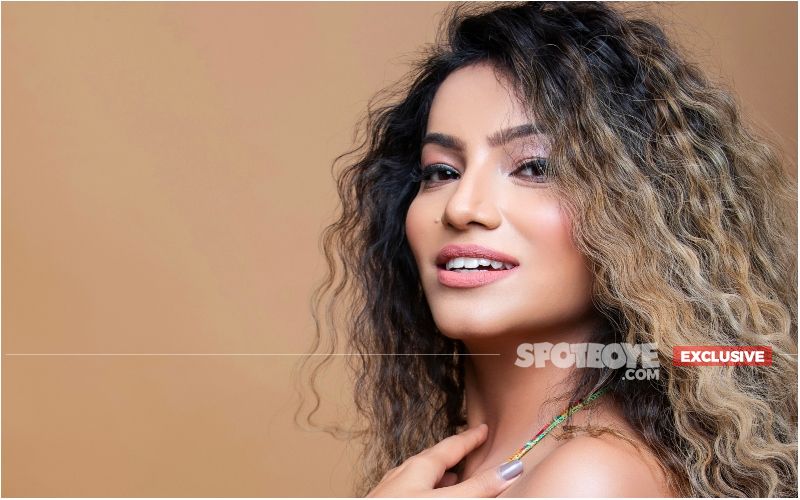 Independent music composer/producer, the singer/performer, shot to fame with her hit song Har Dafaa with Shaan from the movie Yaara. She has also won many prestigious awards in several categories. In addition, she is also known for her stint as a dubbing artiste for movies such as Tangled, Moana and Zootopia.
The singer-composer Shruti Rane on Tuesday, June 28, released a romantic song 'Aaya Karo' along with Papon featuring Moj Star - Bhavi Pe.
Now, in a recent interaction, Rane spoke about her experience sharing the mic with Papon, her tribute to the late singer KK, and her opinion on the remake of songs in recent times.
Growing Up, What was the role that music played in your life and how did it turn into a passion for you?
Well, it all started at a very early age. I always had an inclination towards old-classic Bollywood songs because of my parents. I grew up hearing and practising songs by Lataji, Rafi Sahab, and Ashaji. I even started singing on the stage at a young age, eventually performing old songs in auditoriums for theme-based shows with a conductor. I did multiple jingles and songs as a kid. And I think, that is where it all began for me. My love for music grew more than my love for studies… I studied biotechnology, and I loved science, music was my food and it did wonders for me!
I followed my passion and I still continue doing so! Very few people are born blessed and I thank god for blessing me with musical sense and a beautiful voice.
When you are 'recognised' for the art in you that's when you know what you must do in life. In school and college, I was always known for singing and bagging prizes every now and then! My teachers would be so supportive and encouraging always.
Biotechnology always fascinated me. I always had an interest in studying science, if not in music I'd be studying and researching the virus that we are all affected with today! (Laughs)
How was your experience singing for famous and loved Disney Movies? How were you roped in for the project?
Disney, for each project, would audition a lot of singers and dubbing artists until they find the right voice for the character. They are truly perfectionists. I remember auditioning for the first time for the Disney Movie Tangled. Bringing in the same emotion, attitude, lip-syncing, and voice modulation is challenging and fun at the same time. Absolutely love their music and the process. And considering my good work I simply was recommended by Disney for the other projects/ movies several times. It's always a great learning experience.
Your second trending song 'Koi Sehri Babu' has crossed 70 million and counting. It has even received a great response. Did you anticipate such a response to the song?
Honestly, I didn't expect such a huge response for my first song 'Do ghoont' when we created it. We without a doubt knew that the song would perform well amongst the youngsters, but to my surprise, the song was even a hit among the kids and elders! It's really amazing to see people's creative sides creating reels and tagging us! From clubs to puja pandals, the song is a hit everywhere. Feels special.
Whereas for my second song 'koi sehri babu' I was certainly very sure that my singing would again be appreciated and loved by everyone. The video also has a very fresh approach to the song making it look and sound beautiful. The credit goes to saregama for bringing in such a great team of cast, Choreographer, music producer and singer. All together has made this a success.
There has been a long debate around recreated versions of the songs, and listeners are divided over the same, while some enjoy the songs, some believe classics should be untouched. What is your take on the same?
A lot of times we've seen remakes face a lot of flak from people. There was a lot of pressure to maintain the essence of the old classic song and at the same time treat it with new-age sounds. Singing a Lata Mangeshkar song is a challenge in itself. Along with the expressions I was asked to preserve the soft voice texture that you hear in the original song.
I respect everyone's opinion and sentiments regarding a classic song. I myself am a big classic Bollywood song lover so I know how it feels to hear a bad version of a classic song. As I mentioned earlier, as long as you preserve the original essence/soul of the song I do not feel there could be a lot of critic to it. It absolutely depends on the treatment of the particular song in order to make it likeable.
You worked with Papon on your upcoming song 'Aaya Karo', how was it working with him?
I always admired Papon's voice and his effortless singing. I have had the opportunity to associate with many talented singers, but I think my voice compliments well with Papon's. Although I have a very small part in the song, I shall soon be releasing another version of 'Aaya karo' in my voice. Hoping to get the same amount of love I've received for other of my songs.
What are your expectations with the song 'Aaya Karo', do you think you'll be breaking your own record with this song?
Well I'm extremely excited to find that out (laughs)
'Aaya karo' holds a special place in my heart because it is one of the songs I composed in my early days of composing and especially because my dad Vishwas Rane has beautifully penned it. This song is curated by Gourov Dasgupta and I can never thank him enough for helping me make this happen. This brings back the memories when all we could do is, work from our respective homes in spite of the 'stay at home' ordeal.
Recently, you paid a soulful tribute to the late singer KK, what was the role that he and his songs played in your musical journey?
I don't think anyone has still come to terms with KK's sudden demise. It's been a huge loss to Bollywood. All I can say is I am fortunate to have met him and share the stage with him a couple of times. I sincerely look upon his humble and simple living attitude.
He has given us some very amazing songs and I'd love to cover a few more sometime soon.
Any message for your fans?
I really appreciate the amount of love and support I have received from all of you, and you have my deepest thanks. I promise to entertain you all with many such amazing songs.
SpoyboyE wishes Shruti Rane on her latest song release!
Image Source: PR