#QuarantineLove: Mika Singh -Chahat Khanna Ooze Love In Their First Music Video; Fans Go 'Bade Achhe Lagte Hai'
Mika Singh and Chahat Khanna's super-delightful quarantine love in the form of a music video called Bade Achhe Lagte Hai is out and it's all things romantic!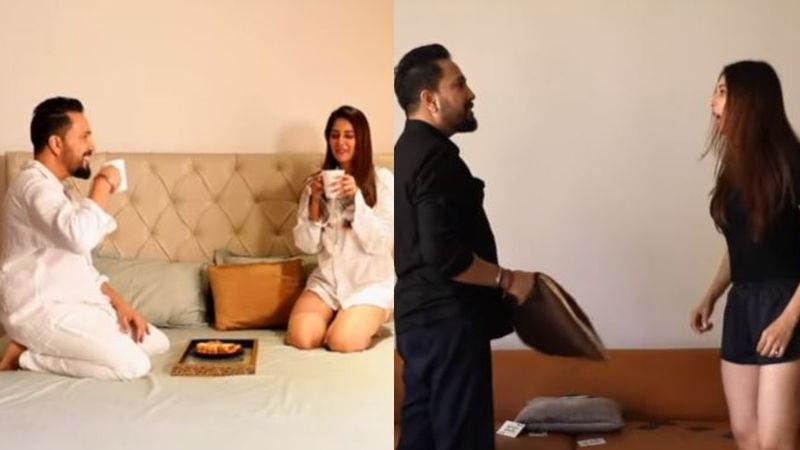 From a very long time, the internet was abuzz with the speculations of singer Mika Singh being romantically involved with TV actress Chahat Khanna. Right from their social media PDA to the duo's quarantine romance; it was being rumoured that they are going strong as a couple until it turned that all of it was for a music video. The two collaborated for the new version of Bade Achhe Lagte Hai, the teaser of which was unveiled yesterday and now we have finally got our hands on the full song.
The entire song hints at Mika Singh and Chahat Khanna's sizzling chemistry and also shows us what quarantine love is all about. The two are seen spending some quality time with each other; from their balcony and inside romance to all the cute antics that most of the madly-in-love couple indulge in, Mika and Chahat sure did justice to the romantic song. The icing on the cake was Mika's heartwarming vocals and Chahat's beautiful screen presence. This one's surely a treat for all the couples in quarantine. *winks*
Before sharing the song, Chahat Khanna had taken to her Twitter and went all mushy for Mika Singh. She tagged him and wrote, "Mr Singh," followed by a heart.
Check out the video below:
Earlier, responding to their live-in relationship rumours
, Chahat Khanna told to Pinkvilla, "Apparently, there are too many stories about it. There are reports that we are in live-in-relation. There might be new news that they might be married. We were friends pehle se." She added, "We met for a coffee in the past to discuss work and that's how we connected. We shot something on our mobile camera. Just two of us and the one who shot for us. We didn't plan anything as such. We didn't think that when we just updated a post and all these reports came out. Now we are scratching our head and not able to understand why these reports. Nothing more or nothing less to this."
image source: youtube