9XM Indiefest With SpotlampE Song Shayera Out Now: Babul Supriyo's Melodious Voice Makes This Romantic Track Soothing To Ears And Soul
9XM Indiefest with SpotlampE Originals has launched its new song sung by Babul Supriyo titled Shayera. The romantic track is sweet and soothing to ears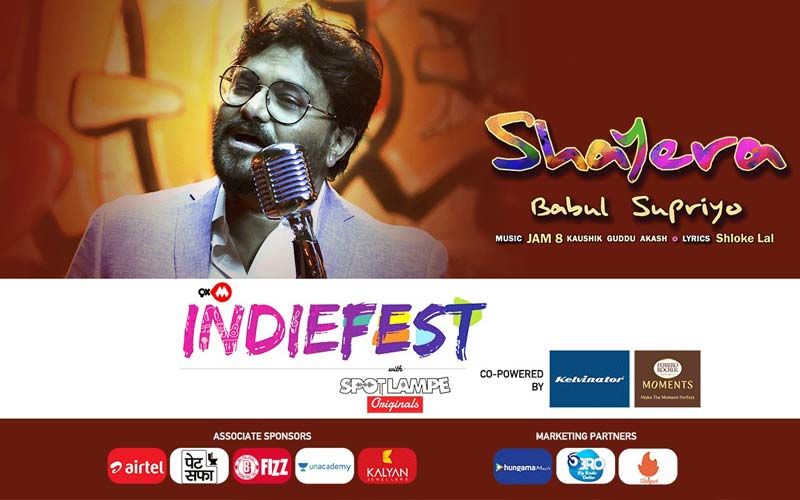 9XM Indiefest with SpotlampE Originals has released its second song. It is by singer-turned-politician Babul Supriyo and is titled Shayera. It is a romantic track that has the potential to become a love anthem amongst the young generation. Babul Surpriyo's soothing and melodious voice makes the song pretty delightful. The video of the song features Babul Supriyo behind the mic and the backdrop is that of a vibrant café. It appears that Babul is recalling his college days and the love of his life. It has the feel of young and beautiful love story. What happens in the end is for you to find out by watching the video.
The lyrics of the song that go "Joothasa yeh jahan, na mera kuch yahan. Aayi tu rubaroo, toh paya sab yahan. Zara zara ishq baazi ho, teri meri aadhi aadhi ho. Labzo ki saude baazi ho, shayar tune mujhe bhi bana daiya..Shayera," teamed with perfect tunes make this song all the more special.
Babul Supriyo's song Shayera is second in the list of 9XM Indiefest With SpotlampE Originals. The first one to release was
Shreya Ghoshal's song title Jab Jab Navratra Aave
. It released ahead of the festival of Navratri and became an instant hit.
Commenting on the launch of Shayera, Babul Supriyo said, "All of us have worked very passionately on every aspect of the song for the last few months & we are all very happy & super-excited with the outcome. It's time for melody & music to take over & win hearts. My very special thanks to my very dear friend Rajitta, CC&OO of SpotlampE without whom this wouldn't have been possible & of course Pritam, another dear friend who needs no introduction, helped enrich the song with his rich & exemplary acumen with today's sound & music that strikes a chord with not only young minds but music lovers across the horizon.".
Rajitta Hemwaani, Chief Content & Operating Officer, SpotlampE also spoke on the launch of the song Shayera and said, "Babul and I go back a long way. I'm amazed to see how he's grown as a person and how his voice has matured over the years. Us, Babul, Srijit and Jam 8 with Pritam, I think it's an unbeatable combination! Shayera will definitely resonate with the listeners."
Talking about 9XM Indifest, Clyde D'Souza – Head of programming, 9XM had earlier shared, "India is seeing a wave of independent music with artists expressing their musical creations. 9XM is happy to team up with India's best musicians to celebrate India's Independent music by launching '9XM Indiefest with SpotlampE Originals'. 9XM is the destination for the best music from Bollywood songs to Independent songs and talented musicians are encouraged to send their songs to us." (Also Read:
Jab Jab Navratre Aave OUT: Netizens Are Impressed With Shreya Ghoshal's Soothing Vocals; Say: 'Festive Season Is Incomplete Without This Track')
9XM Indiefest with SpotlampE Originals is co-powered by the amazing folks at Kelvinator and Ferrero Rocher Moments. A special mention to our associate sponsors Airtel, Pet Safa, B-Fizz, Unacademy and Kalyan Jewellers
Image Source: Instagram/iambabulsupriyo