Arjun Patiala Song, Sip Sip: Diljit Dosanjh And Kriti Sanon Break Into A Dance After Gulping Down One Too Many
Diljit Dosanjh says Sip Sip track from Arjun Patiala is cure for all blues, as he shares this latest track on his Twitter handle on its release.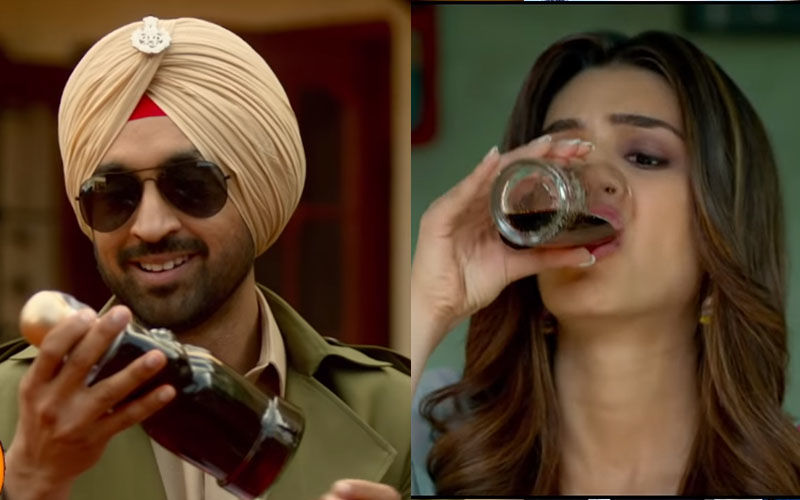 Following Main Deewana Tera, Crazy Habibi vs Decent Munda and Sachiya Mohabbatan track from upcoming movie Arjun Patiala, comes the fourth number titled, Sip Sip giving a fun take on Diljit Dosanjh wanting to gulp down one entire bottle of liquor sip by sip. Thus, the lyrics Sip Sip; song features all the characters of the movie along with the main lead Kriti Sanon and Varun Sharma indulging in drinking on several occasions, followed by series of funny incidents on screen.
The song is performed by Guru Bhullar Ft. Akash D and while it penned and composed by Akash D. The song is shot in a quirkiest way, as the viewers can see few very old school pop colour set ups and funny dialogues from the movie, adding more fun quotient to it. Punjab lyrics and rap verses give the song groovy mood. And to top it all this Daaru song can soon become one of the party playlist favorites.
Adding more fun to the song are dialogues such as he likes to drink neat, how it gives him heartbreaks when he sees liquor bottles being hunted down by bullets and so on. The song also gives a glimpse of Sunny's character from the film, it shows how her presence, switches on the romantic mode in Diljit.

Sharing the song on his Twitter handle Diljit wrote, "#SipSip is the cure for all the blues! Song out now: http://bit.ly/SipSip-AP," Kriti too Re-tweeted the same. Makers just a day before the song's release had posted an interesting Pacman themed maze with the faces of the actors in it.

Starring Diljit Dosanjh, Kriti Sanon, Varun Sharma in pivotal roles, Arjun Patiala is a romantic cop comedy helmed by Rohit Jugraj and is set to release on July 26, 2019. It is backed by T-Series and Maddock Films.
Image Source: Youtube