Genda Phool: Badshah-Jacqueline Fernandez's Track Plagiarised? Makers Accused Of Not Crediting Original Writer Ratan Kahar
Looks like Badshah, Jacqueline Fernandez and Payal Dev's track Genda Phool has landed in trouble after it was alleged of plagiarism and many people pointed out that the makers haven't given credit to the original Bengali folk song's writer Ratan Kahar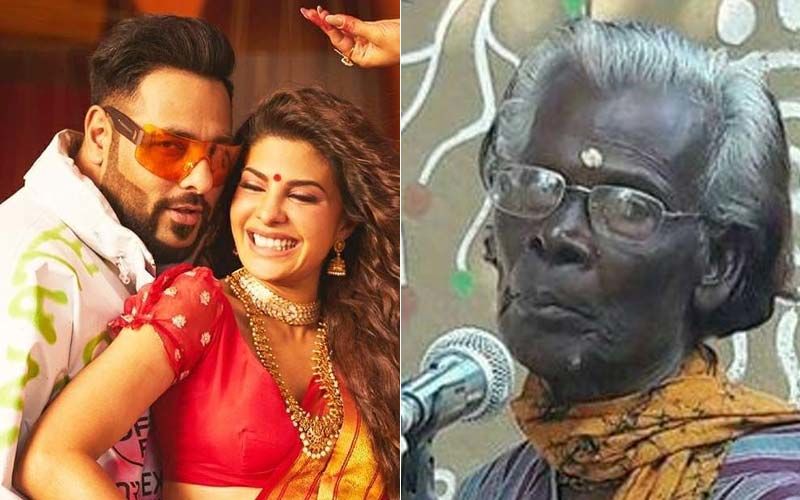 Badshah, Jacqueline Fernandez and Payal Dev's recently released track Genda Phool has been trending ever since it was dropped online a few days ago, on March 26. The sizzling number, however, seems to have landed in some trouble, as the track has now been alleged of plagiarism. A particular line in the song, "Borlok er Bitilo, lomba lomba chul.....lal genda phool," is from a Bengali folk song Borloker Bitilo. Over the last few days, many people of social media also pointed out that the makers haven't given credit to the original Bengali folk song's writer Ratan Kahar.
The makers have not credited Ratan Kahar anywhere in the music video, thereby violating the Indian Copyright Amendment Act 2012. According to India Blooms, Arghya Bose, a Doctoral researcher in France, wrote to West Bengal Chief Minister Mamata Banerjee, "In the capacity of a common but responsible citizen of your state, Madam Chief Minister, I feel obliged and responsible to bring to your notice an exploitation of the poor artists of the state of West Bengal at this level by apparently world-renowned artists. It is, indeed, the moral responsibility of the entire population of the state, and more so, the government of the state to protect the interests of the artistic communities of our country."
She further added, "Your government has always shown sensitivity, empathy and appreciativeness to the rich intellectual and cultural diversity of Bengal, which has been one of the many foundations of the popularity of your government. I write this mail to you hoping that you will be able to act in favour of Mr. Kahar in this regard, and obtain for him the intellectual and material remuneration that is due to him."
This is RATAN KAHAR, a folk artist from Bengal.
GENDA PHOOL is RATAN KAHAR's song from the 70s & is extremely popular amongst Bengalis.
Sadly he doesn't have the money to sue Badshah who claims that the lyrics/music is by him.
But you have the power to spread the truth. Use it. pic.twitter.com/x4kfFHBSd4

— Rohan Dasgupta (@RohanDasgupta) March 29, 2020
@Asli_Jacqueline please awaken your conscience and use your privilege and platform to lessen problems for someone in these already difficult days

— pippity poppity give me the zoppity (@amnaaaww) March 30, 2020
Actually they are supposed to pay royalties to the original artist but sadly many of these so called musicians don't feel the need to do so.

— Black Swan (@goIdfishjiminie) March 30, 2020
Musician Rohan Dasgupta took to Twitter to bring forth this issue, and claimed that Mr Ratan Kahar sadly does not have the money to sue Badshah.
Image Source: Twitter/Rohan Dasgupta, YouTube/Sony Music India