Pehlwaan Song Jai Ho Pehlwaan: Suniel Shetty Track Conveys Nothing Is Impossible For A Pehlwaan
Jai Ho Pehlwaan is vibrant and larger-than-life number from the upcoming movie Pehlwaan. It speaks about the undefeated attitude of a Pehlwaan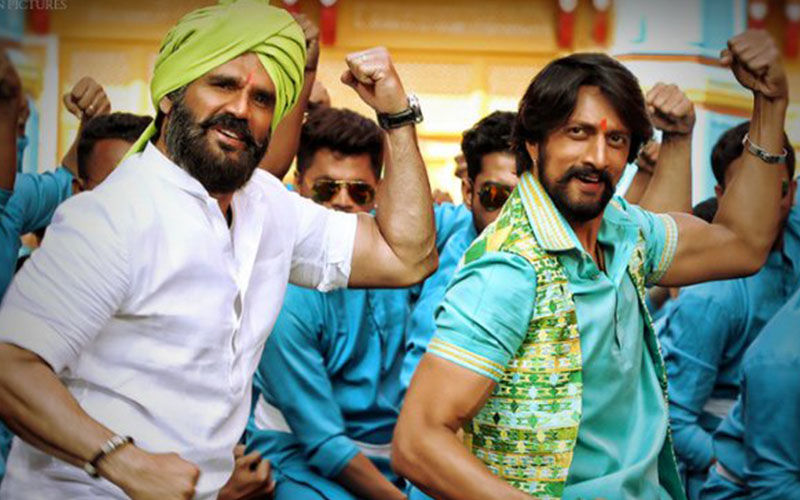 Pehlwaan marks Bollywood actor Suniel Shetty's comeback. 2 weeks ago, makers unveiled the lyrical video of the first hindi track titled Dekho Aaya Pehlwaan. Following that makers treat us with yet another lyrical number featuring Suniel Shetty and Kichcha Sudeepa in celebratory mood. Titled Jai Ho Pehlwaan, is all about showcasing how for a Pehlwaan nothing in impossible and he will rise victoriously against anyone or anything. Both the actors are grooving on this number, while we also get a glimpse some of the behind-the-scenes moments.
The sets of this song are colourful and vibrant, what makes the song grander and massive is the number of extras, grooving with the leads. It is crooned by Vyas Raj, Swaroop Khan, mc Vicky and composed by Arjun Janya; lyrics are penned by Astha Jagiasi & Sujeet Shetty. It is choreographed by Ganesh Acharya, who is also along with the lead in some of the scenes. While Kichcha Sudeepa keeps it stylish in ankle length bottom paired with kurti and embroidered jackets, Suniel steals the stole the show in a dhoti-kurta and vibrant coloured phetas. Check out the song below-
First teaser was released on January 15. The movie was initially supposed to be released in 9 languages, but the makers have zeroed down to five languages for its release. Being shot in Kannada, it is dubbed in Hindi, Telugu, Tamil and Malayalam. Sudeepa plays wrestler as well as boxer in the movie. Pehlwaan is scheduled to release on September 12, 2019.
Image Source: Twitter/LahiriMusic