Shalmali On Collaborating With Sunidhi Chauhan: 'I Was Very Sceptical About Building A Relationship With My Idol'- EXCLUSIVE
Shalmali and Sunidhi Chauhan, who recently collaborated on an English single, Here Is Beautiful, which will serve as the leading single from Shalmali's debut English album, 2X, talk about the struggle of releasing English music in India, the current state of remixes and the kind of work that excites them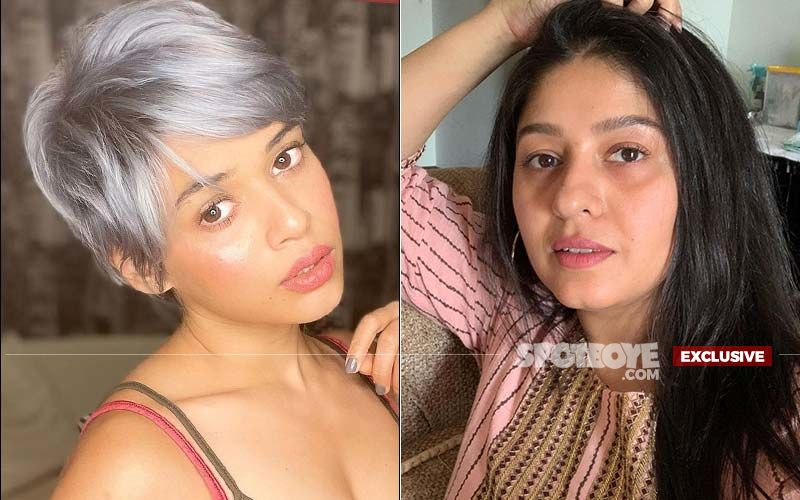 Shalmali and Sunidhi Chauhan are two names synonymous to the Indian music industry. Recently, the duo collaborated for the first time and released an English single, Here Is Beautiful, which will serve as the leading single from Shalmali's debut English album, 2X.
In a candid conversation with SpotboyE.com, the singers open up about their music, the struggle of releasing English music in India, the current scenario of remixes in the industry and the kind of work that excites them. Read excerpts from the interview:
How did this collaboration on Here Is Beautiful come about?
Shalmali: I was responsible for the first keeda. I completed writing Here Is Beautiful during the lockdown and wanted to give it as a gift to my boyfriend. I thought if Sunidhi Chauhan would sing on it, it would make it all the more special. So, I asked Sunidhi if she liked the song and would sing it with me. Initially, she asked me, since it was a gift for my boyfriend, why did I want her to sing it. But then she finally came around and obliged. We recorded it secretively at my home and since I live with my boyfriend, I had to get him out of the house so that she could come and we could finish recording. When it was done, there was no talking about it for a while. After a few months, I felt that I wanted to put out an English album and had enough songs and thought Here Is Beautiful has a place on that. I asked Sunidhi about it and she also said yes. I just feel I am the luckiest person.

Sunidhi: I had to say yes. It is such a beautiful song with such amazing lyrics. Generally, people make a video for dance tracks. But this is not the kind of song that when you listen to it, you can say that it will have a music video. So, I think it was very brave of Shalmali to go ahead and do this. I just had to be a part of such a special project.
Sunidhi, Shalmali has always been vocal about idolising you. So, what was it like working with a person who looks up to you and SHalmali, how was it for you working with your idol?
Sunidhi: Many people may not know it but I have been fond of Shalmali since the day I met her and heard her sing. After we met at the Love Only group, my respect for her as an artist only grew. Our conversations over coffee, meeting casually with no agenda as two people of same sex, grew. Our conversations aren't just about music but about life as well. It was this mutual admiration that brought us together and developed a very strong bond that I now share with her. I feel like I knew her even before I met her. Our likings are so similar, we both got welled up listening to the same songs. We are two souls going in one direction.
Shalmali: I was very sceptical about building a relationship with my idol. I have read it so many times that never meet your heroes otherwise their image gets shattered in your mind. But I am glad that I ended up sending those messages to her that ended with us collaborating. For one thing, even though I idolise her, we are not that far apart in age. She just started at a very young age and we connect well in that sense. She has seen far more decades of music in our industry and her viewpoint is inspiring. Her resolve to walk in her own way is just beautiful. There is so much I am getting out of the relationship that I have developed with her. I love sharing recipes with her, meeting up and not talking about just music but dancing as well. And I would have missed out on that had I given in to that feeling. I feel grateful to know someone like Sunidhi Chauhan.
Sunidhi, you are one of the pioneers of creating the rockstar image of a singer in Indian music industry. How special is it to have that reputation and power even after more than two decades of career in the industry?
Sunidhi: It is completely unimaginable for me. All my life I have just done what I wanted to do. Singing was never like just a job for me, it's like a dream I have been living for the last 30 years. And if people think like that about me, it's great to hear. But I don't let it get to my head as I like being a student. I like being in the place where I am excited to do new things and am hungry to make more music and work with more talented people than I am. It's a give and take and I want to keep it like that forever. I just do everything with all my heart without expecting the return.
Shalmali: There's so much faith she has in herself. There's no room for insecurity.
Sunidhi: I just believe in this line, 'Have faith in yourself since you are unique'. I haven't heard it from a baba or straight from Michael Jackson. It's out there and it's high time people start believing in that.
In a predominant Hindi market, how difficult is it to put forward an English song, even with big names attached to it?
Shalmali: You will get the answer to that in the first song of the album, titled Language. It's a tester for the rest of the album in terms of music, but lyrically it will tell why it took me so long to put out English music. It is as easy as deciding to do it and doing it but also as difficult as to think how it will pan out for me. Unfortunately for me, I already had a history and trajectory building in a certain direction; to break it and start again from ground up was a decision I needed to be absolutely clear about in my mind and that took a lot of time and discussion. Some people supported it while some were sceptical but as Sunidhi said, I just needed to have faith in myself. One day, I closed my eyes and asked myself, can I sustain this and put out at least 15 albums in my career after this one, and immediately the response was yes and that was my biggest indicator. It was a leap of faith.
When we say the word album in India, by default it means movie albums. In such an industry, is it risky releasing an album?
Shalmali: When I started putting this album together, it was more of a point to prove to myself that I could do an album. Sunidhi has praised me on my songwriting but that skill came very late to me. I had to work very hard at it for so many years as I am very studious. But writing this album gave me a sense of accomplishment, that I did this and now could do more. It really helped my identity of being more than just a singer and I needed this. Sitting at my home I knew that, but no one else did and I needed to make that point clear and the best way to do that was to put out this album.
Sunidhi, you have majorly worked in Film music in your career. Did indie music give you a sense of freedom that you couldn't find in films?
Sunidhi: Totally. The fun that this genre has, I only got to know it when I did it. Last year, I released one song in October, Kuch Khwab. It was my first non-film release after almost 15-20 years. The video for that was a very modest one but it all started from there. Even though it's indie, Kuch Khwab is a romantic song that can easily be picturised in a movie. When Here Is Beautiful happened, I felt another level of freedom. I realised that I want to sing with this sense of freedom without any restrictions. Now that I have got the taste of it, I want to explore that. Not that I'll stop singing film songs because I am who I am because of that, but it will make me more interested to sing film songs. If you are doing something that is making you happy, you will make sure you do better on the other side as well. If I just keep on doing one thing, I will get bored of myself eventually. It will help me grow in all the directions I want to go in.
Shalmali, your album, 2X, releases in two parts. Why is it so and what will be the musical style of the album?
Shalmali: The album is in two parts because sonically both parts are different. The Side A releases on April 22. It has more timeless, melodic music, while Side B has more rhythmic beats and that will release at a time when people are more in the mood to party.
Will the album feature any more collaborations?
Shalmali: There will be, but they are all in Side B. In Side A Here Is Beautiful is the only collaboration.
Sunidhi: I think Shalmali should collaborate with Raghav Chaitanya. He has a deep voice and they will sound great together, or a collaboration with Shilpa Rao.
Sunidhi, last year, you gave two amazing tracks with Maskhari and Paas Nahi To Fail Nahi. In a year like 2020, what did the success of those songs mean to you?
Sunidhi: They are both beautiful songs but I don't know much about their success. Although I have the memory of recording the latter at my home in my nightgown. I didn't have to get ready and go to the studio. I had Teg in my lap and he found that song very interesting as he started singing a part of it as soon as I was singing it. So, I had to wait for him to stop and then tell him to stay silent while I was giving the take.
When will your audience get to hear you next?
Shalmali: I have a film album releasing, on which I am a composer and have sung one song too. It's an indie Marathi film, June, with Nehha Pendse, Siddharth Menon and Jitendra Joshi. It did festival rounds last year. I am very proud of the result there and can't wait for it to release.
Sunidhi: My next Hindi song is releasing on April 23, and there are a few film songs that I am looking forward to. With OTT, there are a lot of new things happening and I can taste that change.
In a market lapping up on remakes and remixes, how difficult is to make an original soundtrack outshine, even when it has big names backing it up?
Sunidhi: I think it is very important. When we talk about India, we talk about its music culture as well, the classical music that comes from here. In the west, you give one good song and you are good for life as you get royalties. Yet, they have thousands of legends. While in India, we have so much diversity, but so few legends. Why don't we have more big singers? That will happen only when people do more original music and start believing in themselves. The good artists who feel like they just need that one opportunity, don't even need to wait. With social media and YouTube, the opportunity is already here. People might get bored initially but eventually they will take notice. You just have to keep at it and the good part is you are not bound by any label here, telling you what's good or not. Here you are doing what you want to do. Everybody has an audience; you just need to convince yourself that you are in love with what you are doing.
Shalmali: I completely agree with Sunidhi. You are your own opportunity as all these platforms exist for you to show your work. We can't stop people from making remixes. One change that could be made is that the industry doesn't put so much push to remixes that make them become the size they do, rather give that push to original music. Makers should take that risk and have faith in the composer. That I feel will make a big difference as there is a lot of original music. Unfortunately, we are just being made to look at the remixes.




Image Source: Instagram/shalmiaow/sunidhichauhan5