SPOTBOYE-FFECT: Sense Prevails, Udit Narayan Will Make Aditya Issue A Public Apology
After the entire Raipur airport fiasco, Aditya Narayan's father Udit Narayan has finally said that he will make his son issue a public apology soon...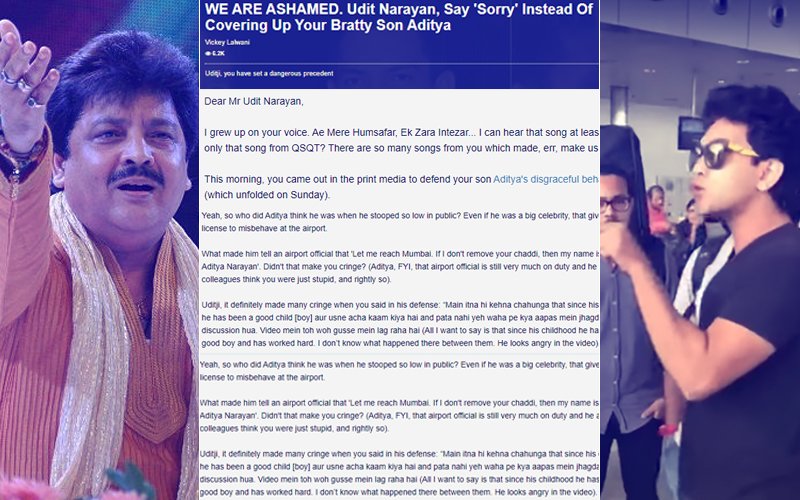 Two days after SpotboyE.com Editor Vickey Lalwani penned an open letter to Udit Narayan, here comes Udit's statement this morning where the singer has said he will make his son issue a public apology as soon as he lands in Mumbai.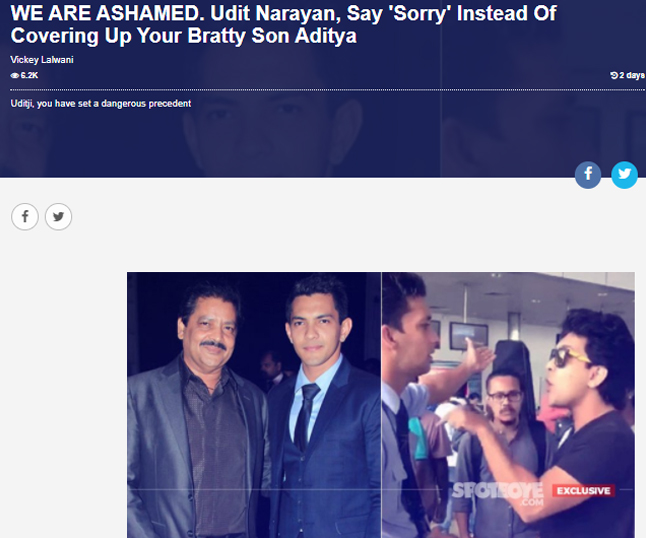 SpotboyE.com's Story On Udit Narayan Defending His Son

Aditya Narayan's bratty behaviour at Raipur airport with an airline official made headlines a few days ago. Post which, Udit defended his son and said that he has always been a 'good child' and he is unaware of what happened there between them.

We were shocked with Udit Narayan's statement as Aditya's unruly behaviour was very evident in the video. If he hadn't seen it, he shouldn't have commented at all.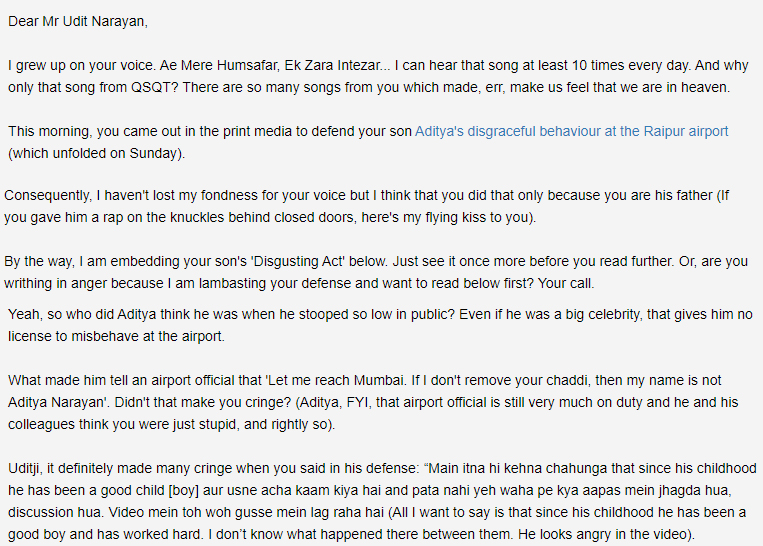 SpotboyE.com's Editor Vickey Lalwani's Open Letter

But thankfully sense prevailed and Udit, this morning issued a statement saying that he will make Aditya Narayan apologise as soon as he is in Mumbai.

"I was unaware of the developments until someone told me about it. I couldn't believe it. Aditya is not like that at all. Though he's our only child, my wife Deepa and I have brought him up with the correct values. So, I was sceptical about the truth of the incident until someone showed me the video. What can I say? We've all lost our cool at the airport at some point or another. Aditya was unfortunate enough to have been caught on video."

Well, although Mr. Narayan has accepted his son's mistake, looks like he still is in a defensive mode. Saying that Aditya was UNFORTUNATE to be caught on video, is rather absurd. Do you mean to say that if he was not caught on video then his act was justified and pardonable?

Udit further said, "If Aditya has misbehaved it is wrong. As soon as I get back to Mumbai, I'll have him issue a public apology. Right now, he's very scared and nervous. Making it worse is the attack from all corners as though he has committed a major crime. I agree it's wrong to misbehave in public. But in my humble opinion, it's equally wrong to attack someone who is caught on the wrong foot. Aditya is a self-made child. He never took my help in anything he has achieved. Whatever he has achieved is on his own merit. We are proud of him."

After reading Mr Udit's entire statement, Aditya might issue a public apology soon but right now his dad surely doesn't sound as apologetic to us.

We reproduce SpotboyE.com's Editor Vickey Lalwani's open letter to Udit Narayan:

Dear Mr Udit Narayan,

I grew up on your voice. Ae Mere Humsafar, Ek Zara Intezar... I can hear that song at least 10 times every day. And why only that song from QSQT? There are so many songs from you which made, err, make us feel that we are in heaven.

This morning, you came out in the print media to defend your son Aditya's disgraceful behaviour at the Raipur airport (which unfolded on Sunday).

Consequently, I haven't lost my fondness for your voice but I think that you did that only because you are his father (If you gave him a rap on the knuckles behind closed doors, here's my flying kiss to you).

By the way, I am embedding your son's 'Disgusting Act' below. Just see it once more before you read further. Or, are you writhing in anger because I am lambasting your defense and want to read below first? Your call.

Yeah, so who did Aditya think he was when he stooped so low in public? Even if he was a big celebrity, that gives him no license to misbehave at the airport.

What made him tell an airport official that 'Let me reach Mumbai. If I don't removeyour chaddi, then my name is not Aditya Narayan'. Didn't that make you cringe? (Aditya, FYI, that Indigo official is still very much on duty and they think you were just stupid, and rightly so).

Uditji, it definitely made many cringe when you said in his defense: "Main itna hi kehna chahunga that since his childhood he has been a good child [boy] aur usne acha kaam kiya hai and pata nahi yeh waha pe kya aapas mein jhagda hua, discussion hua. Video mein toh woh gusse mein lag raha hai (All I want to say is that since his childhood he has been a good boy and has worked hard. I don't know what happened there between them. He looks angry in the video).

When you don't know what happened between them, why are you talking at all? Yourquotes have only endorsed his unruly and senseless behaviour. And mind you, you may have set a dangerous example for other celebrity fathers.

And did you just say 'good boy since childhood'? I know a few of Aditya's classmates who can vouch that your son was a brat when young(er). Didn't one of them crop up on social media to express similar sentiment?

A batchmate from Aditya's college, Shruti Vojhala, blasted him on Twitter and revealed that he had been suspended from college for similar misbehaviour. Shruti also said that Aditya's suspension notice was put up on the notice board of Mithibai College, and thus everyone in the campus knew that he was suspended.

FYI, today senior man from your industry Anup Jalota has condemned Aditya on social media.

Uditji, have you been you covering up your darling Aditya since childhood?

Also, shouldn't Aditya team up with the right people and give some heartrending music for once rather than the Raipur airport YouTube videos on various sites which will now pop up left, right and centre IF (note the capitals) and when we type his name in Google to search anything about him? I don't remember any of his songs except Ramji Ki Chaal Dekho from Ram Leela, but did not Sanjay Leela Bhansali contribute to it? REform his chaal. And when is that song coming from him which will make us feel that 'Paap Kehte Hain Bada Naam Karega, Beta Hamara Aisa Kaam Karega'? Wasn't that QSQT number also sung by you, Uditji?

Thank you,
Vickey Lalwani
Entertainment Editor, SpotboyE.com

P.S: Mr Udit, the body text of this letter deserves no pictures of your impudent beta other than those from the nauseating episode, hence not included.


Image Source: radioandmusic
They say the best things in life are free! India's favourite music channels 9XM, 9X Jalwa, 9X Jhakaas & 9X Tashan are available Free-To-Air. Make a request for these channels from your Cable, DTH or HITS operator.