Ye Ranjishein Sundowner Mix OUT: This Catchy EDM Version Of Sunidhi Chauhan's Latest Single Will Leave You Grooving To Its Beats
SpotlampE presents 'Ye Ranjishein' Sundowner Mix, an EDM version of Sunidhi Chauhan's latest single. It's unmissable, check it out!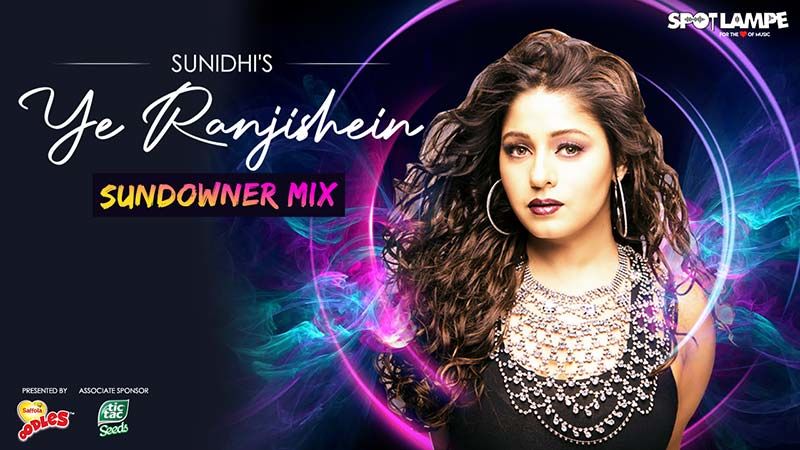 Days after the release of Sunidhi Chauhan's latest single 'Ye Ranjishein', SpotlampE presents its epic 'Sundowner Mix'. The EDM version of Sunidhi Chauhan's song released today, and it is available on SpotlampE's YouTube channel. While the music has been composed by Shruti Rane, the Sundowner Mix has been recreated by VIP- Love. The catchy beats of this Sundowner Mix, paired with Sunidhi Chauhan's melodious voice, is bound to leave you grooving to its beats. The music video is already garnering a positive response, check it out below.
Ye Ranjishein is Sunidhi Chauhan's first independent track after 2 decades! The soulful song is a treat for her fans, and the singer has left them mesmerized with her dulcet voice. Sunidhi Chauhan has tried to give this new age ballad, a blend of Urdu poetry fused with some electronic soundscapes. The beautiful lyrics of the song have been penned by Rajesh Manthan, and the original music video is filmed by the well-known director Ranju Varghese. The Sundowner Mix takes an already amazing song an even better one, especially for the EDM lovers out there!
Speaking about Ye Ranjishein, Sunidhi Chauhan said, "It's been 2 decades as my last independent album, 'Pehla Nasha' was released in 2001. I fell in love with the lyrics of 'Ye Ranjishein' the moment I heard/read them. All of us have worked hard on 'Ye Ranjishein' and we are pleased with the outcome of this song. The song beautifully describes the various aspects that one feels while experiencing the emotion of love. I hope 'Ye Ranjishein' resonates with music lovers and receives loads of love and adulation from the listeners."
Image Source: Spotboye