Sherbagga: Ammy Virk And Sonam Bajwa Snapped With Director Jagdeep Sidhu Before Film's Shoot
Director Jagdeep Sidhu is coming up with Ammy Virk and Sonam Bajwa with Sherbagga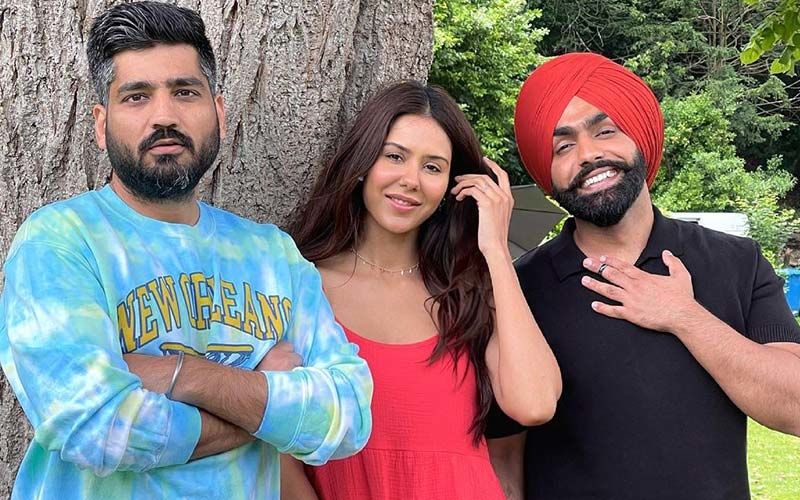 If you are eagerly waiting for Ammy Virk and Sonam Bajwa's upcoming film 'Puaada', then we have great news for you. Not only just 'Puaada' but these two immensely talented artists are pairing up again for another film titled, 'Sher Bagga'. A few days back both the stars unveiled the first look poster on their respective social media which created a solid buzz. Now, ahead of the film shooting, the main leads and the director Jagdeep Sidhu shared pictures of their meeting.
Taking to social media, 'Qismat' director Jagdeep Sidhu posted a series of pictures where you can see Ammy Virk, Sonam Bajwa and Jagdeep are striking poses to the camera. Gorgeous Sonam Can be seen donning a red sultry dress while Ammy Virk was wearing a casual black t-shirt. Jagdeep Sidhu can be seen wearing a tie-dye sweatshirt. Along with eth picture, Jagdeep wrote, "SHERBAGGA.... Nikka zaildar wangu ess film di script v bhut saal payi rahi .... te ode hi wangu dhake naal ess script ne aavdi space banai ... te sanu teena nu fer katha kita"
A few days back the cast of 'Sherbagga' unveiled the look poster on their respective social media. Sonam Bajwa wrote, "So blessed and grateful. Working with my fav people agai" while Ammy Virk wrote, "Sat shri akaal ji saareyaan nu... WAHEGURU ji di kirpa naal agli film shuru karan lagge aaan kalll nu SHERBAGGA... pyaaar satkaaar deo".
Apart from 'Puaada' and the new one, Ammy Virk and Sonam Bajwa have seen on screen with the films 'Muklawa', 'Nikka Zaildar' and 'Nikka Zaildar 2'. 'Sher Bagga' shooting will soon be initiated after lifting up the lockdown. The release date of the film is not announced yet.




Image source: Instagram/jagdeepsidhu3