Mohanlal's Drishyam 2 To Fahadh Faasil's Joji, These 2021 Releases Are A Proof That Malayalam Cinema Is Getting Ahead For Good Content
Malayalam film industry is leading the Indian cinema in 2021, just in five months, they have provided us with films like The Priest, Joji, and many others. The best part is, all of these are available on OTT platforms. Check Out the list here.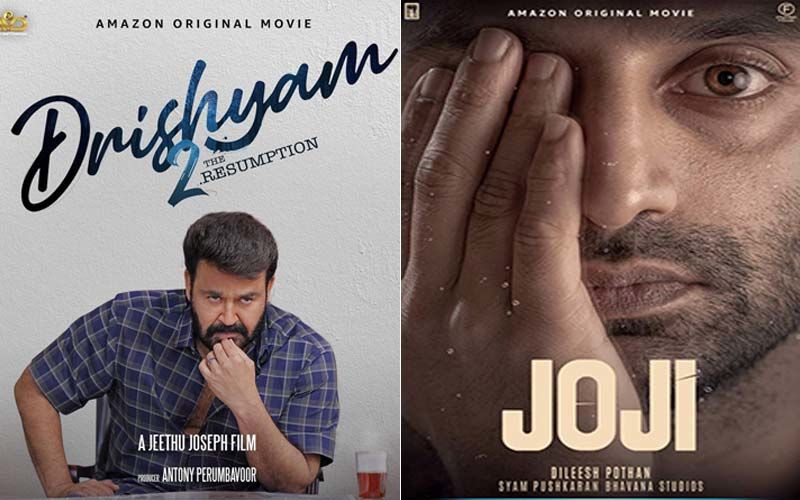 For all the cinema lovers out there, Fridays used to be the best days as it was the day for the release of the films, but for more than a year and a half, we all did not see the face of theatres, thanks to the deadly Coronavirus Pandemic. Well, OTT came to our rescue for entertaining ourselves in these tough times when we are all locked at our home to stay safe. Many filmmakers opted to release their films on the online streaming apps when the reopening of cinema halls looked like a long wait.
Now, when we talk about films, everyone has their favorite, in terms of genre or language, or content. But, be it any star cast or storyline, the main thing that we crave is entertainment. Today, we bring to you an amazing list of the best Malayalam films released in the year 2021 on OTT platforms. Keep reading.
The Great Indian Kitchen: (Amazon Prime Video)
The film is directed by Jeo Baby and stars Nimisha Sajayan and https://www.instagram.com/p/CJBS5V1APjU/Suraj Venjaramoodu in the lead roles. This film takes us to the life of a newly wedded girl whose struggles of being a submissive wife and difficulties of her daily life with men going unnoticed in the house have been portrayed with utmost honesty. It is an eye-opener to open a subject that needs to be discussed and stopped. The Great Indian Kitchen, hence, becomes a must-watch for its storyline.

Drishyam 2: (Amazon Prime Video)
Mohanlal's Drishyam 2 has been making headlines since the announcement of the film. With the first part being so intriguing and loved by the audience, the wait for the second part was testing our patience. With an excellent star cast including Mohanlal, Meena, Ansiba Hassan, and Esther Anil, the film became one of the most loved sequels of the crime thrillers in recent times.
One: (Netflix)
ONE has an ensemble cast of Mammootty, Murali Gopy, Joju George, Siddique, Mathew Thomas, Nimisha Sajayan, Ishaani Krishna, Gayatri Arun. It is written by Bobby & Sanjay and directed by Santhosh Vishwanath. Revolving around a crisis tackled by the Chief Minister of Kerala, the film managed to impress us with its intriguing plot.
The Priest: (Amazon Prime Video)
The Priest is a supernatural horror mystery film and stars Mammootty and Manju Warrier in pivotal roles. It is directed by debutant Jofin T. Chacko. The film manages to keep you at the edge of your seat till the end. This should be on your watchlist.
Nayattu: (Netflix)
Release recently, Nayattu is a story about 3 police officers who are the target of the whole Kerala police. With outstanding performances and direction, the story became the talk of the town in no time. Its amazing story adds more interest to the film.
Kala: (Amazon Prime Video)
Kala is a psychological action thriller that is a treat to watch. Directed by Rohith VS, the film stars Tovino Thomas in the lead role. With extraordinary performances and a storyline, the film manages to present its message with perfection. Films like Kala prove that Malayalam films are full of good content.
Operation Java: (ZEE5)
Operation Java is a long-running film that makes you forget looking at your watch with its emotional continuity. The film has an upper hand in the emotions that the thrill but what's best about this one is that it keeps you hooked throughout. Directed by Tharun Moorthy, the film stars Balu Varghese, Lukman Avaran, Binu Pappu, Irshad, Shine Tom Chacko, Vinayakan.
Aarkkariyam: (Amazon Prime Video)
Aarkkariyam is a mystery comedy-drama featuring Biju Menon, Parvathy Thiruvothu, and Sharafudheen in pivotal roles. Without unnecessary drama, the film manages to keep its charm with its light-hearted storyline and some amazing supporting cast, So if you want to spend your weekend with laughter and good content, go for this one.
Nizhal: (Amazon Prime Video)
The film will take you on a ride to Kochi as it exceptionally shows the city. The film is directed by Appu N Bhattathiri and stars Kunchacko Boban, Nayanthara, Divya Prabha, Saiju Kurup. The mystery, courtroom drama, and interesting plot are what this one offers.
Joji: (Amazon Prime Video)
With Fahadh Faasil, Baburaj, Shammi Thilakan, Unnimaya Prasad in the film, Joji comes with astounding performances. When it comes to acting Fahadh never fails to impress you with every character he plays. The film instantly becomes a must-watch when it has a strong star cast and an interesting and fresh storyline. Add this to your list and you won't regret is what I promise.
Vellam: (Jio Cinema)
This one is a classic. The story of the film revolves around Murali (Jayasurya) who turns a stranger into his own house as he becomes an ultimate drunkard. Directed by Prajesh Sen the film also stars Samyuktha Menon. The film received an amazing response from the audience. Apart from the performances, Vellam was also praised for its dialogues and background
Image source: IMDb