#NoFilterNeha3: Angad Bedi Unfiltered On His Past Relationships, Equation With In-Laws And Much More
What happens when a husband has to brave all sorts of crazy questions by the wife? You should definitely not miss out on all that happened when Neha Dhupia interviewed Angad Bedi.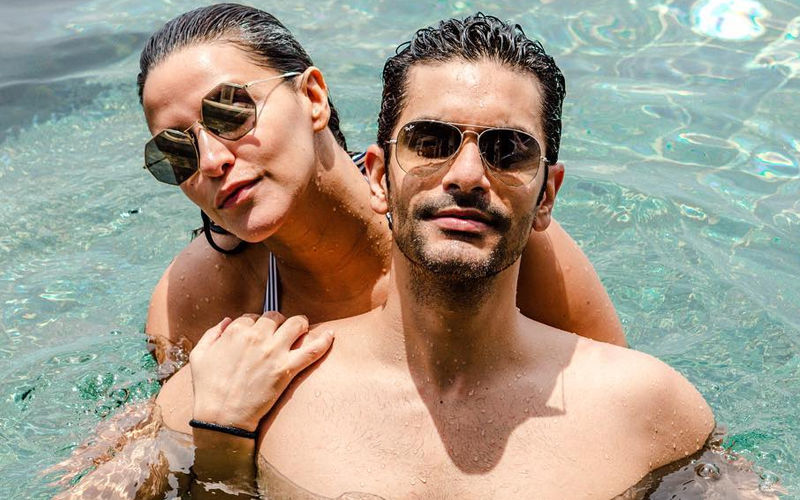 The number of women Angad has been with
Angad's Quote - No, I've not been with so many women. I think I might say about 75

Angad's relationships with older women
Angad's Quote - I never had a girlfriend for the longest time because when I was growing up, I grew up in a lot of discipline. I was a very shy boy and I'm still very shy. But slowly when I moved base from Delhi to Mumbai, things changed and I made new friends and I realised that I enjoy going out a lot, I was on a self-discovery mode. Beggars can't be choosers, you take what you get. But I think when I was 19 or 20, yea that was the time. In one situation there was a 10 year difference. The next was 3.5 years. I would say, technically, my first relationship was then.

Angad on convincing his parents and in-laws
Angad's Quote - I've never tried to impress anybody in my life. I wear my heart on my sleeve, if I want to do something, I go ahead and do it. I think I learnt that from my dad. My in-laws were already convinced 4.5 years back, except for the wife. I don't know why you took forever. It wasn't hard to convince my parents either. Because of a lot of things. They really wanted me to settle down also, start a family, and raise children. And I realised by the way I was going, living in Bandra all by myself, that wasn't going to happen very soon.

Yuvraj Singh angry with Angad for not telling him about his wedding with Neha
Angad's Quote - My best friend did post an Instagram post very recently on friendships day and I read that post. Yuvi's quote was something like – just my take on people and who I thought were friends, after the experience, I would like to say I love my dogs more. Something like that, I just thought it was a bit immature. But he is entitled to his opinion so it's fine. It was my fault and I say this very openly that I should've given him more time but then unfortunately for us the decision making was so sudden. He has his reasons to be upset and I really love him but if you want to say what our relationship is right now, yes, it's not the same and I hope in due course it does get better because I miss him, he's a dear friend of mine

When Angad's girlfriend left him at a bar in New York
Angad's Quote - That was my second trip to New York but my first with the girl I was seeing, and my friends, we went in a big group. And I think we were celebrating her 30th birthday. We went to this bar and she was partying with her friends, I think after a few drinks she got a bit aggressive, I remember. And then she wanted to go somewhere else and I was really tired, which is fair, it was her birthday. I said why don't you go with your friends, I'll just go back. I don't know, some switch went off in her head and she just left me there, in the bar. I didn't have any money, my wallet was in her bag, I didn't have a mobile phone, it was in her bag. I was jet lagging so badly, I didn't even have the address to where I was staying. So I was just like a headless chicken at some 4:30 in the morning. Then I went back, I said I don't want to stay here anymore and I just wanted to leave that apartment which I had paid a lot of money for. I went up, I took my bag and I left.

Angad's night at Carter Road
Angad's Quote - Once I had taken a flight from Delhi to Mumbai to see this girl and I lied at home and said I'm going to play a match and I'm going to be there for a week. I landed there and she went out partying. She said oh I'll come back and all that and when she came back we had a fight and I spent the night on Carter Road by myself.

Angad's playlist for his child
Angad's Quote - Diljit Dosanjh songs

Angad's relationship with his dad
Angad's Quote - I love the game because it's like a religion in our country, I have such a lovely figure in my house who has taught me a lot of values. He's been my teacher more than a father. But it took away a relation that a father and son should have. When I was 13 till 25, it was a very tough time because I started playing then differences of opinions started to happen. He always wanted me to work a lot harder and now he doesn't because he feels like I'm really working hard on my own in this profession. He thought I wasn't putting in enough hours in cricket which I differ with. But sometimes when it's not meant to be then it's not going to happen. I used to consider myself as a very mediocre potential for the sport. But if the game gave me such a lovely dad, the game also took away my father when I needed him the most.

Angad's dad's reaction after he cut his hair
Angad's Quote - In our house, I think I turned 11 and my father did a turban ceremony and he called many known people. My father stood and gave a speech and said that one thing I can promise is that my son will never cut his hair and he will always respect the turban. I still do respect the turban a lot but I did cut my hair. I believe that it was a very big setback, emotionally very disturbing for my dad because we are direct descendants from Guru Nanak and he really believes with a lot of pride in being a very honest and upright Sikh. And obviously, we did drift also, this being one of the reasons, not just cricket.

One night stands or long-term relationships?
Angad's Quote - One-night stand. Long term relationship is shit, the reason being that people who enter long-term relationships cannot make up their mind. In 3 months or 6 months you know if you want to close the deal with your partner.