Abigail Pande And Aashka Goradia Go Topless, Seek Inspiration From Instagram Sensation Nude Yoga Girl
Going topless in their recent posts practicing a yoga asana, Abigail Pande and Aashka Goradia thank Nude Yoga girl for fitness inspiration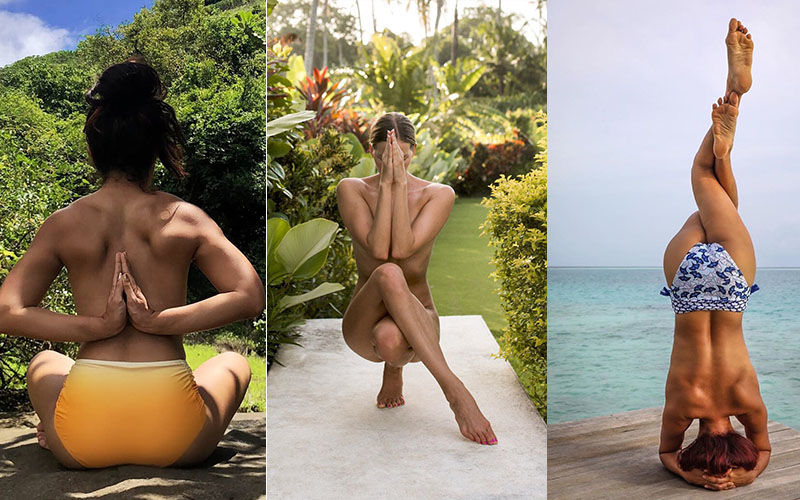 TV actress Abigail Pande got to fame and become a household name as she debuted with Ekta Kapoor's show Kya Dil Mein Hai co-starring Aamir Ali. Known for being a fitness enthusiast and yoga addict, she had let go of all her inhibitions in her latest Instagram post. All the credits to vivid followed yoga practitioner on Instagram, the nude yoga girl. The actress went topless, practicing one of the asana, where she joined hands behind her hands.
Along with the picture she penned a long post which clearly gave her perspective towards the society and vice-versa. She thanked the internet yoga sensation for making her feel liberated in life and changing her perspective towards life and society.
Her post read, "My many words may not be able to express how much I appreciate what @nude_yogagirl is doing. Many of You may not resonate with her insta handle but don't we all know how attractive headlines and titles walk you towards what a person is trying to express, do we not know that judging a book by its cover is not the ultimate climax, so yeah! Nude and yoga might not have anything in common but it's expression together may mean world to people who experience it, I was shy and scared and fearful of taking a shot that might make me feel liberated."
She too thanked her buddy Aashka Goradia in her post for encouraging her by letting go of her fear and being a bodyguard to her during this photoshooot. Her post further continues, "Only because I kept thinking what others would think, my friend and also my photographer plus bodyguard in the moment @aashkagoradia said "Abby, let go off the fear of what others think, it won't make you feel empowered." Just in that moment I let go off, in my mind I knew there is no watching me but me, and just in that moment I had to let go, for me. Here's my story what's yours? #nuedisnormal ❤"
Few days ago Aashka Goradia too had gone topless, practicing a yoga aasana as well. Her post touched upon various topics such as women in sari, men's thinking process, how female bodies are god's unique creation and Khajuraho Temple walls depicting graphic sexual scenarios. Read her post below-
Abigail and Aashka too shared a video of them pole dancing in their recent Instagram post.
Image Source:Instagram/AbigailPande/AashkaGoradia/Nude_yogagirl