Anita Hassanandani Enjoys Bonding Time With Newborn Son Aaravv; Sings 'Lakdi Ki Kaathi' And Plays Along With Her Baby Boy- WATCH
Anita Hassanandani, who gave birth to her baby boy in February, has shared an adorable video as she sings to him, and plays along with him. Check it out!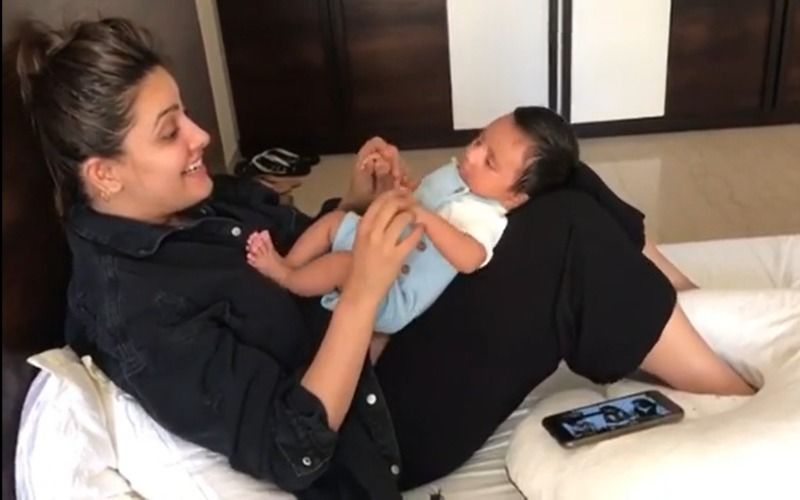 Anita Hassanandani and her hubby Rohit Reddy welcomed their first child, a baby boy, in February. The doting parents have been enjoying this new phase of their lives, and are making the most of it with their newborn son Aaravv. Anita is on a maternity break, and has been spending every minute with her baby boy, and what's even better- she also gives delightful glimpses of her life with Aaravv through social media posts. This time around, the actress shared a video of her enjoying bonding time with Aaravv.
Anita Hassanandani took to her Instagram account, and shared a lovely video in which she can be seen with baby Aaravv on her lap. As the song 'Lakdi Ki Kaathi' plays in the background on her mobile phone, Anita lovingly holds Aaravv's arms and sings the song to him. She gazes down at him adorably and can be seen grooving lightly along with her son. Anita was dressed in an all-black outfit, while Aaravv looks adorable in a white and blue outfit. The video is too cute to miss, check it out below.
Sharing the video, Anita Hassanandani asked her fans, "Who loves this song ? MyJaan @aaravvreddy." Fans were quick to drop lovely comments on the video; take a look!
A few weeks ago, Anita Hassanandani also shared a video clip on her Instagram stories in which she was seen singing the Gayatri Mantra to her son Aaravv. In case you missed it,
check it out here.
Image SOurce: Instagram/Anita Hassanandani