Anita Hassanandani Shows Off Her 'Magic Trick', Pranks Hubby Rohit Reddy Once Again, Leaving Him Shocked- VIDEO
Anita Hassanandani pulled another prank on her hubby Rohit Reddy, while showing off her magic trick. Anita is left in splits after Rohit Reddy falls for her prank once again; watch the hilarious video below!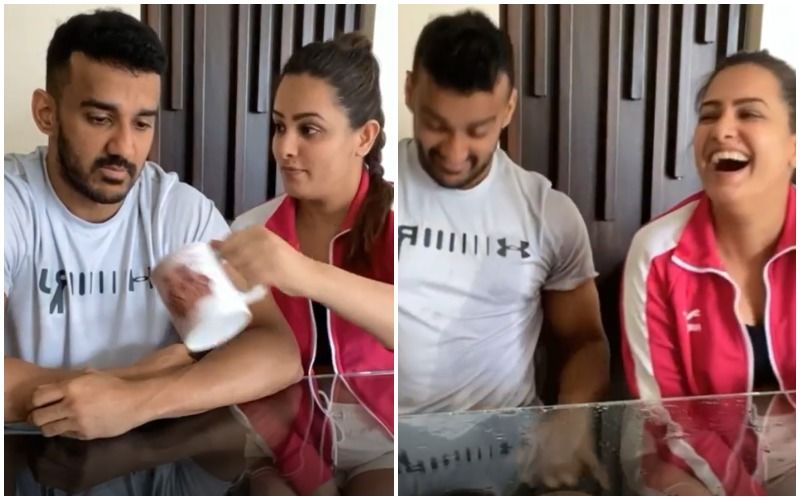 Popular television actress Anita Hassanandani has been sharing some really hilarious and interesting content on her social media account. Just yesterday, Anita Hassanandani posted a reel, in which she was seen pranking her hubby Rohit Reddy by pretending to show him a really cool magic trick, and ended up slapping him instead. Rohit commented that the prank war was on, but before he could make the move, Anita came up with another prank video, once again showing her magic skills.
In the video, she can be seen sitting beside her hubby Rohit Reddy. Anita Hassanandani said that the magic trick last time was really mean, but she has rehearsed for another trick since then and this will be a good one. Anita then shows Rohit, as well as the viewers, an empty cup. She then fills it up with water, and while Rohit Reddy looks curiously as to what magic trick Anita will show, she ends up pouring the water on Rohit's head, leaving him shocked. Anita is left in splits after successfully pranking Rohit for the second time.
Sharing the video, Anita wrote, "I'm turning out to be quite a magician," to which Rohit Reddy replied with, "So mature!" Her fans found it extremely hilarious; check out the video below:
Just yesterday, Anita Hassanandani had posted the first prank video, in which she slapped Rohit, and captioned it as, "PLEASE TRY THIS AT HOME!" The text on the video read, "A magic trick all WIIVES will LOVE." Rohit Reddy replied, "1-0 !! Wait for payback.... u messed with the wrong person @anitahassanandani." In case you missed it, check out the video below:
Image Source: Instagram/Anita Hassanandani