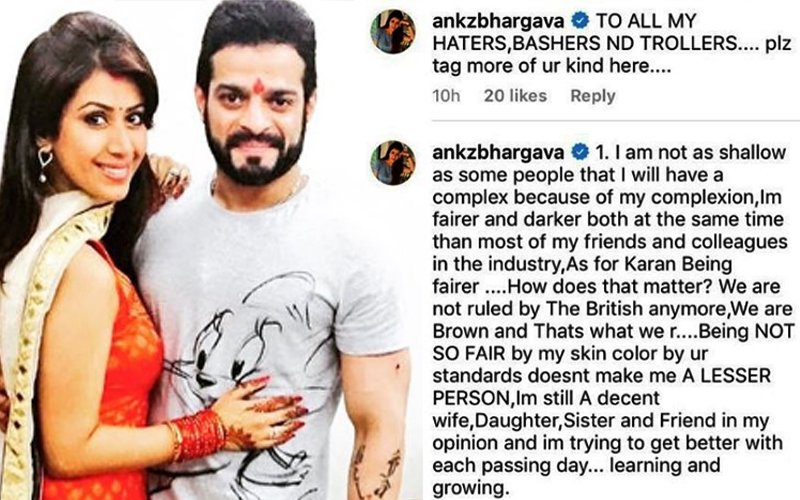 Karan Patel and Ankita Bhargava's marriage has irked plenty of detractors online who have often attacked the couple.

Some trolls had targeted Ankita, abusing her because she is darker than her husband.

And now she has replied to them.

"I am not shallow enough to have a complex about my complexion. I am fairer and darker, both at the same time, than most of my friends and colleagues from the industry. As for Karan being fairer, how does that matter. We are not ruled by the British anymore, we are brown, that's what we are. Being not so fair by your standards does not make me a lesser person. I am still a decent wife, daughter sister, friend in my opinion and trying to get better with each passing day, learning and growing," wrote Ankita.

Karan Patel's fans have come to Ankita's support by reposting the message on their pages.

"The beauty of a woman is not in a facial mode but the true beauty in a woman is reflected in her soul. It is the caring that she lovingly gives, the passion that she shows. The beauty of a woman grows with the passing years. - Audrey Hepburn. People talk about women empowerment, gender equality, feminism, women's dignity. By the end of it women themselves don't respect other women. Isn't it the irony of life?," they wrote.


Thumbnail Image Source: instagram/karan9198