Anupamaa's Madalsa Sharma On Equation With Rupali Ganguly, Cold War Between The Cast And Exploring The Digital Medium- EXCLUSIVE
In an exclusive interview with Spotboye.com, Madalsa Sharma spoke on her Anupamaa journey, bond with co-actress Rupali Ganguly and much more.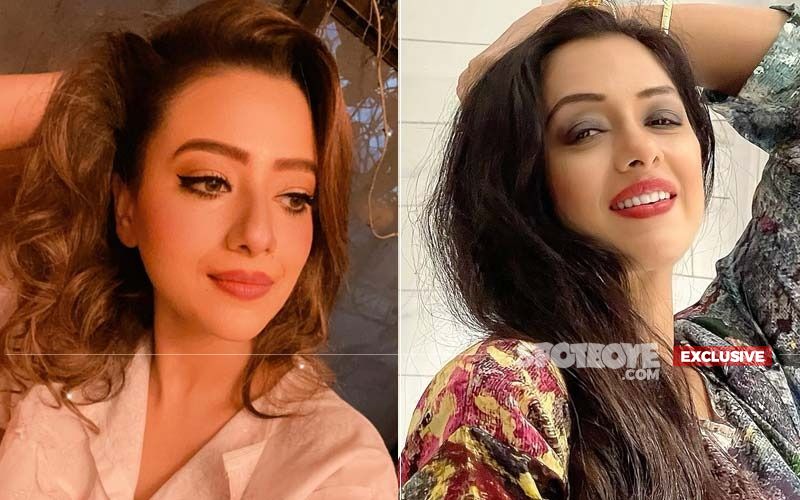 The beautiful Madalsa Sharma has managed to create a space for herself in the hearts of the audience. The actress, who is currently seen playing the role of strong and independent, Kavya Shah in Anupamaa, one of the most popular and loved shows running on Television. Although, it is Madalsa's first show, the actress has left everyone mighty impressed with her power-packed performance in the daily soap.
Recently, Madalsa Sharma got candid with Spotboye.com and spilled the beans on her equation with fellow co-contestant Rupali Ganguly. She also cleared the air on rumours of a cold war brewing between 'Anupamaa' Co-stars Rupali Ganguly, Sudhanshu Pandey. The South actress also revealed that she wants to take up challenging and intense roles.
Read excerpts from the interview:
How do you feel to be a part of the popular show Anupamaa ?
"Touchwood, the show has been on the top since Day 1 and till now, it has maintained its top spot so every week when we get TRP chart, we are as excited as we have always been the first time since we first came to know our show has been ruling. So, it's the same amount of excitement every week and it's nothing but a blessing from God. In such less time, our show has given us so much to all of us individually, so it's an amazing feeling to be connected and a part of a team, which is so positive and hence it's like a cloud nine feeling.
Considering it's your first show, you have received immense love and acceptance. Did you expect so much love to come your way when you signed the show?
This was my dream goal to begin with. I have always been a part of the Film Industry be it Bollywood, South, Punjabi or international. But, I hadn't done anything in the Television field so when Anupamaa was offered to me, when I heard my role and when I heard the story of the show, I got the soul completely right that time only. I have so much love and regards for Rajan sir. I always wanted to work with him. And, the day finally came. Just like everyone, I had also prayed for my venture to be super successful and luckily that happened. I feel it's a beginning. We are about to complete a year next month.
Were you first apprehensive to take up a negative role?
I feel it's a grey role. It's a very situational kind of character as Kavya only reacts to situations. At the end of the day, she is a very practical and real character she has shown. So, yes of course I was apprehensive when it came to playing a negative role because according to our daily soaps, what we portray in television, a character like Kavya may come across as negative. There is a mindset that is already set in the minds of the audience. Now, when I see people responding positively to Kavya's character, I feel very overwhelmed and happy. She is so independent just like a one-man army. She never gives up in her life. So, many people are actually getting inspired by the message given through Kavya. When I first heard the role of Kavya, I saw these positive printers and later on my apprehensions were completely vanished when I realized it's not negative.
There have been reports of Cold War going on between Rupali Ganguli and Sudhanshu Pandey. What do you have to say about that? And, How is your equation with Rupali ?
I don't understand from where these rumours have come from at the first place. How weird it is to know that. We shoot like a family.. every single day we work together, we giggle, we eat together. When hard work is mistaken for these kinds of rumours, it's actually very hurtful for us.
My equation with Rupali is very good as it's with everyone else. When we work together every day, we develop a strong bond. So, I feel mera and Rupali ja jitna onscreen tashan hota hai, off screen utna hi cool..chilled out hai. Sometimes, we have scenes where we look at each other as if we are going to eat each other but we burst into laughter right after the cut. Both me and Rupali have no negative feelings towards one another. Overall, it's very nice and chilled out.
How do you handle online trolling? Does it bother you?
Luckily, out of 100, 90% I get positive, 5 to 10% can be negative trolls. But, that does not ease the fact that I have so many people pouring out love to me. If there's good, there is a bad, good and devil so everything had negative and positive aspects. So, it doesn't bother me, somebody's insecurities can't make me feel insecure about myself.
These days, celebrities are turning to digital mediums to experiment. Do, you also want to explore the digital medium in the future?
Yes, now everything is going digital. There are so many amazing OTT platforms with such good content out there. Maybe in the future. Right now, my all attention is Anupamaa. But, in the future, if I get a good scope in digital, I will definitely try for web series.
As an actor, what kind of roles excites you?
Something which is challenging and has different shades of emotions. Role that I have not done on a daily basis.. where there's no monotonous and predictable. Any intense character which has a lot of substance and weight excites me.
Message for fans?
I have all my love and respect for my fans. I can't express it in words. It is because of their love that Anupamaa has been ruling TRP charts. I owe my success to my fans. I am really grateful to them.



Image source: instagram/madalsasharma/rupaliganguly