Anupamaa SPOILER ALERT 24th June 2023: Pakhi Plans A Farewell Party In Kapadia Mansion, A Hesitant Anu Agrees To Attend
In today's episode of Anupama, Pakhi will invite Anupamaa to Kapadia mansion for her farewell party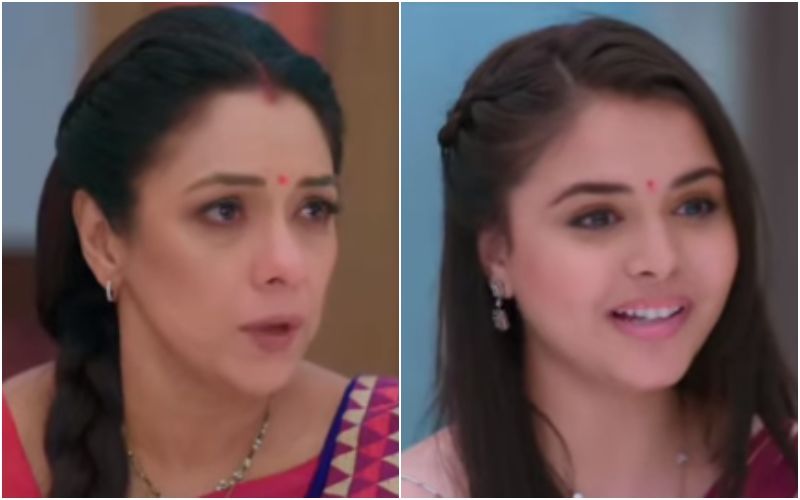 Ever since it started airing on Star Plus, Rupali Ganguly and Gaurav Khanna starrer has been keeping the audiences engaged with its high voltage drama. The show has been topping the weekly BARC ratings and also constantly trends on social media. In the previous episodes it was seen that Pakhi returns to Kapadia mansion to stay with her in-laws with Dimpy and Samar and on the other hand Anupamaa gets injured during a dance face-off with Nakul.
In today's episode it will be seen that Nakul will confront Anupamaa about not revealing the truth behind him hiding glass shards in the flower basket, to injure her. Anu will explain to him how they are not enemies and she understands where he comes from. She will explain that he feels threatened because he has been with Malti Devi ever since he was a kid. Nakul will reveal that he was confident that his Amma would only love him, however despite being in the academy for only a month, Anu managed to become Gurumaa's successor, which made him feel insecure.
ALSO READ: Anupamaa SPOILERS 23rd June 2023: Anuj Brings An Injured Anu Back To Kapadia Mansion Leaving Maya Jealous
The duo continue to have a heart to heart talk and Anupamaa tells him that she will need his help to keep running the dance academy smoothly. On the other hand, Malti Devi will be worried about Anu and wonder if her wound would heal in time for the event. In the Kapadia mansion, Pakhi will walk up to Maya, Barkha and Dimpy to apologise. While Dimpy will taunt her, Pakhi will turn to Barkha and promise her that she will try to change herself and become a good daughter-in-law. Upon hearing this, Anuj credits her for wanting to better herself, to which Pakhi says that she wants to become more like her mother. Pakhi will go on to express that she wants Anu to return to the Kapadia house, so she has her own place whenever she visits India. It is then revealed that it was Maya's dream all along.
ALSO READ: Anupamaa SPOILER 22nd June 2023: Anu EXPOSES Barkha And Dimpy In Front Of The Kapadia Family, Samar Gets Heartbroken
Pakhi requests Anuj that they should throw a farewell party for Anupamaa. Maya supports the idea in front of Anuj, however, gets warned by Barkha to stop acting foolishly as everyone knows how much she hates Anu. Pakhi will call Anu and inform her about the party, which leaves the latter a little sceptical as she remembers the drama Maya created during the press conference. However, after much convincing from Anuj and Pakhi, Anu agrees. Pakhi goes on to inform her that there will be a party for her in the Kapadia mansion in the morning and in the Shah house in the evening.
With the three year leap just around the corner, fans have been wanting to know how the makers plan on taking Anu and Anuj's love story ahead. Will Anupamaa go and settle in the US alone or will Anuj follow her and become her pillar of support again are some of the burning questions the audience is eagerly waiting for.
Image Source: Instagram