Anushka Sen Reveals Her 'Elder Brothers' Vishal Aditya - Varun Sood Are Very Protective About Her; Ex Bigg Boss 13 Contestant Doesn't Want Her To Have A Boyfriend Before 21
Khatron Ke Khiladi 11 contestant Anushka Sen opens up about her bond with fellow contestants Vishal Aditya Singh and Varun Sood. Read on to know what she said.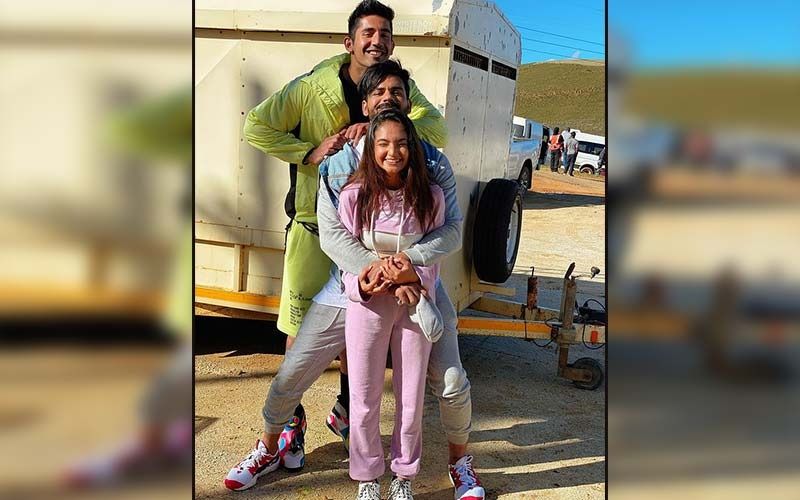 The beautiful Anushka Sen is currently seen doing some high-octane action stunts on the reality show Khatron Ke Khiladi 11. She is the youngest contestant on the stunt-based reality show and is definitely giving a tough competition to her fellow contestants. The show has given Anushka not just good buddies but also two elder brothers in Vishal Aditya Singh and Varun Sood. In a recent interview with The Times of India, the Baal Veer actress opened up about her bond with Vishal and Varun. She asserted that two are very protective of her and don't want her to have a boyfriend before she turns 21.
While talking about her equation with them, Anushka said, "Vishal Bhaiya (Vishal Aditya Singh) and Varun Bhaiya (Varun Sood) are my elder brothers who I have got from this show. They are very protective of me and at the same time we have a lot of fun together and they also pull my leg a lot. They genuinely care for me and as I am young they want me to be safe."
Adding to this, she mentioned that the former Bigg Boss 13 contestant doesn't want her to have a boyfriend before she turns 21. She was quoted as saying, "This is to all the people who are asking me if I am in a relationship, please talk to Mr Vishal Aditya Singh. He keeps telling me Anushka, no boyfriends before you turn 21. Even during the launch press conference, he was just passing by and he whispered again the same thing. He has this serious face while he is saying this, "Anushka koi boyfriend nahi Haan 21 se pehle. Varun Bhaiya will first agree with Vishal Bhaiya but then he tells me softly that it's ok if I find someone good. Then they both fight and debate over it. I find this bond very beautiful."
Even on social media too, Anushka Sen often expresses her admiration and affection for both the actors. She had shared a series of her pictures with Vishal Aditya Singh and Varun Sood on her Instagram, leaving everyone in awe of their strong camaraderie.
Image Source: Instagram/ /anushkasen0408/