Asim Riaz And Lady Love Himanshi Khurana Take Over Twitter Together; 'ASIMS BUILT IN PAIN SOON' And 'HIMANSHI HITS 8M' Make It To The Top Trends
Bigg Boss 13 lovebirds, Asim Riaz and Himanshi Khurana are trending on Twitter at the same time. Read on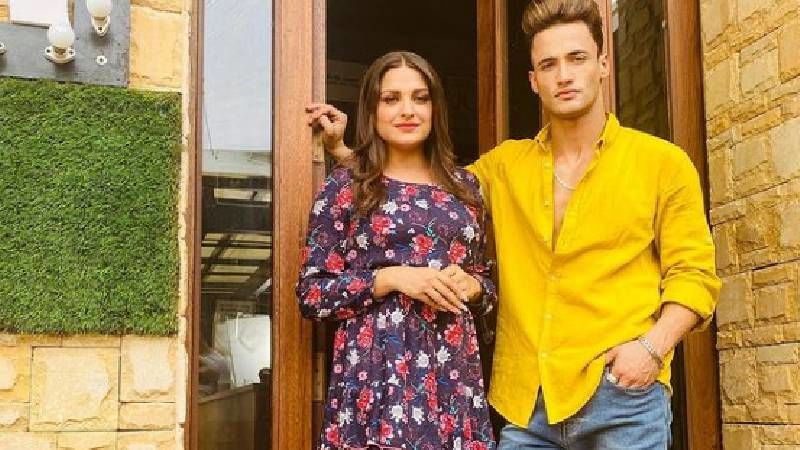 Asim Riaz and Himanshi Khurana shot to fame with Bigg Boss 13. They found love in each other on the show and every since then they are together known as Asimanshi. Today, both the stars are trending on Twitter but for different reasons. Asim Riaz's fans are trending him as they are desperately waiting for his next venture called Built In Pain. Asim is soon to come up with a song in collaboration with Bohemia. On the other hand, his lady love Himanshi is trending as she has scored 8 million followers on Instagram.
On Twitter, "ASIMS BUILT IN PAIN SOON" and "HIMANSHI HITS 8M" are trending. For Asim, a fan wrote, "Finally his dream project is about to come soon.... Really really excited for it..... He has been dreaming about this for long!! ASIMS BUILT IN PAIN SOON | #AsimRiaz." Another one wrote, "No one believed him when he started his journey. Only thing he had with him was his passion & dream. When his bones and muscles gives up & scream for rest. Instead of giving up he put himself up for another test. ASIMS BUILT IN PAIN SOON."
Appreciating Himanshi, one fan wrote, "She's Working Hard & Doing Her Best, Yeah She Deserves More Appreciation & insha'Allah One Day She Will Get What's She Deserves. HIMANSHI HITS 8M."
Asim Riaz too is pretty happy with these trends on social media as on his Insta stories, he shared a screenshot of both the trends appearing one after the other. Check out the tweets here:
No one believed him when he started his journey
Only thing he had with him was his passion & dream
When his bones and muscles gives up & scream for rest
Instead of giving up he put himself up for another test @imrealasim

ASIMS BUILT IN PAIN SOON pic.twitter.com/CDJdOxP20x

— Irfan Pathan (@IrfanPa38388737) February 27, 2021
Even if you are on the right track, you'll get run over if you just sit there.
Will Rogers

ASIMS BUILT IN PAIN SOON

— ֆɦǟռօ 🌟 (@Sha_no_) February 27, 2021
I love this quote ....
ONLY GOD CAN JUDGE ME AS SAID BY TUPAC

He is going with flow and working hard so stop judging him and keep supporting him

ASIMS BUILT IN PAIN SOON pic.twitter.com/Xs7R625C9T

— 🅂🄾🄽🄰|ASIM IS LOVE ❤️❤️ (@sonmishr) February 27, 2021
No one believed him when he started his journey
Only thing he had with him was his passion & dream
When his bones and muscles gives up & scream for rest
Instead of giving up he put himself up for another test

ASIMS BUILT IN PAIN SOON

— ᴀꜱɪᴍ ʀɪᴀᴢ ᴜɴɪᴠᴇʀꜱᴇ 💛 (@AsimRiazworld) February 27, 2021
If you have the strength to speak, you should have the courage to listen.

KeyBoard Woriors

HIMANSHI HITS 8M

— ᴍᴀᴊ!ᴅ (@MajidG43) February 27, 2021
Himanshi thanku for accepting our wish of reviving your YouTube channel and posting such intresting things there. Abb bus ek Hindi song cover bhi daal dena jab apko time mile🙈#HimanshiKhurana
HIMANSHI HITS 8M

— ✨ (@Wafaa_here_) February 27, 2021
Image Source: Instagram/asimriaz77.official