Bhabi Ji Ghar Par Hai: Actor Rohitashv Gour REVEALS He Was Scared To Play A Flirty Character; Says, 'My Wife Rekha, Persuaded Me'
Rohitashv Gour opens up about being a part of Bhabi Ji Ghar Par Hai! completing two big milestones and how his family has been his rock throughout his journey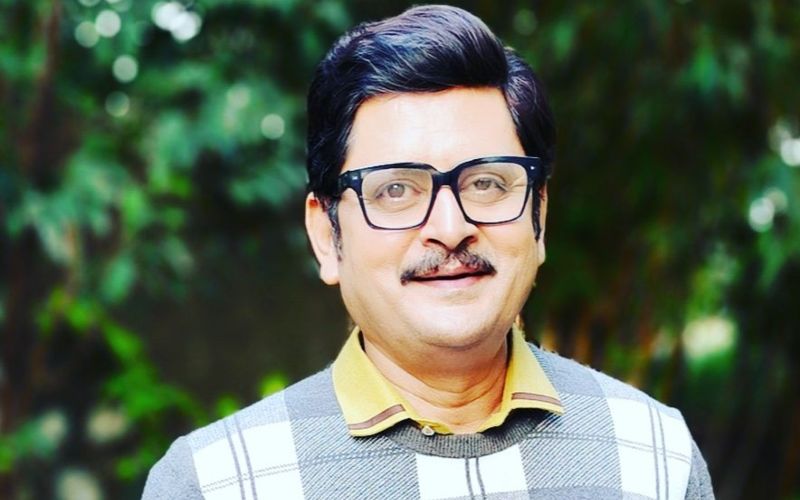 &TV's cult-comedy show Bhabi Ji Ghar Par Hai! recently completed eight years and 2000 episodes. We caught up with Manmohan Tiwari aka Rohitashv Gour on his plan for a birthday celebration & incredible journey of the show. Excerpts from the interview:
1. How are you planning to celebrate your birthday this year?
I will be spending the day with my loved ones. On my birthday, I will be shooting on the Bhabiji Ghar Par Hai sets, which are like a second home to me, and the crew is like family. I am planning to treat them to some delicious food. I am expecting a cake from their end (laughs). I will be spending the evening with my family and friends. We may go out for a memorable dinner nearby.
2. Recently your show Bhabiji Ghar Par Hai completed 8 years and 2000 episodes together, how does it feel?
It is a special moment for all of us because it is a double celebration. In this highly competitive industry, very few shows manage to sustain success and Bhabiji Ghar Par Hai has aced it. I am grateful to the channel and our producers, Sanjay Kohli and Binaiffer Kohli, for believing in me and giving me this opportunity. It's been eight years and is still going strong. The show has played a huge part in shaping my career and providing me with a loyal fan base.
3. How does it feel to be recognised by your character name Manmohan Tiwari?
My journey as Tiwari has been wonderful. This character has become a household name. The character has resonated so beautifully that people often call me Tiwari Ji instead of Rohitashv. At times, people also ask me 'aapke kacche banyan ki dukan kaisi chal rahi hai?' (laughs). It shows the success of our show and the popularity of its characters. I believe, not just Tiwari, but every character in this show has made a special place in viewers' hearts. On several occasions, our fans have mentioned how watching the show has brought happiness in their lives. There have been cases wherein many patients have written to us stating how the show's humour has helped them divert their minds from their pain. I feel so blessed and thankful.
4. How does your family react to seeing you playing such a flirtatious character on TV?
Honestly, I was sceptical of playing such a flirtatious character on Indian television. Initially, I was concerned about the audience's reaction. But my wife, Rekha, persuaded me to take on the role, and here we are, eight years later, celebrating two major accomplishments. My family enjoys watching me on television, as much as the fans of our show. My wife understands my work, roles and has always supported me. She has always inspired me. My children have been my biggest supporters and critics throughout my career. Their advice and suggestions help me perform better.
5. Which has been your favourite episode so far?
Each track is unique and hilarious, so it is extremely difficult to choose one. However, the one that is on my mind now is the one in which I played Madan Mohan Tiwari who is Manmohan Tiwari's younger hippie brother. He was exactly opposite to Manmohan Tiwari's character. Madan Mohan Tiwari's casual clothing, long shabby hair, weird English with a unique accent made it extremely entertaining. He made Vibhuti jealous in the absence of Manmohan Tiwari and flirted with Angoori. I received a lot of positive feedback from the audience. It is always fun to transform into weird and funny characters and entertain our viewers.
6. What is that one quality which is similar between Rohitahv Gour and Manmohan Tiwari?
Like Manmohan Tiwari, I am a middle-class man who loves his family and can commit to any extent to give them all happiness and love.
7. Recently you said you'll not do television after Bhabiji Ghar Par Hai. What is the reason?
I come from theatres and have worked on numerous films. Bhabiji Ghar Par Hai has given me enormous recognition. I don't think any other TV show would have given me the same level of popularity and satisfaction as an artist. Wherever I go, people recognise me as Manmohan Tiwari, and I am so proud and happy to play such an iconic character. Jab tak Bhabiji Ghar Par Hai rahega, tabtak main is show ka hissa rahunga. My top priority will always be this show.
Watch Rohitashv Gour as Manmohan Tiwari in &TV's Bhabiji Ghar Par Hai at 10:30 PM every Monday to Friday!
Image Source: Instagram