TV SPOILER: Bhabi Ji Ghar Par Hai Takes A Cue From Devdas!
Here's the latest update from the world of Bollywood. We bet you wouldn't want to miss this. Read on for details... Anita and Angoori bhabi will be seen grooving to the hit Dola Re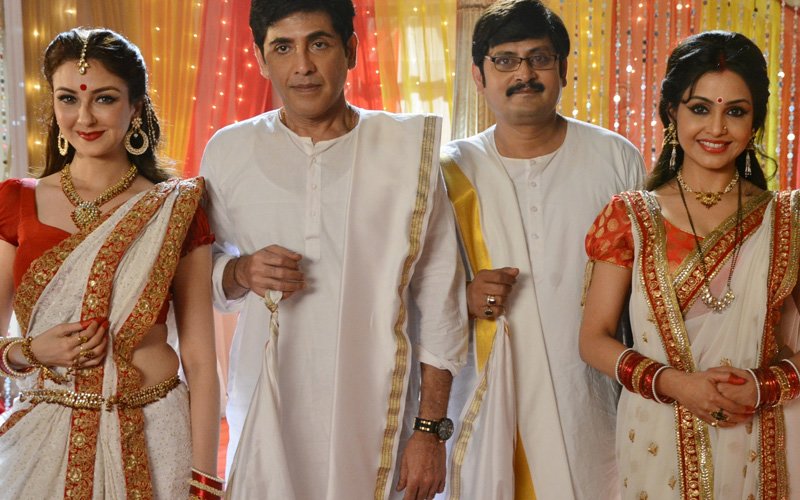 Sanjay Leela Bhansali's magnum opus 'Devdas' has completed 14 years but it still remains fresh in the minds of the audiences. Paying the film a small tribute, the cast of Bhabi Ji Ghar Par Hai will incorporate the serious drama into the comedy of their daily lives.

The latest track of the sitcom, Bhabi Ji Ghar Par Hai, will see Anita Vibhuti Mishra (Saumya Tandon) and Angoori Manmohan Tiwari (Shubangi Atre) trying to woo their husbands - Vibhuti Mishra (Aasif Sheikh) and Manmohan Tiwari (Rohitashv Gaur) respectively - in a unique manner.

The husbands pay no attention to them, which leaves the 'bhabis' frustrated. With help from Anita bhabi's acquaintance, the two will be seen using new tricks to mesmerize their better halves.

When none of their efforts work, Anita and Angoori bhabi will reprise the role of Paro (Aishwarya Rai Bachchan) from Devdas, and groove to the hit Dola Re.




Talking about the latest track in the serial, Anita bhabi said, "I have often been told by many people that I look like a Bengali in the getup. I love the Bengali look throughout and thoroughly enjoyed donning this look for Bhabi ji."




Angoori bhabi went a bit futhur and added, "I researched for quite some time on the internet to get the authentic Bengali look. While shooting the sequence, our sets was turned into a classic Devdas style set up. Loved every bit shooting for it".

Vibhuti Mishra and Manmohan Tiwari too will be seen wearing a dhoti in Bengali style.

Elaborating on their look and experience shooting the particular scene, Vibhuti said, "I have done a lot of getups before, but this one in particular was a little difficult. I had a tough time managing the lungi as it used to come out and I used to try and grip it. (laughs)"




Manmohan Tiwari adds, "The sequence which we are shooting is very different from all that we have shot up till now. Moreover, I also faced a similar situation like Aasif bhai. The Bengali dhoti is worn in a way that we are not used to, so at one instance, the dhoti actually came out and we didn't realize that. Everyone in the set had a hearty laugh though!".

Don't forget to watch Anita and Angoori bhabi swaying to Dola Re on Bhabi Ji Ghar Par Hai, to know if they succeed or not.