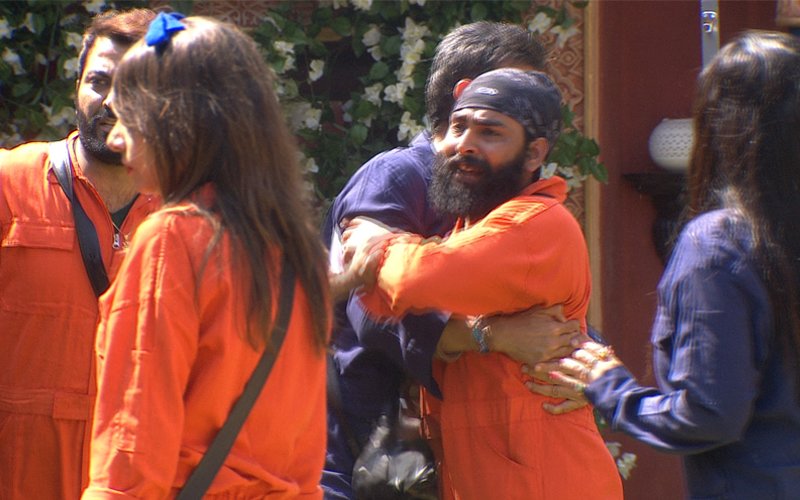 The 2nd week has begun in the Bigg Boss house. Celebrities and Indiawale have buckled up to perform their best in the ongoing luxury budget task – BB Laundry. Celebs are fighting tooth and nail to retain their malik power while the aam janta wants the power back.
In today's task, team blue (celebs/maliks) and team red (aam janta/sevaks) get physical in order to hoard more laundry for their team. When the next batch of clothes arrive, Swami Omji and Lopamudra Raut run to secure most pieces for their respective team. In the process, 1 piece falls from Swamiji's hand, which is picked up by Lopa.
Swamiji screams saying Lopa is cheating and snatching clothes from him. This in turn aggravates Manveer Gurjar and Manoj (Manu) Punjabi. The inspector appointed by Team Blue- Rohan Mehra, complaints that Manu is unfair.
Irritated by Rohan's antics Navin Prakash warns him to behave, else he will not spare him. Rohan continues being a thorn in their side.
An agitated Navin is seen throwing water over the celebs' hardwork. As in quite literally! The sevak throws a jar full of water over the clothes washed and ironed by the celebs. Annoyed with this, VJ Bani proceeds to do the same to their work. Lokesh Kumari is seen trying to stop her from doing it.
In a bid to win the task, the commoners have devised a plan. They plan to slyly hide the clothes washed by the maliks. Akanksha Sharma and Nitibha Kaul get on to this the task.
Aside from the luxury budget task, fights are on with regards to other petite matters. VJ Bani demands the Indiawale sevaks make her coffee. After being asked a number of times, Nitibha retaliates. She questions Bani's restlessness and says that she can wait for 5 mins. Swamiji supports Nitibha in this.


Image Source: Colors & twitter/biggboss