Bigg Boss 10, Day 11: SPLIT - Indiawales Lokesh Kumari And Navin Prakash Fight Tooth And Nail For Immunity
We tell you what will happen in tonight's episode of Bigg Boss 10. Indiawales have won the BB Laundry and are the maliks. The strongest 2 in this task are fighting it out for immunity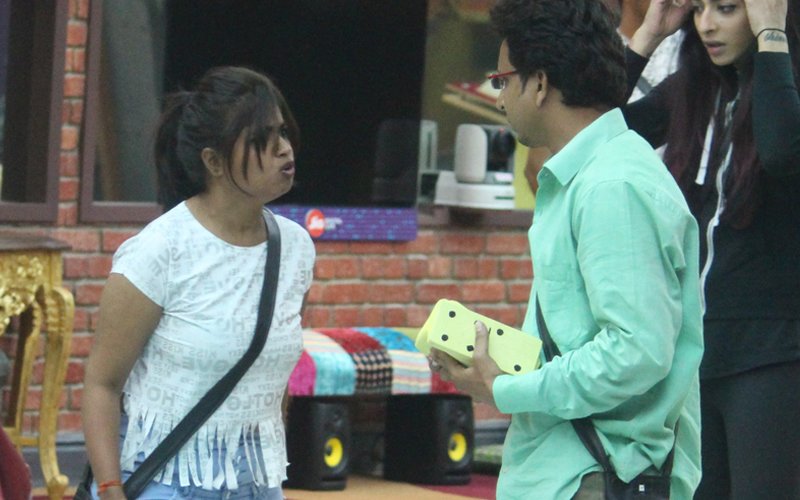 The second luxury task –BB Laundry –has ended in the Bigg Boss house. The Indiawales have displayed their hard work washing and ironing clothes to win the task. This has resulted in a change in the house satta. The saveks of 2 days –Indiawales are the new maliks.
The team deems their determination and hard work the reason for their success where as Swami Omji says it was possible only because of his blessing.
In order to appreciate the hard work of the commoners, Bigg Boss has asked them to nominate the 2 most hardworking member of that task. Through mutual consent, they elect Lokesh Kumari and Navin Prakash. These two are pitted against each other in the immunity challenge.
The immunity task basically works in the following manner - Bigg Boss allots a set of blocks(dominos) to each housemate. Navin and Lokesh have to make efforts to impress them and collect the dominos to create a straight line. The one with a maximum number of dominos standing in a straight line will be declared as the winner of the task.
Lokesh impresses the celebrities and other Indiawale by preparing parathas and entertaining them, thus winning most of their votes. When Navin realizes Lokesh is leading and is close to winning the task, he tricks her by engaging her in a conversation and destroys all her blocks. Finding her blocks lying around on the ground, Kumari gets furious and lashes out at Navin for being mean and sabotaging her efforts.
This leads to a major fight between them with Lokesh calls Navin names. Lokesh also breaks into tears as Navin tells her that it is just a task and he is playing a game. The otherwise one team that stood up to the celebrities is now experiencing a rift in their camp.
During the day, Bigg Boss asks the housemates to nominate two weaklings from their respective teams who underperformed in the task and deserve to go to the jail. After a lot of discussion, the celebrities elect Mona Liza while the Indiawale elect Swamiji. Mona and Swamiji, however, do not agree with their respective team's decision and refuse to go to the jail.
Mona Liza feels her team is unnecessary targeting her. When Omji chants the same, Manveer Gurjar lashes out and tells him that he contributed the least in the task and has no right to object the team's decision.
It is now to be seen if Monalisa and Swami finally agree to go to jail, also watch out to see if Lokesh's efforts win her immunity from next week's nominations.


Image Source: Colors