Bigg Boss 10, Day 12: Happiness And Positivity Prevails In The House This Festive Season
We tell you what will happen in tonight's episode of Bigg Boss 10. Fights and arguments have taken a back seat in the House on the occasion on Diwali. Contestants are sentimental over the present received from their families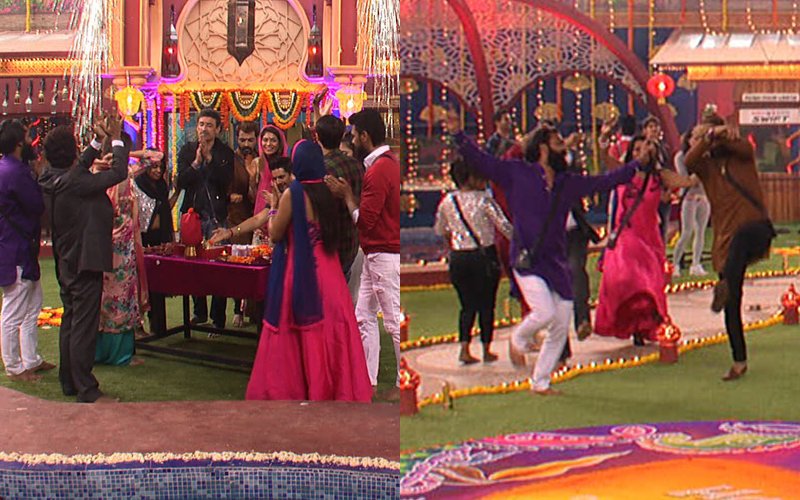 Yesterday, Lokesh Kumari and Navin Prakash were pitted against each other in order to win immunity from next week's elimination due to their outstanding performances in the luxury task. This task created a rift between the two.

Further widening this was Navin's attempts to win the task by sabotaging Lokesh's hardwork (Bigg Boss 10, Day 11: SPLIT - Indiawales Lokesh Kumari And Navin Prakash Fight Tooth And Nail For Immunity, Oct 28). This led him to emerge victorious but, breaks the Indiawale's team spirit.

Forgetting all disputes and animosities, contestants wake up to the song 'Happy Diwali' bringing in festivities. In order to bring peace between Lokesh and Navin, Manveer Gurjar requests Lokesh to talk to Navin and give him a chance to explain himself. Lokesh, however, refuses to talk to Navi and walks off. Lokesh tells Manoj that Navin is playing a dirty game and is brainwashing everyone including Manveer.




Still upset over their counterparts putting them in jail, Swami Omji complains to Lokesh that he isn't being given a chance to prove himself and is always sent to jail for poor performance in tasks.




Bigg Boss decides to create a cheerful atmosphere by giving the celebrities gifts sent by their families and friend. They get emotional receiving them and few also cry remembering them. Manoj Punjabi (Manu) hands Mona Lisa her gift while she is inside the jail. This makes her emotional and she breaks into tears. With only the celebrities receiving gifts, Indiawale eagerly wait to receive theirs.



Keeping the festive mood alive, Bigg Boss asks Manu to release Monalisa and Swami Omji from jail. He asks the two to join the housemates in the celebrations.

In the evening, housemates celebrate Diwali by performing a small puja in the garden area. Swamiji recite mantras and completethe puja rituals. Happiness fills the atmosphere as Bigg Boss wishes everyone a' Happy Diwali' and provides them fireworks to celebrate the occasion.




He also surprises the aam janta by giving them their share of gifts. He calls Nitibha Kaul and Lokesh in the confession room and ask them to collect their gifts hidden behind the chair and distribute it amongst the housemates.




Adding to the fun, Bigg Boss introduces the Oppo F1s Selfie expert task. For this, the contestants are paired in twos - Lopamudra Raut and Lokesh Kumari, Karan Mehra with Rohan Mehra, Manoj Punjabi and Mona Lisa, Manveer Gurjar with VJ Bani, Gaurav Chopra and Akansha Sharma and finally Nitibha Kaul with Navin Prakash.

Each jodi has to go to the activity area and click an interesting selfie with the Oppo F1s camera phone . Swami ji and Rahul Dev are elected as the judges and are asked to select the best Oppo F1s Selfie expert Jodi.

Thumbnail Image Source: Colors