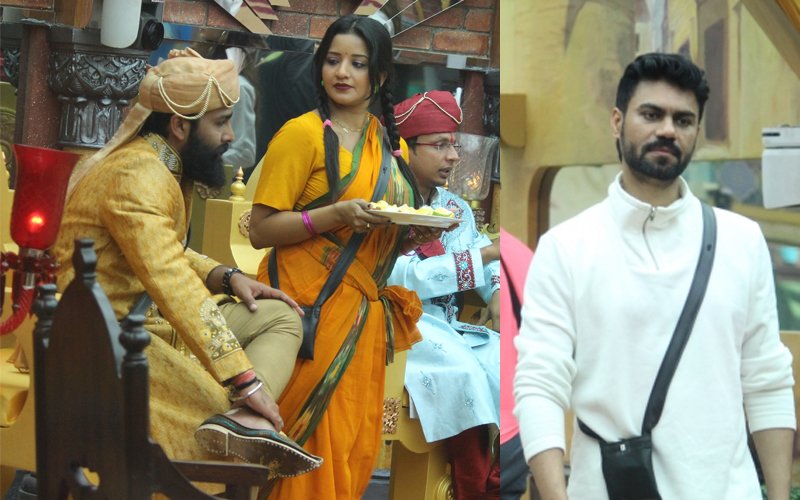 Day 16 in the Bigg Boss house starts with the contestants waking to 'Pak Chik Pak Raja Babu'. The day brings with it the anticipation for the looming luxury budget task. Whilst waiting for the task to commence, Swami Omji is seen ploting with Manoj Punjab (Manu), Manveer Gurjar and Navin Prakash on tackling the task while maintaining a united front. Meanwhile in the celebrity camp, Karan Mehra tries to patch up Lopamudra Raut and VJ Bani. He attempts to ease the tension created due to the nomination process held a day earlier.



Image Source: colors



Image Source: colors

The luxury budget task – a costume drama titled 'Raja aur Rank' – is introduced. Bigg Boss supplies the housemates with costumes to wear during the task While the commoners assume regal status and emulate members of a royal family, the celebrities are their staff and subjects.



Image Source: colors



Image Source: colors

The task has a serious twist to it. The celebrities have got an opportunity to turn tables on the Indiawale through a secret task. The task is for the celebs to capture the Indiawale in 12 moments orchestrated by them (celebs).

The Indiawales face a tough time taking advantage of the celebrities, because of Swamiji and Nitibha Kaul's constant bickering over the rules of the game. Manveer gets tired of Nitibha's endless taunting and ends up getting into a argument with her. Omji ends up taking his role as King too seriously, thereby annoying not only his staff and subjects but also his fellow royal family members. Fearing loosing the task, Manu takes charge attempting to bring some method to the ongoing mayhem. Manu's day gets better, when his celebrity friend Mona Lisa surprises him with a kiss on his cheek (it will be interesting to know if this is a part of the secret task).



Image Source: colors

When Gaurav Chopra attempts to push the celebrities to complete the secret task, Manu and Manveer try to get him in jail under false accusations. Though Gaurav smoothly escapes it. Rahul Dev isn't so lucky and lands him in jail following his antics around King Swami.



Image Source: colors

In order to fuel the luxury budget task, Bigg Boss supplies the celebrities with paints and massage oil. Rohan Mehra finds himself banished to jail for misbehaving with Nitibha while painting Swamiji's picture. When Lopamudra approaches Manveer with the massage oil, her intentions are misunderstood resulting in a battle of words between the two.

The luxury budget task has brought new hostilities inside the Bigg Boss house. It will be interesting to see if the celebs are able to turn the table and get the satta of the Bigg Boss house (the only time they had the power was when the commoners had broken the Bigg Boss' rule of discussing the nominations).


Thumbnail Image Source: colors