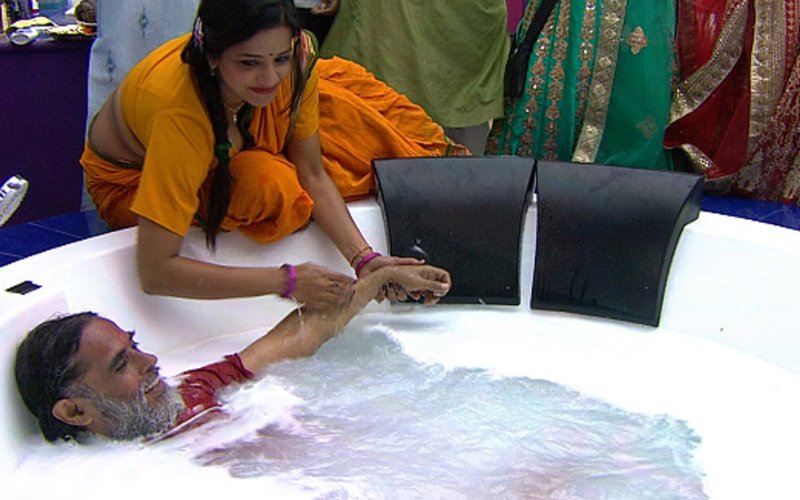 The Bigg Boss luxury task - Raja aur Rank – is introduced, and the celebs are the subjects and help the Royal commoners in the house. The Indiawales have elected Swamiji as their King – the head of the Royal Family.

A heated argument breaks out between Nitibha Kaul and Rohan Mehra when she gets irked over Rohan's adamance to disobey her. King Omji request no one to enter the restroom area after him. Despite Nitibha's protest, Rohan enters and bangs the washroom door in while Swamiji is still in.

Irritated over this, Nitibha screams at Rohan and ask why he apologized when he didn't mean it. In retaliation, Rohan tell her to change into her costume (the royal dress given by Bigg Boss) before giving him any orders.




Witnessing the way Rohan behaved in the washroom, Swamiji tells Manveer Gurjar that he feels the celebrity sevaks are trying to kill him. When Rajkumar Manveer tell the Wazir Gaurav Chopra about Rohan's behaviour, the latter is seen defending his teammates.




Gaurav accuses the commoners of shooing the celebs aways, while Manveer says that they are no real threat to anyone.

The Royal Family decides that they will not forgive the celebs and punish them for such behaviour.

Lightening the mood in the house, King Omji announces that he will bathe in the swimming pool. He is seen led there in a procession will the royals and sevaks in tow.




All the celebs head towards the washroom in order for the Swami to dry himself.

But that's not it. King Omji enters the Jacuzzi and celebrity staff members – Monalisa and Lopamudra Raut - bathe Swamiji.


|

This is followed by the King's Rajya Abhishek (coronation). With chants of Swamiji on during the ceremony, Lopa breaks down in front of the camera and tells Bigg Boss that the house has changed her.




To win the secret task, Rohan challenges that he will commit suicide by jumpng into the pool. VJ Bani pushes Lokesh and later Rohan joins her in the water. Seeing them both in the pool, Swamiji gets angry (Bigg Boss 10, Day 17: Swami Omji Questions Rohan And Lokesh's Character, Calls Them 'Charitrahin', Nov 2).




Nitibha gets into a banter with Lopa over the latter for not giving her tea. When Lopa says she is busy, Nitibha says it will be over an hour. This leads to a big argument and Lopa tells Nitibha to get lost.




It will be interesting to see what happens next with Bigg Boss showing the Royal commoners the acts they were caught in which were set up by the celebs sevaks. Who will win this task is a big suspense.


Image Source: Colors