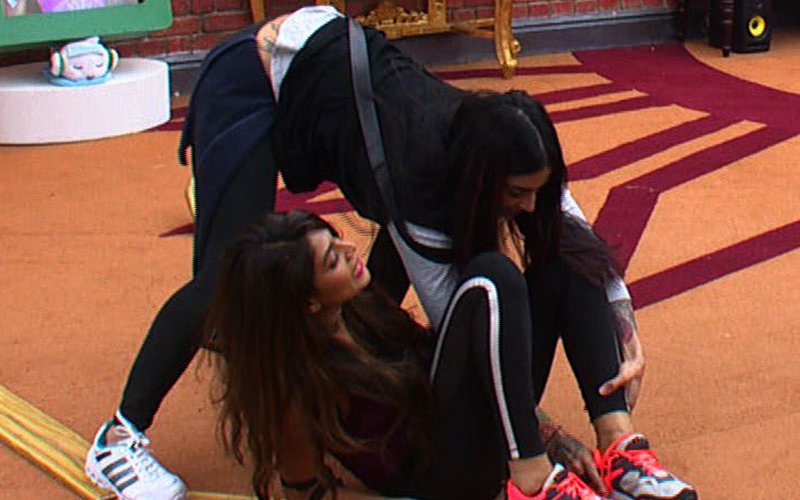 The celebs are the new maliks of the house. Based on their performance during the luxury budget task, Bigg Boss ask the celebs to elect 3 contenders who performed exceptionally well to compete for Immunity.

Monalisa, Bani and Lopamudra are elected. Winner of the immunity task will be exempted from nominations in the next week. Navin Prakash is nominated as the supervisor for the task.

So what exactly is the Immunity Challenge? The contenders (Mona, Bani and Lopa) are given a pair of skis with three shoes attached to it. They have to stays on the skis for the longest time in order to win Immunity. During this duration, the other contestants are not allowed to help the trio in any manner.




As the task progresses, Lopa starts feeling a little cold, so Rohan quietly keeps her shawl in a corner from where she can pick it up. Swami Omji notices this and taunts Rohan. When Lopa picks the shawl, Navin orders her to keep it back. Further, when Lokesh Kumari tries to serve Bani lunch, the supervisior asks Lokesh to stop and take the food back. He says that if Bani wants something to eat, she will need to help herself. Annoyed with his behaviour, Bani argues with Navin.

Monalisa gives up citing back-ache. Swamiji decides to help her by giving her a back massage!




With only Bani and Lopa in the running the competition turns aggressive as Bani tries her best to win. She goes to such at extent, that Lopa accuses her of getting physical and questions Navin if such behaviour is allowed. But, Bani justifies her actions to Manveer Gurjar, claiming to be extremely tired after the back-to-back tasks (Bigg Boss 10, Day 18: Gaurav Chopra, VJ Bani And Rahul Dev Are Punished By Bigg Boss, Nov 3).

When the task ends, Navin is asked that who won the Immunity. He declares Lopa as the winner, justifying the same he says, Bani foot was the first one off the ski. To Lopa's credit she is still attached to the ski.




Adding more fun to the night, Bigg Boss introduces the 'Appy Fizz Feel The Fizz' task. Celebrities and Indiawale will compete against each other in order to win the luxury budget. For the task pairs are formed comprising of one celeb and one commoner. Rohan-Manveer, Lopa-Nitibha and Manu-Bani are the pairs for the task. They will be asked questions about their fellow contestants' perception. A wrong answer will be rewarded with a punch and a correct answer wins them a point.




Image Souce; colorstv