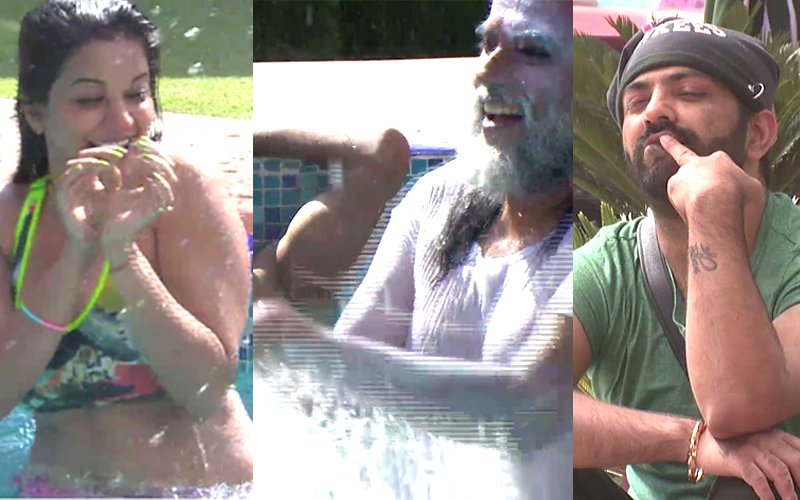 Tonight, watch the Bigg Boss house waking to Ankit Tiwari crooning Teri Galliyan (Ek Villian). The housemates have a fun time with the cast of Tum Bin 2 - Aashim Gulati, Aditya Seal and Neha Sharma – dancing to the title track of their movie (Bigg Boss 10, Day 26: Mona Lisa chooses to dance with Manu, rejects Manveer!, Nov 11).

But all is not hunky-dory in the house once the guests (Tum Bin 2 cast) leave. MonaLisa, Navin and Swamiji are relaxing in the swimming pool. Manoj Punjabi (Manu) is seeing red/getting jealous watching Swamiji getting close to Mona in the water. Isn't this double standard Swamiji? You criticized Rohan Mehra and Lokesh Kumari when they were together in the pool – and FYI they had more clothes on than you now! (Bigg Boss 10, Day 17: Swami Omji Questions Rohan And Lokesh's Character, Calls Them 'Charitrahin', Noc 2).

Swamiji ask MonaLisa to forgive him by touching her feet and also asks her to convince Manu to accept his apology, as Omji is feeling guilty about hurting them during the 'Parda Phaash' task.

Another area where trouble is brewing is in regards with VJ Bani becoming the first captain of the house. Bigg Boss asks her to swear an oath, stating that she will fulfill all the responsibilities as a captain with utmost sincerity.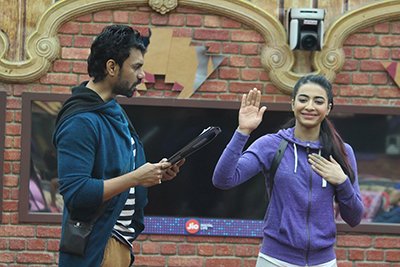 Taking on the primary responsibility as the captain, Bani discusses the allocation of household chores with the housemates and delegates work amongst everyone.

Bigg Boss assigns her a special bed and gives her the power to preside over the sleeping arrangements for the other contestants. Giving preference to Rahul Dev, Gaurav Chopra, Karan Mehra and Rohan Mehra, she gives them the beds nearest to her. Noticing that no bed have been allotted to them, Manveer Gurjar and Navin Prakash get annoyed. Manveer blames Bani for being bias and giving preference to her own people.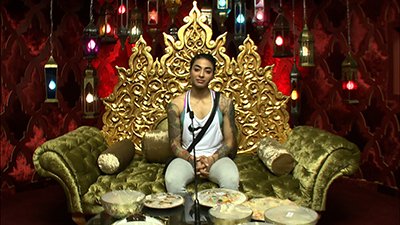 Bigg Boss asks Bani to name one housemate she wants to give an 'Inam' (prize) and two others who she wishes to give a 'Dand'(punish). While the contestant winning the 'Inam' will get to have a lavish lunch with Bani, the two others will have to wash the dirty dishes. Bani decides to punish Lopamudra Raut and Manveer while she gives the prize to Manu.

Hearing Bani's decision, Lopa gets furious and announces that she will not to cook for a week or cater to anyone's special needs. On the other hand, Rahul tells Gaurav and Rohan that Bani took an unfair decision as she could have given the prize to one of them and not Manu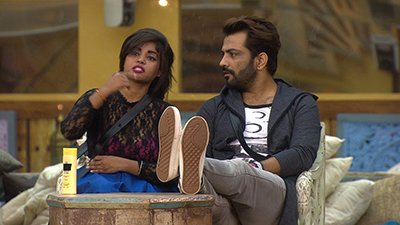 .
Before the day could end, Bigg Boss asks Bani to elect two contestants she wants to punish and put inside the jail. Manveer tells Bani that she is not taking the right decision as a captain and should play the game fairly. She responds saying that they will understand her situation only when one of them becomes the captain of the house.

It will be interesting to see how Bani will deal with the growing animosities inside the house following her captainship. Also, we will wait and see who will be inside jail this time around

Thumbnail Image Source:Colors